When you are sifting through the seemingly endless list of stocks on the DJIA (NYSEARCA:DIA), S&P 500 (NYSEARCA:SPY), Nasdaq (NASDAQ:QQQ), and any other index, you might feel a little overwhelmed by the sheer volume of publicly traded companies out there. When you are ready to invest, and you are searching for the right company to invest your hard earned money into, it helps to begin the process with a strategy that will help guide you toward worthy investments.
Below I will discuss five things you should look into and examine during your stock picking process prior to investing. While no one can guarantee success in the stock market, investing in companies that meet some, if not all, of these criteria can exponentially increase your chance of achieving a lofty return on your investment.
Substantial Cash Reserves
You have probably heard the phrase "cash is king" a time or two during your lifetime. It's true. Cash is a great thing for a company to have. It doesn't take a genius to tell you that, but it is also typically an indicator of the strength of a company's business model and management. I'll discuss how to determine where a company's cash comes from later in the article.
The best reason for investing in companies that have substantial cash reserves is that it proves that the company is primed for growth in one of two ways. (This assumes that the company's other finances are in order).
If the company pays dividends, having cash on hand will allow it to increase the yield to investors.
Substantial cash reserves will allow a company to pay off debts and other obligations, or reinvest the cash back into the company. Taking care of debt and obligations is a necessary part of conducting business, and it improves future growth prospects for the company. Reinvestments can include activities such as funding research & development programs and acquisitions of other companies. Stockpiling cash in order to develop new products or add on to the current business can benefit share prices, and help you achieve a capital gain.
Healthy Dividends
The idea of dividend investing is great; the company rewards you with cash payments or additional shares just for owning their stock. However, there are factors to consider besides merely looking at what yield the stock is currently offering investors. The most important question to ask yourself: is this company's yield steady and sustainable? When examining a company's dividend paying history, there are three primary considerations to make.
First, does the company have a long, proven history of paying dividends without missing payments? Companies that have been able to go years, if not decades, without lowering or missing payments typically deal in industries or provide products and service where economic fluctuations are unlikely to have a significant impact on demand.
Secondly, examine the company's dividend growth rate over the past five years, or potentially an even longer period of time. Companies that increase their yields are generating enough cash to increase yields to investors, and they have shown a commitment to rewarding investors with higher yields on a regular basis.
Lastly, analyze a company's payout ratio. The payout ratio is calculated by dividing Dividends per Share by Earnings per Share, and the ratio provides the percentage of earnings that a company is paying out to shareholders in the form of dividends. Companies that have a high payout ratio may not currently have much room to increase their dividend yield but they can still be a solid investment. A healthy company may find ways to generate more profit in the future, or you may be satisfied with the current yield. On the other hand, companies that pay dividends but have a lower payout ratio are more likely to increase yields to investors in the future.
Limited Debt
It is common knowledge among most people that if you have more debt than cash you probably haven't managed your personal finances very wisely. Careless borrowing and reckless spending can get you in a lot of trouble very, very quickly. The same goes for any business, organization, or government (i.e. most of the world's governments today).
If you want to invest with a reduced risk of loss of capital, invest in companies that have their financials in order. If a company has substantial debt and other obligations then it will need to dedicate cash and future earnings toward paying off debt. On the other hand, companies with limited debt can pay or increase dividends, or stockpile cash for strategic future investments.
Strong Cash Flows
Three things influence a company's change in its cash position during a fiscal year: operating activities, investing activities, and financing activities. While you might think that an increase in cash resulting from any of the three activities listed above is a sign of good financial health, this is not always true.
Investing activities that will affect a company positively in the future appear on the cash flow statement as a cash outflow. Also, financing activities such as borrowing can increase a company's cash position in the short term but also increase the debt and obligations that have to be paid down the road.
The most important indicator of a strong cash flow statement is the change in cash position under operating activities. When a company is increasing its cash position through operating activities (selling goods and/or providing services) it is proof that the company has the ability to generate revenue based on the structure, demand, profit margin, or a combination of factors. And remember, "cash is king."
Competent Management
Sometimes a company can have all the right resources and have no idea what to do with them. It is important to remember that when you buy stock you are investing in a company, not just a piece or paper. By purchasing stock you are purchasing fractional ownership in a company. Prior to investing it is advisable to read up on a company's management. Companies need strong, intelligent, and competent leadership in order to manage their assets and achieve the best possible return on investment for shareholders.
Apple (NASDAQ:AAPL) is a great example of a company with great management and leadership. Over the past decade Apple has propelled itself from an average computer company to a position as one of the world's largest, most powerful companies. The company's success is in large part due to the brilliance of Steve Jobs and other Apple executives. They know the industry and they have an intangible ability to develop innovative products, manage cash effectively, and anticipate changes in the market. Most companies with the substantial cash reserves that Apple has would pay dividends; however, Apple takes a different approach. It stockpiles cash and uses it to reinvest into R&D projects and acquisitions. The company's brilliant management has helped serve as a catalyst that has launched AAPL stock from a price of $44.86 per share following a 2-for-1 stock split February 28, 2005, up to its current price of $377.50, an increase of over 800%.
Apple stock between 02/28/2005 and 08/12/2011
(Click charts to enlarge)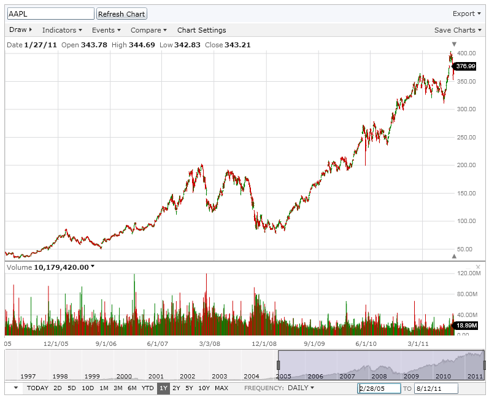 Prior to investing in any company, try to do some research into the company's management. Do this in an attempt to gather information and formulate an idea about how it might manage the company's current assets and financial situation.
In order to provide a list of stocks that I feel meet some of these criteria I ran a screen on Fidelity with the following criteria:
Dividend Yield > 2.50%
Dividend Growth Rate (5 year average) > 5%
P/E (last year actual) < 12
P/E (this year's estimate) < 10
An abbreviated list of stocks from the results from the stock screen is displayed below.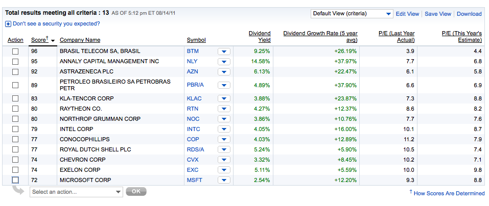 Disclosure: I have no positions in any stocks mentioned, and no plans to initiate any positions within the next 72 hours.