On December 21, I had argued that the selloff and depreciation of the Norwegian Krone (NOKS) against the Euro (NYSEARCA:FXE) was overdone based on stronger economic fundamentals in Norway and risk of deflation in the Eurozone. Undoubtedly, given Norway's dependence on the oil industry, the fall in oil prices was one of, if not the main reason behind the sudden depreciation in the Norwegian Krone for that month. However, we can see that the NOK has rebounded against the EUR from a level of 0.111 on December 21 to a high of 0.115 on January 26 before dropping back to the current level of 0.1129.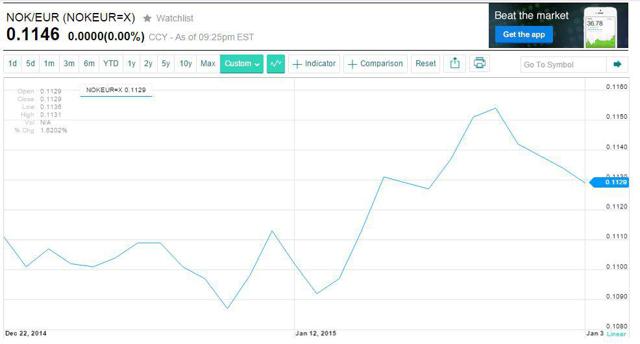 Source: Yahoo Finance.
Based on recent economic events, the following are the main reasons why I see the Norwegian Krone rebounding over the next few months despite the short-term reversal over the past few days:
1. With Norway's central bank just announcing that they will sell over 700 million Norwegian Krone a day in the month of February (which is the equivalent of $89.8 million) to boost economic growth in the face of lower oil prices, markets have reacted positively to this news, with the euro falling against the krone from a level of 8.87 to 8.81. The level of 700 million kroner a day is up by 200 million from a level of 500 million in January. In any case, the fact that markets have reacted positively to this event does signal that there is a degree of financial confidence in the central bank's decision and I expect that this will boost the Norwegian Krone against the euro further.
2. Additionally, there is not doubt that fears of Eurozone deflation have taken a turn for the worse in the past month, with prices having fallen by 0.6 percent year-on-year in the month of January, which is an increase from the fall of 0.2 percent recorded in December. Norway does not suffer from such a deflationary trend in spite of lower oil prices, and Mario Draghi has no intention of taking steps to strengthen the Euro - economic growth through exports is being prioritised and a weak currency is theoretically beneficial in this regard. However, a deflationary spiral appears to be developing - where consumers are waiting for prices to "bottom out".
3. Furthermore, while the grapevine is that oil prices are going to stay low for some time, we may actually be seeing signs of the price rebounding somewhat. It is important to remember that the overwhelming reason for lower prices is a supply issue - there is overcapacity in global oil markets with not enough demand to absorb this extra capacity. However, in the face of excess supply and lower oil prices, oil firms have responded by tightening exploration activities and hence potential extra supply. For instance, Chevron (NYSE:CVX) had recently announced it will cut exploration and development spending by $5 billion this year. The US Energy Information Administration has also just reported that oil prices surged by $4 a barrel in last Friday's trading as a result of anticipation of lower supply due to lower exploration rates.
In conclusion, the Norwegian Krone has edged upwards from levels seen in December, and subsequent economic events lead me to take a bullish view on the currency against the Euro.
Disclosure: The author is long CVX. The author wrote this article themselves, and it expresses their own opinions. The author is not receiving compensation for it. The author has no business relationship with any company whose stock is mentioned in this article.