Exchange traded funds indexed to the movement of the Japanese yen against the U.S. dollar have rallied back near all-time highs despite currency interventions by Japan's central bank.
Yet Japan's economy may not be as burdened by the yen appreciation as previously believed.
Generally, strong domestic currencies do not bode well for a country's exporters; however, most of Japan's manufacturers have moved the majority of their production offshore, reports Chester Dawson for The Wall Street Journal.
Additionally, the production costs in Japan have been declining in recent years, which has helped pare losses from a stronger currency.
"Due to prolonged deflation, Japan's international price competitiveness has actually improved," commented chief economist Takahide Kiuchi of Nomura Securities Co. "Even with the yen at current levels, Japanese exporters have maintained their edge."
Japan's Ministry of Internal Affairs recently downwardly revised core consumer price for June to a drop of 0.2% from its previous calculation of a 0.4% gain. Kiuchi postulates that the currency could strengthen to 54 yen to the dollar before the "real" value matches the price-adjusted postwar high of 79 yen in 1995.
In a recent article of the Bank of Japan Review, four officials from the research department found that the "real" value of the Japanese yen against the dollar has actually been dropping since the financial crisis in 2008, whereas the nominal value has been steadily increasing.

It should also be noted that while the yen has been appreciating against the U.S. dollar, the currency has been depreciating against a number of other currencies, including the Swiss franc, which is helping Japan's exporters to these other countries.

Furthermore, Barclays Capital research revealed that operating-profit margins from Japanese exporters rose as the yen appreciated against the dollar.
CurrencyShares Japanese Yen Trust (NYSEARCA:FXY)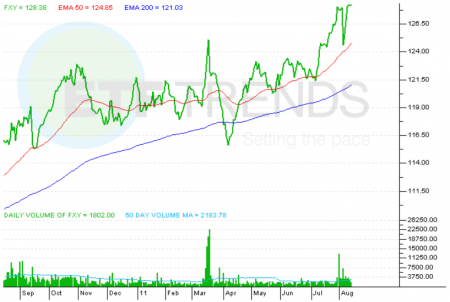 iShares MSCI Japan (NYSEARCA:EWJ)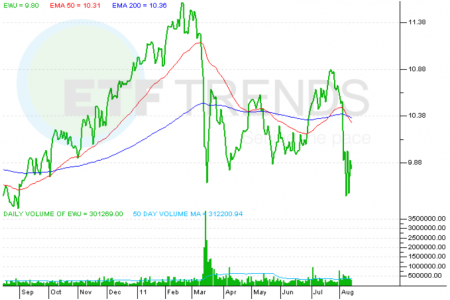 Read the disclaimer: Tom Lydon is a board member of Rydex|SGI.
Max Chen contributed to this article.
Disclosure: None