Regional banks have stumbled out of the gate in 2015. While the broader market is down roughly -3% to start the year, regional banks have fared worse with a nearly -10% decline. But while this market segment as a whole may remain under short-term pressure, it may be a good time to begin exploring through regional banks for potential investment opportunities.
Notable Underperformers
Regional banks have been struggling relative to the broader market for some time. Since the beginning of 2014, regional banks (NYSEARCA:KRE) are down nearly -8% versus the S&P 500 Index (NYSEARCA:SPY) that is up +10% over this same time period. Also notable is the fact that the larger financials sector (NYSEARCA:XLF) has also gained +7% during this stretch.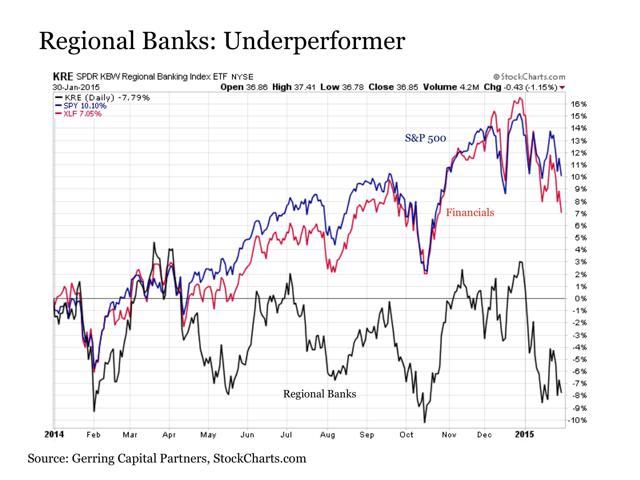 At first glance, this vast performance differentiation within the financial sector seems curious. But one of the facts that has defined regional banks in the post financial crisis period is that they have traded very closely with U.S. small caps (NYSEARCA:IWM).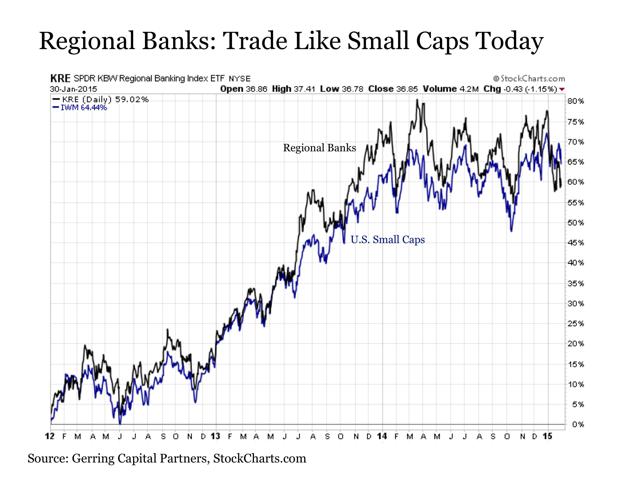 Of course, U.S. small caps have not fared nearly as well over the past year. What is notable even in this regard, however, is the recent underperformance of regional banks relative to U.S. small caps, as the performance gap has widened substantially since the start of the New Year.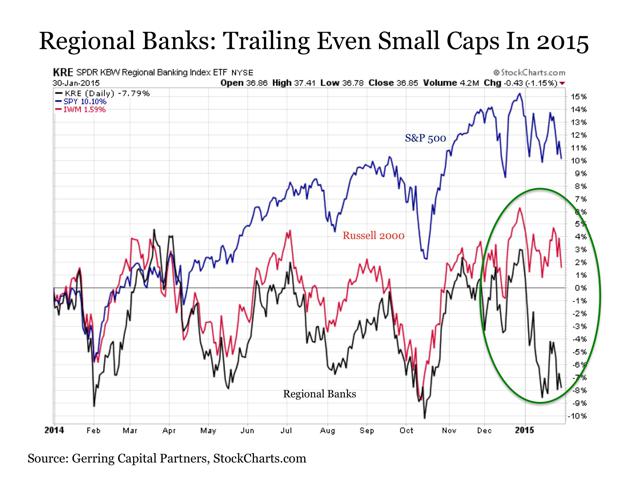 A few key factors help explain this relative underperformance.
To begin with, the yield curve has flattened meaningfully in recent months, which is pressuring the prospects for bank net interest margins. Investors have been moving into long-term Treasuries (NASDAQ:TLT) over the last year driven in part by concerns over deflation and the expectation that global bond yields are likely to remain low well into the future. The fact that Treasury yields compare favorably to comparable sovereign yields across Europe and in Japan are only adding to this demand.
At the same time, the U.S. Federal Reserve remains steadfast in their claims that they intend to raise interest rates starting in mid-2015. While the consensus market expectation is for less, the Fed has hinted that it may seek to raise short-term interest rates by as much as 75 basis points by the end of the year. So while short-term interest rates remain pinned near zero, the prospect exists for these yields to rise as the year progresses. Thus, a further flattening of the yield curve is not out of the question if short-term rates start rising at the same time that long-term rates remain low or fall even further. And if these rate hikes take place in an environment of decelerating economic growth, net interest margin challenges would be compounded by the prospects for slowing loan growth.
Falling oil prices have also fueled the downside fire for regional banks in recent months. For as the drop in oil prices increasingly pressures the viability of many niche operators in the energy sector, investors have taken greater notice of the various regional banks have a sizeable portion of their loan portfolio dedicated to energy related loans. This has induced investors that may still be jittery on the health of financial sector in general to sell broadly in advance of any potential stress.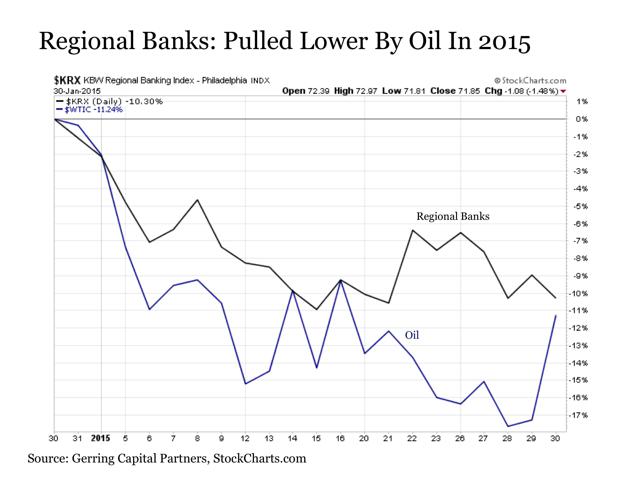 Specifically, stocks with a high percentage of their loan portfolio dedicated to the energy sector have suffered notably in recent months. Two such examples are shown below.
BOK Financial (NASDAQ:BOKF), which has nearly one-fifth of its loan portfolio dedicated to the energy sector, is down more than -20% since early November.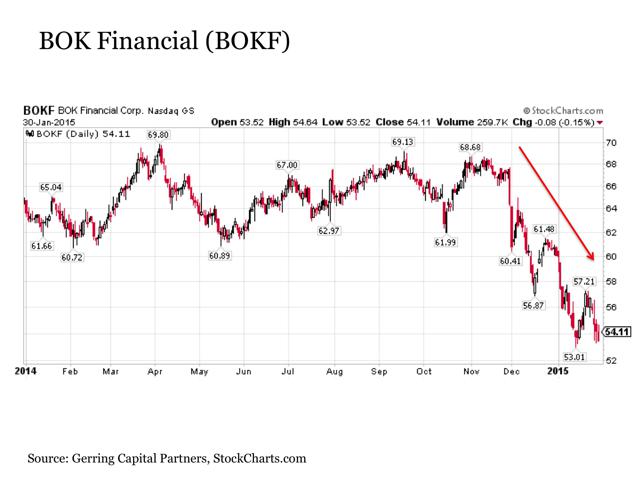 Cullen/Frost Bankers (NYSE:CFR) with nearly one-sixth of its loans in energy, is down nearly -24% from its mid-November highs. These are just a few of the energy focused regional bank stocks that have taken a beating over the last couple of months.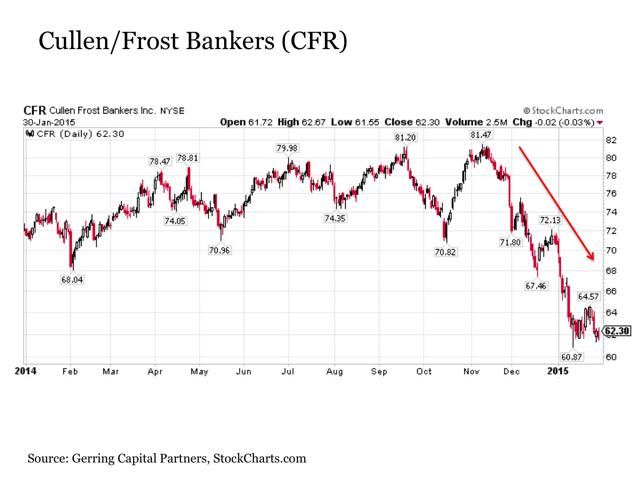 Overall, investors have a number of legitimate reasons to be less than optimistic about the prospects for regional banks at the present time. But while the regional banking sector as a whole may remain under near-term pressure and selected names may experience continued stress due to their specific operational challenges including the prospects for a further decline in oil prices, such sell-offs often present opportunities. This is particularly true for those regional banks that may have found themselves unfairly sold off in the process. Thus, investors willing to scour the space for those names that have been unfairly beaten down may discover long-term reward in the process.
Looking For Wheat In The Regional Bank Chaff
Many investors are understandably viewing the regional bank sector with skepticism right now. And a few are likely still scarred from owning bank stocks during the financial crisis and are prone to reactivity as a result. But a variety of reasons exist today that are supportive at least the consideration of the financials sector in general and regional banks in particular as we continue through 2015.
In regards to financials in general, monetary policy makers in this country have helped create an environment that is generally supportive for financial institutions outside of the regulatory burdens that have dogged the industry in recent years. For example, despite the fact that the yield curve has flattened measurably over the last year, the spread between short-term and long-term rates remains high by recent historical standards thanks to short-term interest rates being pinned near zero. This suggests an environment that remains accommodative for bank earnings despite the recent pressures.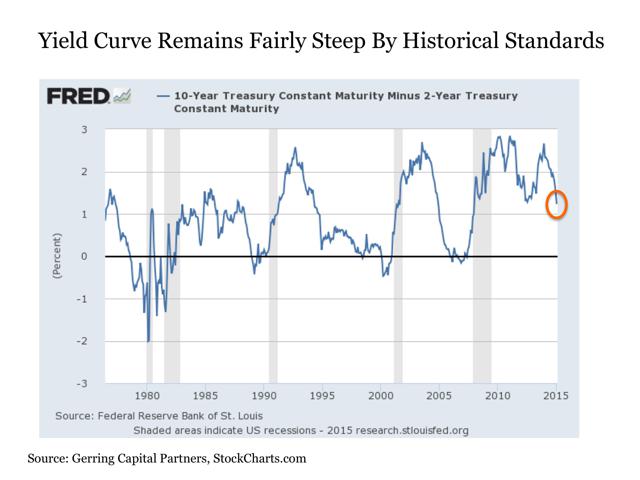 From an operational standpoint for banks, corporate credit quality remains generally strong outside of selected segments within the energy sector. And the performance of financial stocks since the stabilization of capital markets several years ago has increasingly lagged behind the pace of loan growth over this same time period, suggesting the financial sector has considerable room to catch up to the upside even if loan growth begins to abate. As for regional banks specifically, the fact that they are far more domestically focused insulates against the challenges resulting from troubles abroad including increased currency volatility. The more simple and straightforward regional banking operations can also be a plus in such an environment.
Looking ahead, while I believe the Fed is far more determined to raise rates than the market currently appreciates, it is unlikely to hike too aggressively unless the economic environment can tolerate such a shift. The post crisis period is filled with central bankers talking tough only to change course at the first sign of trouble. And while the Fed certainly appears more determined this time around to get a few interest rate hikes under their belt ahead of the next recession, they are likely to show "patience" as promised if the underlying economic growth picture cannot support it. But it should be noted that such patience will require far more global economic and market weakness than what we are seeing at present.
And if U.S. economic growth remains steady or even begins to accelerate, the resulting Fed rate increases have the potential to enhance bank net interest margins. For not only would loan growth presumably accelerate as the economy improves, but banks would also likely have the ability to boost how much they are charging for loans faster than what they are paying on deposits in such an environment. On the flip side, the fact that global deflationary concerns remain at the forefront should help contain the threat to banks resulting from interest rates rising too sharply.
From a longer-term perspective, regional banks have also demonstrated defensive characteristics during bear market phases. For example, during the bear market at the start of the new millennium, regional banks were not at all correlated with either U.S. large cap or U.S. small cap stocks. Instead, regional banks posted a near 60% advance over the course of the entire bear market from March 2000 to March 2003 at a time when the broader market was falling by more than half.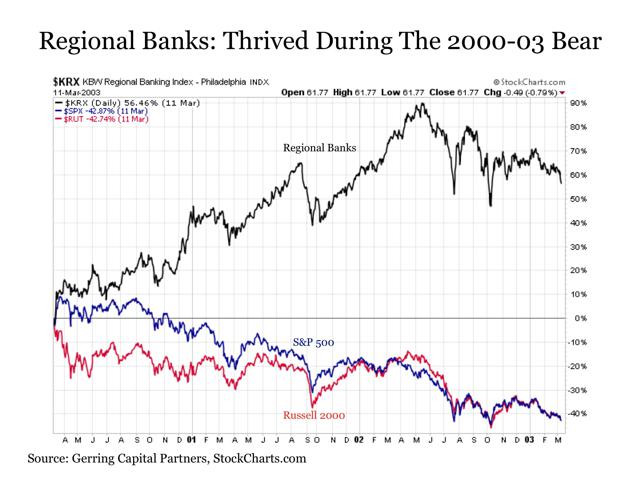 What is even more notable is the outperformance of regional bank stocks versus their larger financial brethren during the most challenging phases of this bear market from early 2001 forward to its end.
Regional bank stocks have even shown resilience at times when the source of the bear market has been concentrated in the financial sector. While regional banks struggled badly along with the broader financial sector during the early stages of the financial crisis from July 2007 to July 2008, they bounced back strongly during the summer of 2008 and were nearly flat for the bear market as late as September 2008. It was only following the collapse of Lehman Brothers and some of the other institutions that followed including Washington Mutual that the lights went out on the group. But even in the worst of circumstances, the opportunity existed to evacuate these positions if needed before conditions completely came apart.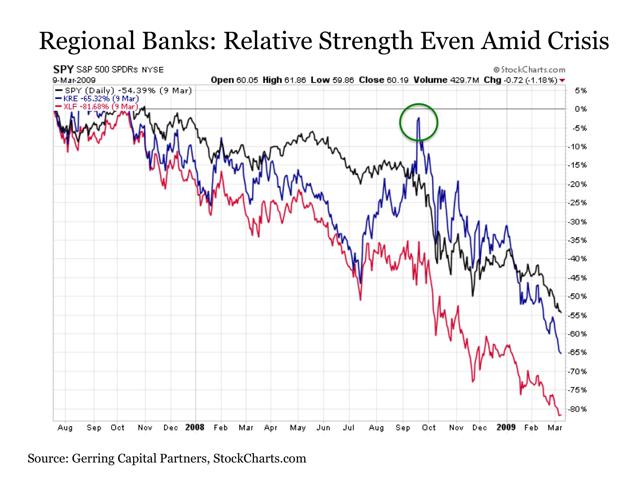 Thus, even if the broader stock market were to enter a new bear phase, regional banks offer the potential to hold up better on a relative basis and even generate gains while the broader market enters into retreat.
Bottom Line
Regional banks are currently under pressure for a number of reasons. And this downside pressure is likely to continue into the near-term. But with absolute and relative sell offs come opportunity for those that are patient and at the ready. And given the wide range of smaller banking institutions concentrated in uniquely differentiated regional and local economies across the United States, the decline in stock prices across the industry is likely to offer attractive buying opportunities along the way for those that are willing to take the time to dig into the details.
In the coming months, I will be focusing not only on the regional banking industry in general but also on a number of individual regional banks that may be worth consideration as a potential investment opportunity going forward.
Disclosure: This article is for information purposes only. There are risks involved with investing including loss of principal. Gerring Capital Partners makes no explicit or implicit guarantee with respect to performance or the outcome of any investment or projections made. There is no guarantee that the goals of the strategies discussed by Gerring Capital Partners will be met.
Disclosure: The author is long XLF. The author wrote this article themselves, and it expresses their own opinions. The author is not receiving compensation for it (other than from Seeking Alpha). The author has no business relationship with any company whose stock is mentioned in this article.
Additional disclosure: I am long stocks via the SPLV as well as selected individual names. I also hold a meaningful allocation to cash at the present time.