The last two months have really taken a toll on the stock market and investor confidence. A multitude of fast growing companies have seen their stocks hit hard in the selloff. Here are two in the tech sector that should bounce back strongly as market turmoil subsides.
eBay Inc. (NASDAQ:EBAY) provides online marketplaces for the sale of goods and services, as well as other online commerce, platforms, and online payment solutions to individuals and businesses in the United States and internationally. The company''s Marketplaces segment provides the infrastructure to enable online commerce on a range of platforms, including the eBay.com platform, and its localized platforms. Its online platforms also consist of StubHub, a secondary tickets marketplace; Shopping.com, an online shopping comparison Website; Rent.com, an apartment listing service platform; and Half.com, a fixed price media marketplace.
Performance: EBAY is down a little less than 15% since late last month after having a decent bounce late last week.
5 reasons EBAY looks compelling at $30.50 a share:
1. EBAY has beat earnings estimates each of the last four quarters and consensus EPS has been raised for 2011 and 2012 over the last three months.
2. eBay has long term technical support at the $28 to $30 price level (See chart).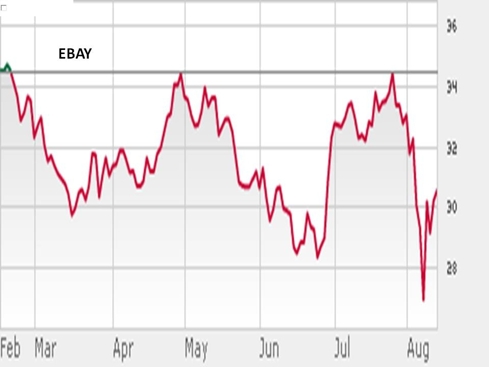 3. Its Paypal franchise is strong and eBay is experiencing significant revenue growth. It is projected to grow revenues over 25% in 2011 and just under 20% in 2012.
4. It is selling at around 15 times this year's expected earnings despite this growth in sales and just 13 times next year's consensus EPS.
5. Credit Suisse has a $40 price target on EBAY and median analyst target is $39.50 a share.
EMC Corporation (EMC) develops, delivers, and supports information infrastructure and virtual infrastructure technologies and solutions. The company's Information Storage segment offers networked information storage systems and software, which are deployed in storage area network (SAN), networked attached storage (NAS), unified storage combining NAS and SAN, content addressed storage, and direct attached storage environments.
Performance: EMC has sold off 15% over the past three weeks.
5 reasons EMC is a bargain at $23 a share.:
1. EMC's 80% ownership of fast growing VMWare (NYSE:VMW) is not fully reflected in its stock price. VMWare should also continue to benefit by the acceleration of virtualization and government data center consolidation.
2. EMC has met or beat earnings estimates the past four quarters and EPS estimates for 2011 and 2012 have been revised up in the last ninety days.
3. Credit Suisse predicts EMC will grow revenues by 23% annually over the next two years and EMC has a projected five year PEG of under 1.
4. EMC is a pure play on the exponential growth of unstructured data which is driving storage solution demand.
5. S&P has a $32 price target on EMC, Credit Suisse is at $34 and Morgan Stanley's price target on EMC is $35.


Disclosure: I am long EMC.