The telecommunications industry has long been known for some of the highest dividend yields available to investors.
If you are a dividend investor, you probably hold positions in companies such as AT&T (NYSE:T) and Verizon (NYSE:VZ), and perhaps even companies like Century Link (NYSE:CTL) and Windstream (NASDAQ:WIN). Looking outside of the United States can also reveal investment opportunities in telecom stocks.
Brasil Telecom (BTM) is one of three companies that operate land lines, and one of eight companies that provide mobile telephone services, in Brazil, one of the world's largest emerging markets.
Below is the share price of Brasil Telecom over the past 2 years (click to enlarge images):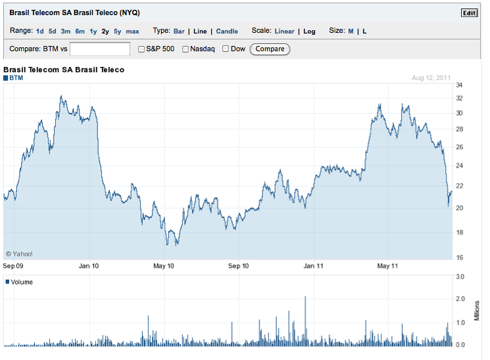 The company is currently trading at an extremely cheap price. Brasil Telecom's P/E ratio last year came in at 3.9, and the company's expected P/E ratio for the current year is still only 4.4.
The company's balance sheet is strong, boasting limited debt, substantial cash, and a good balance between current assets and current liabilities.
Below is the Brasil Telecom balance sheet from Yahoo Finance: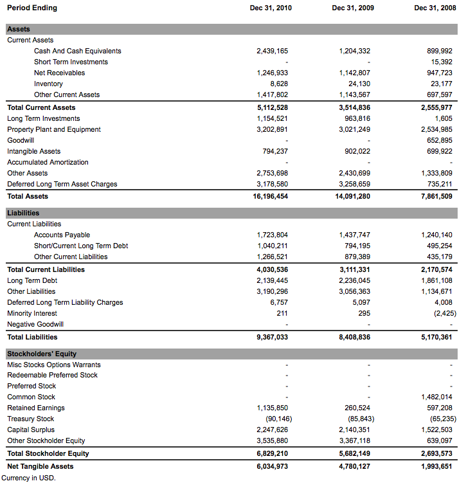 Brasil Telecom's cash flow is strong as well. In 2010, the company brought in over $2 billion in cash from operating activities, invested nearly $1 billion into the company, and paid off more long-term debt than it issued.
Below is the Brasil Telecom cash flow statement from Yahoo Finance: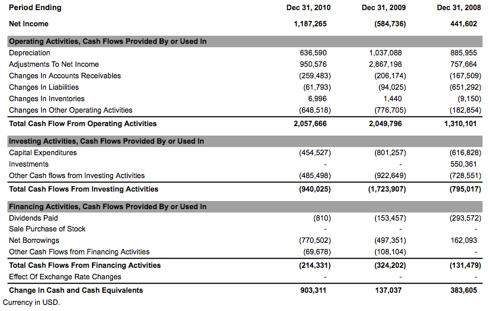 Brasil Telecom offers investors an annualized dividend yield of 2.5%. Also, the company has grown its yield to investors by an average of 26.19% annually over each of the past five years. Additionally, the company currently has a low payout ratio of 18.71%, leaving room for future growth and increased payments.
Brasil Telecom offers you the opportunity to add a healthy, undervalued, dividend-paying stock with strong financials that operates in an emerging market - a rare and potentially lucrative opportunity.
Disclosure: I have no positions in any stocks mentioned, and no plans to initiate any positions within the next 72 hours.