The British pound continues to fall as inflation measures decline, while rising real wages may offer a small glimmer of hope for tighter monetary policy in the future. CurrencyShares British Pound Sterling Trust (NYSEARCA:FXB) is down over 12% since July, as is seen in the chart below.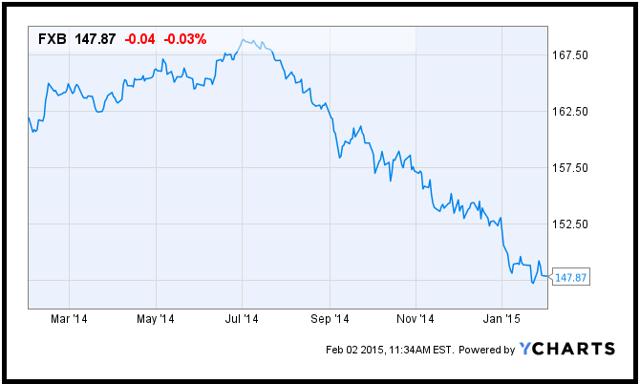 In January, British policymakers voted unanimously to keep the benchmark lending rate low as inflation continues to fall, leading to selling pressure on the pound. The lending rate in the U.K. remained at 0.5% in January, after being cut to that rate in 2009 as a way to combat the financial crisis. Over the last few months, British central bankers Ian McCafferty and Martin Weale had voted in favor of an increase in interest rates. They finally dropped their bids last month. In the minutes from January's U.K. Monetary Policy Committee, fear of deflation sparked the move to push out the date at which its benchmark lending rate would be increased.
"There had been a number of significant developments since the November Inflation Report. Oil prices had fallen further: the spot price of Brent crude oil had dropped to $50 per barrel, down $20 on the month and $32 lower than at the time of the November Inflation Report. CPI inflation had fallen to 0.5% in December, 0.5 percentage points lower than had been expected in November, and was now expected by Bank staff to reach a trough of close to zero in March, as lower oil prices fed through to petrol prices. There was, therefore, a roughly even chance that CPI inflation would temporarily dip below zero at some time during the first half of 2015. Inflation had also fallen abroad and was negative in the euro area.

Market interest rates had declined as the expected pace and extent of future UK monetary policy tightening had been scaled back. The one-year sterling rate one year ahead had fallen by close to 20 basis points and was 40 basis points lower than at the time of the November Inflation Report. By comparison, there had been relatively little news on activity. Growth remained solid in the United Kingdom and United States, but subdued in the euro area and was slowing modestly in the emerging economies," according to a report by Trading Economics.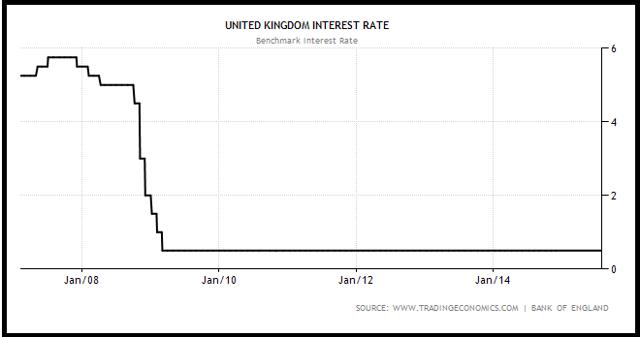 Data provided by Trading Economics
Over the last few years, the pace of inflation has been declining in the U.K., leading to fear of possible deflation in 2015. In December, the pace of inflation grew by an annual rate of 0.5%, below the previous month's reading of 1.0%, as well as missing estimates for 0.7%. The chart below shows the one-year moving average of the annual change in inflation. After peaking in 2012, the pace of inflation has now fallen to its lowest level in the last decade. The decline in food and energy prices have accelerated the pace of decline for inflation in 2014.
"Year-on-year, prices of food and non-alcoholic beverages recorded the highest decrease (-1.7 percent), followed by transport (-1.4 percent), mainly due to a 10.5 percent drop in cost of fuel and lubricants. Additional downward pressures came from miscellaneous goods and services (-0.6 percent) and clothing and footwear (-0.3 percent)," according to Trading Economics.

Data provided by OECD
As inflation measures have declined, U.K. government bonds yields similarly fell, leading to selling pressure on the pound. In 2008, the 10-year government bond yield in the U.K. was over 5%, it is now barely above 1%. At one point in 2013, many analysts believed that the U.K. economy was leading the global recovery, and would raise benchmark rates before its developed market peers, pushing bond yields higher. That outlook has changed now, though, and government yields, alongside the pound have declined.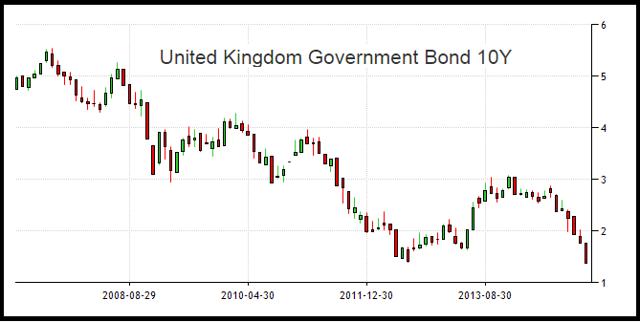 Data provided by Trading Economics
Although disinflation pressures are bringing fear to policymakers and investors alike, real wages in the U.K. have recovered well the last few years. While the pace of growth for wages is still not at pre-financial crisis levels, it is at multi-year highs, with momentum still rising. This indicator bodes well for both consumer spending, and overall economic activity in the future.
Although inflation measures continue to fall, core-inflation is stable as real wages are rising in the in the U.K. economy. When energy and food prices do cease falling, U.K. policymakers will likely be quick to begin raising its lending rate. Until that time, however, the deflation spiral looks to have control in the U.K., keeping interest rates low, while weighing on the future price of the pound.

Data provided by OECD
Disclosure: The author has no positions in any stocks mentioned, and no plans to initiate any positions within the next 72 hours. The author wrote this article themselves, and it expresses their own opinions. The author is not receiving compensation for it (other than from Seeking Alpha). The author has no business relationship with any company whose stock is mentioned in this article.