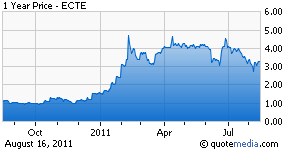 Wouldn't we all love to pick a stock that will increase 10 times our purchase price? Some of the stocks that have done this in the past were: General Electric (NYSE:GE), Wal-Mart (NYSE:WMT), and Hewlett Packard (NYSE:HPQ). More recently we've witnessed momentum stocks such as: Apple (NASDAQ:AAPL), Green Mountain Coffee (NASDAQ:GMCR), and Netflix (NASDAQ:NFLX). All of them once traded in the single digits and rose at least ten times from their lowest levels. Most of them rose in value much more than that. One Medical/Pharmaceutical company, now in its infancy, has the potential to become the next ten bagger – Echo Therapeutics (NASDAQ:ECTE).
Echo Therapeutics is developing a non-invasive blood glucose monitoring system that has the potential to replace the current finger pricking method. What diabetic would not want to replace their painful finger pricks with a painless transdermal system of monitoring their blood sugar levels? This innovative glucose monitoring method is known as the Symphony tCGM System. The beauty of the Symphony system is that it provides for continuous monitoring of glucose levels which can be viewed wirelessly on a smart phone. This technology would also be useful in hospital critical care units.
In addition to the Symphony system, Echo Therapeutics is also developing its Prelude SkinPrep System. The Prelude system enables needle-free drug delivery and analyte extraction. What patient would not want to replace needles with painless delivery?
The potential for this technology is huge. There are approximately 285 million people in the world with diabetes according to the World Diabetes Foundation. This represents 6.4% of the world's population. This is expected to grow to 438 million people (7.8% of the world's population) by 2030.
What are the risks?
Echo is not yet profitable as they are still waiting on FDA approval for their products. The products must be proven to be safe, effective, and accurate. If the FDA grants final approval, Echo will need to effectively produce, market, and support a large network of customers.
Echo is currently trading at $3.30 per share. This is a speculative play to bet on a small company that has the potential to become a household name for diabetics and hospitals throughout the world. I feel strongly that they will get FDA approval and will become one of the next ten bagger stocks over the next decade and beyond.

Disclosure: I am long ECTE.OB.