Vancouver-based miner Teck Resources (TCK) reported that revenue for the second quarter came in at $2.8 billion dollars, up 27% from a year ago and adjusted earnings per share of $1.12.
Coal and zinc drove gross profit growth in the second quarter although problems in the coal division continue to hamper results. The disaster in Japan caused customers to defer deliveries until the third quarter at second quarter prices, which represents a roughly 15% shortfall to current prices.
Teck Resources issued $2 billion in notes to assist in funding future capex needs on June 29, in a smart deal to lock in low rates. Inflation is creating havoc with feasibility studies with original estimates on projects rising by 20-30%.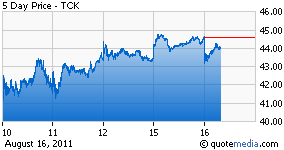 Glancing at future projects, Nova Gold recently released an updated prefeasibility study for Galore Creek calling for total capital expenditures of $5.155 billion dollars (+25%/-20%).
Galore Creek holds Proven and Probable reserves of 6.8 billion pounds of copper, 5.5 million ounces of gold, 102 million ounces of silver which will be extracted over an expected 18 year mine life. The project is currently being simplified in an attempt to reduce costs.
Galore Creek has been a thorn in the sides of both Teck and Nova Gold (NYSEMKT:NG). The size of the deposit is massive but its location and geography makes mining difficult. The original feasibility study shocked the markets upon its release causing the stock prices for both companies to tumble.
The question concerning Galore Creek is not how Teck will fund its portion but how Nova Gold will fund its portion. Now that the sticker shock has worn off both companies can look at the project in a new light and consider some alternative options to develop the deposit.
Work continues on the feasibility study for Quintette, which could be in production by 2013 adding an additional 3 million tonnes of coal per year.
Problems last quarter with harder than expected ore at Carmen de Andacollo are being dealt with by installing a small crusher by the end of August, which will increase the SAG motor capacity by 10%, and installing a 20,000 tonne per day pre-crusher by the end of the first quarter of 2012, at a cost of $15 million dollars. A feasibility study on expanding production from a 100,000 tonne operation to a 120,000 tonne operation should be completed by the fourth quarter of 2011.
Teck has had a difficult start to the year. Weather related problems in Canada and Japan caused delays that hampered coal operations and harder-than-expected ore has caused problems at Carmen de Andacollo.
These problems are not isolated to Teck alone. Across the mining industry firms are having problems with weather and startups.
In addition, Teck is undergoing a major expansion program with Quintette expected to open in 2013, adding an additional 3 million tonnes of coal per year. The Galore Creek feasibility study is being updated and Quebrada Blanca's feasibility study will be delivered shortly.
The stock has sold off sharply since the beginning of the year and although we may head back to retest the bottom, Teck does provide value at the current price. Investors will get a 1.5% yield although they may have to wait until 2013 to see a real jump in production and revenue.
The move to issue $2 billion in debt at current low rates looks to be a smart one. Although rates have moved lower fear has come back into the market and it appears a similar sized deal would be difficult to complete.
By raising cash now and not waiting until later Teck can place orders for equipment now, lock in prices, and move forward on a number of fronts before the feasibility studies are complete.
If the recent slowdown ends up being more of a soft landing than a double dip recession, Teck will be well positioned when the economy turns. The coal and copper businesses continue to see strong demand from Asia as the economies and infrastructure build out.
Disclosure: I have no positions in any stocks mentioned, and no plans to initiate any positions within the next 72 hours.