Appliance Recycling Centers of America (NASDAQ:ARCI) is no longer a retailer story. True, the company has its roots (and most of its current revenues) in the operation of a retail chain of 19 ApplianceSmart factory outlets. These stores specialize in the sale of "special buy" new, major appliances-manufacturers' redesigns, prior-year models, close outs factory overruns and scratch and dent units.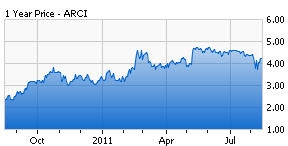 Late in the 1980s, with the introduction of stricter government environmental regulations, the company began to develop systems to remove hazardous components from unwanted appliances and then sell the appliance shells to scrap metal processors. In 1989, the company began contracting with electric utilities to provide turnkey appliance recycling services to support the utlities' energy conservation efforts (i.e., giving customers cash or credits for replacement of existing appliances with more energy efficient units.)
Building on its experience and reputation, the company signed a contract with General Electric (in October 2009) in which GE agreed to have Appliance Recycling recycle all GE's returned appliances from a six-state region in the Northeast United States. This business is handled through a 50%-owned joint venture (Arca Advanced Processing) in which the other 50% partner provided the recycling facility it was already operating (profitably) outside Philadelphia. As part of this agreement, the joint venture has installed (and is now testing and running) UNTHA Recycling equipment (for which Appliance Recycling is also the exclusive North American distributor).
The significance of the UNTHA Recycling Technology (URT)cannot be overemphasized. The system includes the capability to automatically capture the blowing agents, such as chlorofluorocarbons (CFCs), hydro chlorofluorocarbons (HCFCs), hydrofluorocarbons (HFCs), and cyclopentane from the insulating foam in refrigerators and freezers. The new URT technology - a precise, sealed and fully-automated refrigerator recycling system - will be the first installed system in North America.
In a press release released earlier this year, General Electric (NYSE:GE) had this to say about its partnership with Appliance Recycling:
"GE and ARCA have plans to vastly improve appliance recycling and refrigerator foam recovery in the U.S. These joint efforts will significantly reduce landfill waste and harmful emissions… ARCA prides itself on innovation," said Jack Cameron, ARCA President and CEO. "The technology we're investing in - a precise, sealed and fully-automated refrigerator recycling system - will be the first URT system in North America. With GE's logistics expertise and customer relationships and ARCA's investment in this leading-edge technology, this partnership is a game-changer for U.S. appliance recycling..."
GE and ARCA's initial recycling efforts will begin at ARCA Advanced Processing's regional recycling center in Pennsylvania. The center is on schedule to be fully operational in the first quarter of 2011…The potential of this technology is tremendous," said Brian Conners, President and COO of ARCA Advanced Processing. "If the foam from the 9 million refrigerators disposed of annually in the U.S. were processed through this recycling technology, the greenhouse gas emissions avoided would be equivalent to the annual CO2-e emissions of more than 2.4 million cars on U.S. roads."
Appliance retailers must be chomping at the bit waiting to advertise their new or increased social consciousness relating to the disposal of used appliances in a environmentally sound manner-and at the same time increase their sales of new appliances. Appliance Recycling is in the process of learning the operation and economics of running this single facility. Once proven, this distribution/recycling plant could serve as the model for another nine more around the country. I can envision a scenario in which the joint-venture is IPO'd to finance the expansion. I can also envision a scenario where the company exits the retail business and focuses its efforts entirely on recycling.
Why invest in this stock?
The company is undergoing a major positive transformation that will catalyze high earnings growth in the years ahead.
AAP doubled its revenues this year (to $5.2 million) and operating income jumped from an $182,000 loss to a $379,000 profit. Widening margins on the incremental volume and high steel scrap metal prices remain the major drivers.
Total operating income from all recycling activities jumped from $1.6 million last year to $3.6 million this year. Even retail performed better, earning 283,000 this year (up from break-even last year ) despite a 5% sales drop.
Undervaluation:$ 22 million market cap vs. over $100 million in revenues selling at 7X this year's estimated EPS as the company becomes, in partnership with GE, a potent force in the appliance recycling industry
Lack of Wall Street interest (and understanding) about what is happening at the company. This could well change with the continuing good reported earnings and with planned advertising and publicity by both GE and retailers.
Disclosure: I am long ARCI.