China XD Plastics (NASDAQ:CXDC) is another Chinese company that became listed in the US through a reverse merger. Its main business is the manufacture of plastics used for making auto parts. It has just been announced that Morgan Stanley has signed an agreement to invest $100 million in CXDC, apparently as play on the growing Chinese automobile industry.
Going public via reverse merger (also known as backdoor listing) is not bad in of itself. But many companies go through the backdoor to do so because they cannot get listed through the usual way, which is why backdoor listing carries the stigma it does. The stigma has been shown to be justified this past six months as one Chinese reverse merger company after another has been delisted after being accused of fraud.
One of the surest sign of trouble with these companies has been when the financial numbers they report to the SEC are vastly different from the numbers they report to the Chinese government. Based on a review of Chinese regulatory filings, it turns out that China XD Plastics has this problem as well.
While CXDC's SEC filings suggest that it is highly profitable, with a much higher margin than some of the leading companies in the plastics industry, the financials it has reported to the Chinese government show quite the opposite, with profit numbers that are only about one-tenth of that reported in its SEC filings.
These findings appear to put the Morgan Stanley investment in question.
CXDC's main operating company in China is Harbin Xinda, which is 100% owned by a Hong Kong holding company (more about this in the tax discussion below). Below is a corporate structure chart for CXDC (click to enlarge images):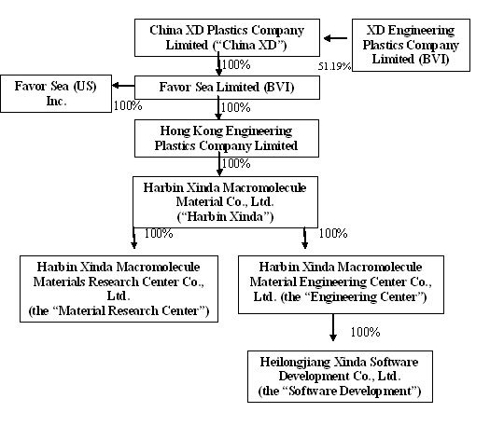 (Source: SEC 10-K Filing)
1. Income Reported to Chinese SAIC Much Smaller than Income Reported to SEC
The SAIC (State Administration of Industry and Commerce) is the main regulator of companies in China.
As explained in an earlier article about Advanced Battery Technologies (OTCPK:ABAT), another reverse merger company suspected of inflating its SEC-reported earnings:
Companies are required to file financial statements with the SAIC as part of the annual examination.

Foreign-invested companies are required to file financial statements audited by a licensed Chinese accounting firm. Domestically-owned companies may or may not be required to file audited financial statements, depending on the local SAIC rules.
Many Chinese companies - including China MediaExpress (OTCPK:CCME) and China-Biotics (OTC:CHBT) - whose financials reported in their Chinese SAIC filings do not match their SEC filings have been delisted in the last six months.
CXDC's revenue reported in its Chinese SAIC filings are roughly in line with the revenue reported its SEC filings.
But the net income or profit numbers are a different story. Its SAIC files show that CXDC has been barely profitable. The net income numbers reported in CXDC's SEC filings are nearly 10 times the numbers it reported to SAIC.
Chinese SAIC vs US SEC Financials (US$ million *)
| | | | |
| --- | --- | --- | --- |
| SAIC Filings | 2008 | 2009 | 2010 |
| Revenue | 63.4 | 110.9 | 196.3 |
| Net Income | 0.1 | 0.5 | 3.9 |
| Taxes Paid | 0.1 | 0.2 | 0.4 |
| SEC Filings | | | |
| Revenue | 75.7 | 135.7 | 249.8 |
| Net Income | 8.2 | 4.0 | 28.8 |
| Taxes Paid | 0.04 | 0.07 | 0.3 |
(* assuming USD-RMB exchange rate of 6.8)
(Links to full SAIC Annual Reports: 2008, 2009, and 2010.)
2. Nearly Zero Taxes Paid Year After Year Supports the Much Lower Income Reported to SAIC
The company's much smaller profits reported in its SAIC files are consistent with the very small tax payments it has paid every year. Interestingly, the SEC filings and SAIC filings are roughly consistent on the amount of taxes paid.
If its SEC-reported profit numbers were accurate, then the taxes the company has been paying seem much too low.
For example, in 2010, total taxes paid of $309K on profit of $28.8 million, as reported in the SEC filings, would be at an effective tax rate of only 1%.
The tax rate would be a more plausible 8% if we use the reported profit of $3.9 million in the SAIC filings.
3. A Different Explanation for Paying Almost No Taxes in Every Annual SEC Filing
So how does CXDC explain paying almost zero taxes on its very sizable reported profits?
Curiously, CXDC's explanation varies depends on which year's SEC filing you look at. Its reason for paying almost no taxes has changed completely from year to year.
Three different SEC filings over three years. Three different explanations for why it paid so little taxes.
a. "Recognized as a high technology company"
In 2008, in its SEC filing for the reverse merger transaction, CXDC said that it paid little taxes because the company qualified as a special high technology company and was exempt from tax until the end of 2007:
The company is located in a special economic development zone and is recognized as a high technology company by the Chinese government. Therefore, it is entitled to a full exemption of special 15% CIT for two years from January 1, 2006 through December 31, 2007 and 50% reduction in CIT for three years at a favorable tax rate of 7.5% from 2007 to 2010.
b. "Majority of the net income for the period was from the [non-profit] Research Institute"
But in 2009, the explanation changed to CXDC paid almost zero taxes because it earned most of its profits through a non-profit tax-exempt research institute. We can leave aside the question of whether it is possible for a corporation to not pay by routing its profit through a non-profit and simply note that the explanation for not paying taxes has changed.
10-K for FY2008
The majority of the net income for the period was from the Research Institute, which is a separate entity and whose income is exempt from the income tax under the current law of China.
The company, now through its indirectly owned subsidiary, Harbin Xinda is primarily engaged in the business of research development, manufacture, distribution of modified and engineering plastic pellets used in automotive parts through its manufacturing facility and its wholly owned research laboratory, Harbin Xinda Macromolecule Research Institute ("the Research Institute"), a separate entity established in 2007.
c. Exempt as "Foreign Investment Enterprise"
Then in its 2010 SEC filing (10-K for FY2009), the reason changed again. This time, CXDC said that it paid no taxes in 2006 and 2007 because it was exempt from tax as foreign-invested entity.
Prior to January 1, 2008, Foreign Investment Enterprises were subject to the Foreign Enterprise Investment Income Tax ("FEIT"). Under that law, Foreign Investment Enterprises were generally subject to an income tax rate of 33% on all income, including foreign income. Qualified Foreign Investment Enterprises would receive a reduced national tax rate of 24% or 15%.

Qualifying Foreign Investment Enterprises in the manufacturing sector were exempted from the FEIT for two years starting in the first year they became profitable, and received a 50% reduction in the FEIT for the subsequent three years, or a "two plus three" tax holiday. As such Harbin Xinda was exempt from paying the FEIT for 2007 and 2006.
Actually, the SAIC filings show that Harbin Xinda, CXDC's main operating company, was not a foreign-invested company in 2006 and 2007. At that time, it was 100% owned by individual shareholders who were Chinese citizens. It did not become foreign owned until 2008, when Harbin Xinda was transferred to a Hong Kong holding company, in preparation for the reverse merger. It could not have qualified for a foreign investment tax exemption as a company entirely owned by Chinese citizens.
Below is a shareholder resolution on June 26, 2008 approving the transfer from the Chinese nationals who were Harbin Xinda's shareholders to Hong Kong Engineering Plastics. The shareholders before the transfer, signing the resolution, were Jie Han (CXDC's CEO) and Qingwei Ma (one of CXDCs directors). The resolution is part of the Harbin Xinda's SAIC files (the full 2008 SAIC file for registration of the share transfer is available here):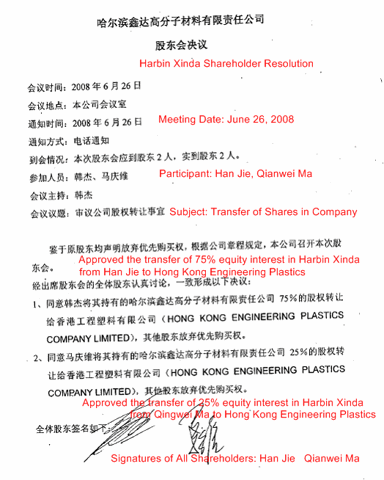 4. Reported Profit Margin 200% of Much Larger Competitor
Another sanity test that has been helpful in determining the plausibility of financial numbers is the comparison of key financials with better known competitors in the same industry.
For CXDC, a good comparable would be Kingfa, a much larger manufacturer of plastics based in Guangzhou. Kingfa is mentioned in CXDC's SEC filings as a larger competitor with "much larger financial resources".
Currently, Harbin Xinda's primary Chinese competitor in the automobile industry is Guangzhou Kingfa Science & Technology Co., Ltd. ("Guangzhou Kingfa"). Guangzhou Kingfa entered the automotive modified plastics market in 2006 and its facilities had an annual manufacturing capacity of 100,000 MT for its modified plastics products used in the automobile industry at the end of 2009. Based on Guangzhou Kingfa's annual report, we believe that their sales volume of automotive plastics is estimated to be approximately 160,000 MT in 2010. Guangzhou Kingfa has much larger financial resources than Harbin Xinda.
Comparing Kingfa's operating profit margin with CXDC's, we see that based on CXDC's SEC financials, CXDC's purported operating margin is about twice as much as Kingfa's (see Kingfa's financials).
Economy of scale is a big factor in the manufacturing industry, and profitability tends to go up with the size of operation. But here, CXDC claims a much higher operating profit margin than that of a much larger competitor.
| | | | | |
| --- | --- | --- | --- | --- |
| | | 2008 | 2009 | 2010 |
| CXDC | Revenue | 75.7 | 135.7 | 249.8 |
| (US$) | Operating Income | 9 | 17.6 | 33.7 |
| | Operating Margin | 11.9% | 13.0% | 13.5% |
| | | | | |
| Kingfa | Revenue | 7,168 | 7,112 | 10,242 |
| (RMB million) | Operating Income | 410.3 | 442.8 | 728 |
| | Operating Margin | 5.7% | 6.2% | 7.1% |
5. Common CFO with Controversial Advanced Battery Technology (OTCPK:ABAT)
CXDC's CFO is Taylor Zhang. Before joining CXDC, Zhang was the CFO of Advanced Battery Technologies, another Harbin-based reverse merger company whose SEC financials have been shown to be vastly different from its SAIC-reported financials. This association does not give one confidence in the reliability of CXDC's financial reporting.
From Item 10 - Directors, Executive Officers and Corporate Governance:
Taylor Zhang. Mr. Zhang has over eight years of experience in finance and operation in a broad range of industries. From May 2008 to March 2009, Mr. Zhang served as Chief Financial Officer of Advanced Battery Technologies, Inc (NASDAQ: ABAT). From 2007 to 2008, he served as Executive Vice President of Finance of China Natural Gas, Inc. (NASDAQ: CHNG). From 2005 to 2007, Mr. Zhang worked as a research analyst in New York Private Equity. From 2000 to 2002, he was employed as Finance Manager by Datong Thermal Power Limited. He holds a MBA from University of Florida and a Bachelor's Degree in mechanical and electronic engineering from Beijing Technology and Business University.
Disclosure: I am short CXDC.