Sometimes we make our lives more complicated than they need to be, and stock market trading is no exception.
I have spent endless hours plugging away at refining a certain back-testing simulation that incorporates market timing features along with a mix of fundamental and technical filters. This simulation was theoretically able to return almost 80% over the past year. Then last month happened and I watched it topple 38% in a blink of the eye. It has slightly recovered for an excess gain of close to 50%, but the point was still made: making a system too complex can open you to error. Given enough time, you can curve-fit a trading system over top of random stock market noise. Even though a basic trading system might not statistically provide the excess gains of an extremely complex system fitted to a back-tester, you are also less susceptible to data-mining errors.

This screen will keep the rules fairly straight-forward and simple - with clear investing principles. Thus, the average investor will have a better picture of the moving parts and the driving force of the engine.
Rule #1: The past 5 years of earnings (including the trailing 12 months) must show a continual increase in earnings.
Rule #2: The earnings must show a consistent upward trend (the concept is that earnings should be stable and upwards instead of a wild roller-coaster ride of volatility)
Rule #3: Year-over-year quarterly sales and earnings must be up at least 10%
Rule #4: Price over $10
Rule #5: On a major exchange
Rule #6: Either nearing a new high or bouncing off support

A similar, though not identical, approach is used for CAN SLIM followers that follow the IBD Stable 70. A somewhat similar approach, as tracked by AAII.com, has yielded 10% per year over the past decade. Here are some of the stocks that fit the 6 rules above:

AAPL - Apple is making most lists these days due to its high growth, strong price performance, massive market cap, and numerous other fundamental and technical criteria. Investors are in love with Apple, and rightfully so. Even despite their mega-star status, the company has a trailing P/E ratio of only 15, and when compared to a future growth rate of 22.5%, is still very attractive. 'Nuff said.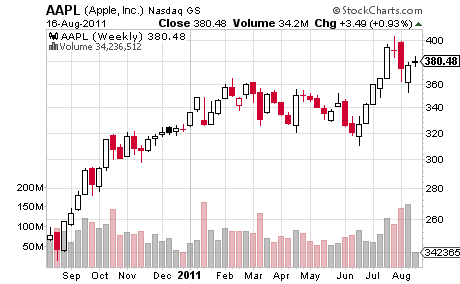 ATRI - Atrion Corporation makes products for medical applications. 7 years of averaged earnings growth is at 20.2% per year and sales growth hovers closer to 8%. A distinct lack of forward looking estimates gives this stock less visibility. The company has been relentless with increasing net profit margins from 9.8% in 2004 up to 21.4% today. Prices since 2009 have went from $65 per share to nearly $220 of late. There has been a small pullback to $197.80 which is a nice bounce off the $185 support. A good stable buy.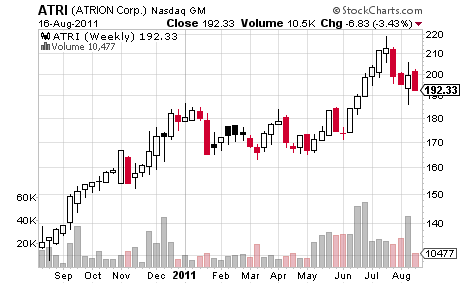 DLTR - Dollar Tree has been a nice growth story over the past 5 years with average earnings growth of 34% (Yahoo numbers). The next 5 years are expected to be at 15.66% per annum. Although the P/E ratio, as well as price-to-sales, is slightly above the industry average, this is more than compensated by higher forecast growth estimates which give it a subsequent lower overall PEG ratio...which factors in price, trailing earnings, and future growth rates. This fundamentally stable stock is on its way to bursting past the $70 resistance - which would make a fine entry point once it does so.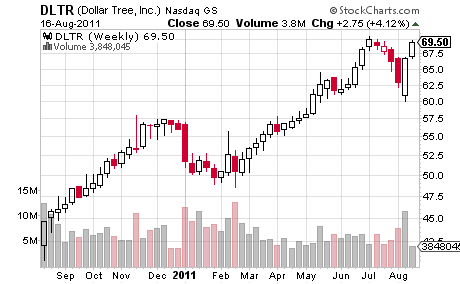 IBM - This stock has coming up on my radar over and over again. Small positive earnings surprises are nice, but it is the strong and stable earnings that make this a winner. Every year it keeps raising the earnings bar, from $4.47 in 2004 to a current 12-month trailing earnings of $12.42. 7-year earnings growth sits at 17.3% per annum. IBM has also steadily improve net profit margins from 7.8% in 2004 up to 14.7% today. Constant earnings estimate upgrades have helped this stock be a good price performer this year - from $145 to over $170. I really like this strong, stable, and sturdy stock and think you should take the recent bounce to load up.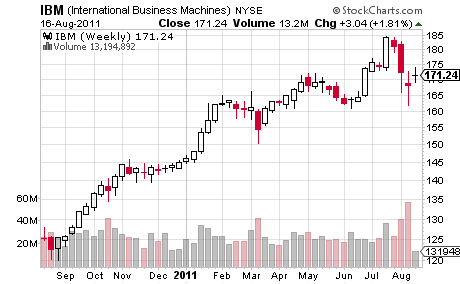 CSH - Cash America International is another strong contender. Sales growth has exhibited strength over the past many years. The 7-year sales growth sits at 18.7%. The earnings growth over the past year is at 19.6%, while the 7-year average sits at 24.1%. Revenue per share has almost tripled since 2004, while earnings per share have more than doubled.

What of relative P/E values? The current P/E, although they are up significantly from last year which might make some nervous, they still sit just below the 7-year average. Price-per-sales is slightly above the 7-year average. The P/E and P/S are reverting to long-term averages rather than simply being overvalued.

Earnings estimates have also steadily risen over the past few months. For example, next year's earnings were guessed at $4.88 three months ago, then up to $4.91, and now at $5.05. This might not seem significant as to total upgrades, but positive price performance is associated with positive earnings estimate revisions. Frequent positive revisions will help this stock achieve strength and stability in a tepid market. While I really like the recent bounce off $50, a double-top exists at $60. Early money would be in now, but safer money would wait for the next hurdle to clear.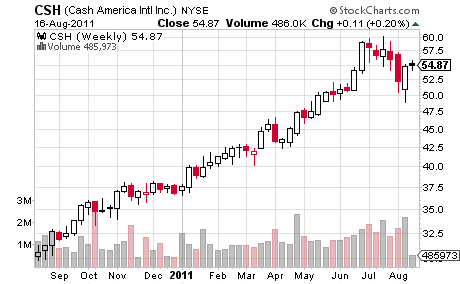 Wrap-up on Stable Stocks
By keeping it simple you are working with fewer moving parts for easy monitoring. Of course, it also requires more in-depth homework on individual stocks instead of simply whittling down thousands of stocks to a mere handful with complex accounting filters alone. So if you think it prudent to follow a simple rule set that looks for good price performers while having strong and stable earnings, then start sifting through the annual and quarterly reports along with corresponding headlines on these stocks to see if they are good fits for your portfolio.

Disclosure: I have no positions in any stocks mentioned, and no plans to initiate any positions within the next 72 hours.