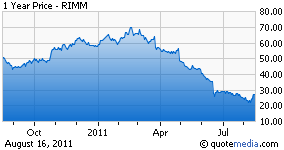 Research In Motion Limited (RIMM) Research In Motion Limited (RIM) designs, manufactures, and markets wireless solutions for the worldwide mobile communications market. The company was founded in 1984 and is headquartered in Waterloo, Canada.
Shareholders of RIM should be rejoicing. The future certainly appears to belong to mobile, and who to better represent the future of handset technology? Well, just about anyone else in the space. In a market space that is growing by leaps and bounds, RIM management has not been able to execute. By some estimates, smart phone sales are up over 70% year-over-year. Sales of smart phones continue to be selected over non-smart phones at the highest rate yet. What more could the management of RIM ask for? This is quite possibly the best market environment RIM will ever find itself going forward.
Why are RIM shareholders not making money hand-over-fist? Simple, in a word, "Google" (NASDAQ:GOOG) is eating their lunch at every turn. Google has taken what they learned about free online applications and software, and applied it brilliantly in the mobile space. What better way to get developers behind your product and create demand for your product than to give it away for free? Google's foresight in marketing has instantly created the critical mass needed to make the Andriod platform a key player. To be sure, Andriod came at a development cost to Google that is not being recovered directly, but with a market share of over 40% of the operating systems and growing, Google is able to steer the direction of the mobile space overall, and continue its dominance in the online advertising world.
RIM management may say to shareholders, "we are trying to compete against a free product", but why should shareholders care when the value of RIM continues to slide down into the dark cavity of lost valuation? Can moving over to the QNX platform really be a great idea for smart phones when the PlayBook has failed to draw a significant amount of interest away from Apples's (OTC:APPL) iPad? Without a critical mass of users or expected users, developers will not focus their energy and resources towards the QNX. In addition, without the supporting applications, it will be challenging for RIM to gain market share. A merry-go-round of market share hell like this for RIM may quickly turn RIM into another PALM or Motorola (NYSE:MMI), with an end for the company that values the intellectual property more than anything else. While current investors of Motorola may be happy today, I believe investors of RIM are looking for more out of management.
I believe it is unlikely that Google will hang on to the hardware side of Motorola for very long. Look for one of many Andriod based hardware makers to buy out Google's stake in the hardware. Once the hardware portion of Motorola has been sold off, any small worries that hardware makers have will dissipate quickly.
Sprint (NYSE:S) can see the handwriting on the wall. In an article written a few days ago (click here to read), I describe how RIM's PlayBook is currently left out in the cold. Yes, the PlayBook does have WiFi, regardless, it would appear RIM needs to create products that exceed others like the iPad.
While RIM has been a stock I believe should be shorted (click here to read why), and I shorted into the close yesterday after the monster run up in share price, it doesn't have to stay a short. The company has everything it needs to pull out of the current tail spin. Everything except maybe one, the management. Recently, a shareholder proposal was introduced to divide up the management of RIM. It was a great idea brought forward by insightful shareholders. A company that thought releasing the current PlayBook against the iPad appears to need a shakeup of management. unfortunately, in an agreement that must make Congress envious, the idea was put on hold while a committee of directors "studied" the idea. Allow me to save the directors the time and trouble, and provide a copy of the stock chart along with the current and projected market share numbers. If that is not enough, I am at a loss for what will be enough to get the leadership to act decisively. It is the same line of thinking that is allowing changes to be put to a study club of directors, which has allowed RIM to lose the aggressiveness needed to compete with Apple and Google. Does it really take a study club to figure out that instead of laying off workers, maybe the layoffs need to be further up the pay scale?
I want to invest in RIM, and who wouldn't with the current balance sheet and discount in share price? While the numbers look attractive, I know the reason for the very low PE multiple is the lack of faith the market in the captains of RIMM. If the study club does more than compare expense accounts, they will shake up RIM's top and the market will start putting some value into RIM's future. The sooner the better, and the sooner I will become an investor.

Disclosure: I have no positions in any stocks mentioned, and no plans to initiate any positions within the next 72 hours.