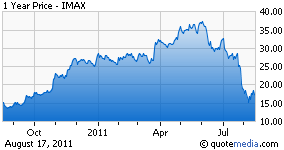 IMAX's (NYSE:IMAX) first sixth months of 2011 taught many investors, including myself, several important lessons that led to disappointing earnings and frustration to many investors.
There are those who still understand the strong brand of IMAX, even in the "faux" IMAX with crisp superior sound, unlike the "competitor" screens like AMC's ETX, which is a smaller screen with an annoyingly loud sound objective which only brings entertainment upon the shaking scenes in the film "The Rise Of The Planet Of The Apes," which I sat through this week wishing it was on IMAX instead. Also comments from the thousands about those who said RealD (NYSE:RLD) did not hold a candle to the IMAX experience, "faux" or not, with comments like blurry pictures when choosing to go to 'Harry Potter," which I sat through this week.
But what is important is that this quarter is looking like IMAX is starting to show improvements and strength after realizing the disappointment the shareholders were receiving. Some of which are the aggressive promotions of the Sony (NYSE:SNE), Discovery, and IMAX 3net Shark Week, and IMAX's unlikely signing of "Final Destination 5," a class in which most would not expect IMAX to engage but definitely fits the profile of action based genre.
Back to the fundamentals of IMAX we as investors must understand and examine IMAX's growth potential through joint venture agreements which seem to be double-edged swords as the incremental expenditures associated with the joint venture seems to cannibalize the margins for current quarters. This issue was one of the biggest laggards on IMAX's Q2's poor performance along with poor box office and expenses associated with options.
However, the long-term outcome of the Joint Venture Agreements is IMAX's best product and shows the innovation of the company to help increase investors value and longevity as a premium chain. Another innovation down the R&D pipeline for IMAX is a laser integrated projector that could possibly infiltrate not only IMAX screens but all exhibitors starting in 2013. But in the short term the capital requirements for the J.V. Growth will continue to cause lower the expected earnings, which caused much pain to those investors, like myself, who walked the plank of the "Pirates of the Caribbean" of Q2 earnings that sent the share price down to more humble levels.
Now examining the current quarter it is interesting to think about the film "Final Destination 5," filling the empty slot of August. To me this is the company exploring new areas and trying to see how IMAX consumers will react to more non-event type films. Another being "Contagion," coming out September 9th, which will be another film to keep an eye on because if this genre shows some success in IMAX this can open up many more possibilities for non-traditional IMAX films and expand the genre past those like "Transformers: Dark Side of The Moon." The success of "Final Destination 5" had been announced on IMAX's website with a $1.5 million opening. Another quick note is the success of "Sector 7' which has done well in IMAX Korea averaging over $50,000 per screen on 10 IMAX screens.
IMAX has reported screen revenue exceeding $120,000,000 as of August 15th, with over a month and half left in this 3rd Quarter. This box office number has surpassed the total for IMAX's box office receipts in Q2 for the whole three month period. And even still there is some fuel left in the tank with continued showings of Potter and Transformers showing some strength with over $2,200,000 and $1,100,000 respectively after both being out for over a month each. Contagion will have a similar box office as Final Destination, I am assuming less for IMAX because the film itself does not fit the IMAX tier of films, but on the upside, if the film does do well in IMAX and consumers are willing to see these type films in IMAX and pay the premium this could open up a whole new film line for IMAX screens.
Other contributors have been very aggressive with the IMAX box office estimate of upwards of $250 million from IMAX theater revenue. This is just not possible with only Contagion left in the new releases, unless IMAX looks to contract another film with a studio between now and the end of Q2, and even then the $250 million is too far out.
So let's go with a conservative estimate for film and Joint Revenue for Q3 coming from a total box office IMAX rev. Of maybe $140 million, then depending on the source Q2 2011 Conference Call Supplement, which would be somewhere between 22-34% when combining Joint Venture and Studio agreements, in which IMAX's cut would be somewhere between $29.7 million and $45.9 million respectively. Furthermore, IMAX makes a dime on this revenue through exhibitors for concessions based on attendance using an incremental body theory in which a couple million dollars can be added to the income sheet during a good quarter.
One hundred and twenty million is a good number and IMAX had higher than normal full system and sale type leases at 10-13, which is usually a conservative guidance, at around $1.1-1.5 million apiece. And like always as the theater network grows, especially joint ventures, the maintenance and rent revenue will increase accordingly. The most important thing for IMAX is to figure how to redefine cost recognition on joint venture agreements or else IMAX will continue to turn an embarrassing profit of 1.3 million on with operating revenue of over $54,000,000 And finally, looking at Q2.option related expenses were somewhere over $10 million, which should not occur again, leaving the possibility of better profits this quarter. Also digital upgrades, 300K-500K, a piece will become less and less as new installations are digital and the number of screens upgrading is shrinking, I think last quarter they had less than 5. I have a hard time understand if IMAX actually makes any money on the J.V. In the medium term because of the amount they put up in capital, but for every Joint Venture IMAX reports around $100,000. IMAX estimated 20-25 Joint Venture installations for Q3.
These are my estimates IMAX's 3rd Quarter Performance
Film and Joint Venture-- $45.7 mill
Sale and Sales Type Leases-- $19.5 mill
Joint Venture Installations-- $2.2 mill
Digital Upgrades-- $1.5 mll
Maintenance/Rent/Fees--$6 mill
Total: $74.9 million
In summary IMAX can prove again to have the momentum and potential to attract value investors as Gelfond and the IMAX team work hard to continue to sign more screens, new films with studios, innovate both in tech. and operations, as Gelfond discussed cutting costs during slow box office periods, and continued theater expansion in international territories that have performed outstanding and will be exciting to see how the IMAX bran in full force will perform with films like "The Avengers" and "The Dark Knight Rises."
Disclosure: I have no positions in any stocks mentioned, and no plans to initiate any positions within the next 72 hours.