Back To The Box Paradigm: A U.S. Fixed Income ETF Portfolio
When the markets are moving in directions you cannot comprehend and cynicism erupts, stick to your rules. Make a box and stay inside of it. Do not attempt to chase shadows, but devise and maintain strategies that work.
One such strategy, the box paradigm, is designed to accept duration risk for a higher distribution yield than its benchmark, the iShares Core U.S. Aggregate Bond ETF (NYSEARCA:AGG). An ETF portfolio was selected to meet these objectives and is seen below in Table 1:
(BATS:FLOT) - iShares Floating Rate Bond ETF
(NYSEARCA:BSV) - Vanguard Short-Term Bond ETF
(NYSEARCA:BIV) - Vanguard Intermediate-Term Bond ETF
(NASDAQ:VCIT) - Vanguard Intermediate-Term Corporate Bond ETF
(NYSEARCA:BLV) - Vanguard Long-Term Bond ETF
(NASDAQ:VCLT) - Vanguard Long-Term Corporate Bond ETF
AGG - iShares Core Total US Bond Market ETF
Table 1 - Box Paradigm: U.S. Fixed Income ETF Portfolio As At January 30th 2015

Environment Outside The Box
The environment should first be ascertained, so that a proper box can be constructed. In its latest FOMC statement, the Fed thinks that the U.S. economy is growing at a solid pace. Labor market indicators have improved further as job gains grew and the unemployment rate fell. Household spending is also showing signs of improvement as a result of the decline in energy prices. Businesses have also been investing while core inflation remains low but stable.
Table 2 - Economic Projections Of Federal Reserve Board Members And Federal Reserve Bank Presidents, December 2014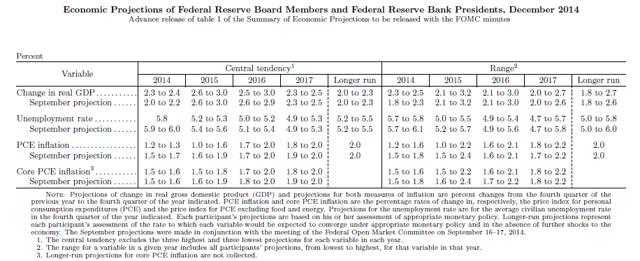 Source: Federal Reserve
Charts 1-3: Central Tendencies Of Economic Projections, 2014-2017 And Over The Longer Run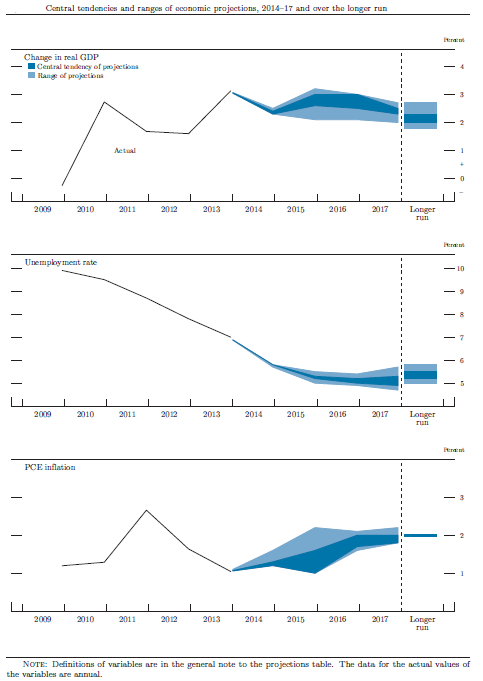 Source: Federal Reserve
Initial estimates show that U.S. GDP grew 2.5% year over year in the 4th quarter of 2014. This rate is above the 4-quarter moving average of 2.4%, so the U.S. is still growing at an above-trend pace. Consumer spending was strong as real PCE rose 4.3% versus 3.2% in the previous quarter. This was the strongest quarterly increase in the post-financial crisis era. Residential investment improved given the loosening of mortgage credit and this trend is likely to continue.
Chart 4 - U.S. GDP Growth (Year-Over-Year %) As At December 2014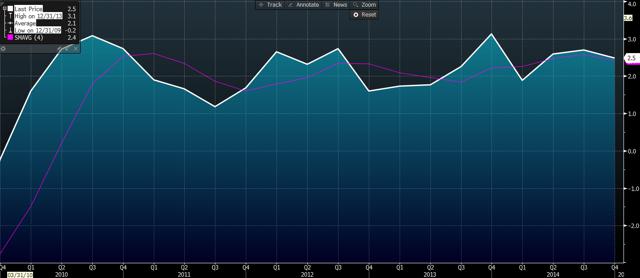 Source: Bloomberg
Given the current moves in the U.S. economy and expectations for a rate hike in the 3rd quarter of 2015, yields in the U.S. should be rising. But they are not. The U.S. 10-year yield is nearing historical lows, around 1.65%. The chart below shows a 3-year chart of the U.S. 10-year yield.
Chart 5 - U.S. 10-Year Yield Weekly Candlestick Chart As At January 30th 2015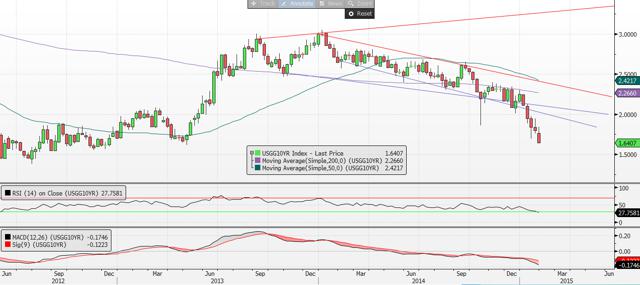 Source: Bloomberg
Quantitative Easing of other central banks appears to be keeping U.S. yields low as investors shift their portfolios from their local currency fixed income portfolios to U.S. dollar-denominated portfolios to attain the higher yield.
Assumptions & Box Metrics
Trying to predict market movements produces a certain level of cynicism as there is a 60% probability that the prediction made is wrong. With this level of duplicity, investors should assume the worst-case scenarios which would prevent ruin but leave room for gains, a personal put option. Let us take a look at the table below which shows the box metrics of the U.S. Fixed Income ETF Portfolio.
Table 3 - Box Metrics Of U.S. Fixed Income ETF Portfolio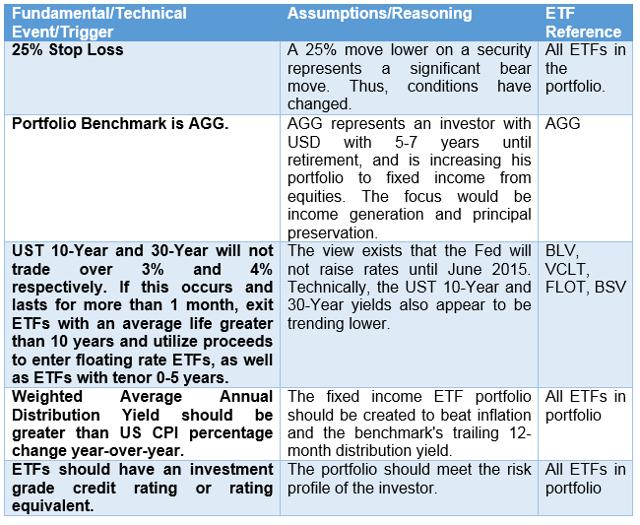 The box paradigm portfolio weightings hold until the triggers are achieved, that is, a recognizable change in the interest rate environment in the U.S. Furthermore, box constructions prevent chasing the market and ensure that the objectives are set and met.
Disclosure: The author has no positions in any stocks mentioned, and no plans to initiate any positions within the next 72 hours. The author wrote this article themselves, and it expresses their own opinions. The author is not receiving compensation for it (other than from Seeking Alpha). The author has no business relationship with any company whose stock is mentioned in this article.