Remember Dell's (NASDAQ:DELL) old good days? For more than a decade since the company went public in the late 1980s, its stock was rising by leaps and bounds, soaring from a few dollars to near $420 (when adjusted for seven stock splits)—racing together with the likes of Cisco (NASDAQ:CSCO), EMC Corporation (EMC), Ciena Corporation (NASDAQ:CIEN), and JDS Uniphase (JDSU). Dell Computer was in the right business the right time, driving the hype and buzz that propelled other networking and dot-com stocks to the stratosphere. But what set Dell apart from other companies are its business fundamentals, its ability to turn a market niche into a mass market, going against the popular wisdom that people won't buy computers on line. Yet Dell's stock couldn't define gravity, falling from around $60 (after the last split in 2000), to around $14.5 today—after reporting lackluster earnings results. What caused Dell's decline and fall?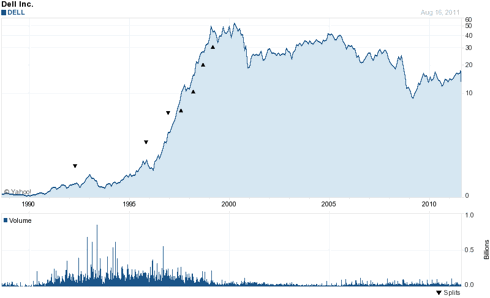 Four factors:
Momentum shift. Being popular among networking and dot-com investors, Dell's great run up in the 1990s was, in part, driven by momentum. Momentum investing often fuels bubbles that leave investors with hefty losses once they burst and momentum shifts. Worse, momentum stocks rarely come back, as they carry the stigma of the "bubble," even stocks of companies with strong fundamentals like Dell.
Maturity. As is the case with other high-tech survivors of the high-tech bubble, Dell is no longer the emerging $200 million small company that began in a university dormitory room, with a few millions of shares and a few hundreds of employees, but rather a mature $28 billion gorilla with 1.9 billion shares and thousands of employees. It is unfair and naïve to expect a mature, large company to grow as an emerging small company.

Competition. In its early days Dell had little direct or indirect competition, but eventually plenty of it, as Hewlett-Packard (NYSE:HPQ) and Lenovo sought a piece of the pie. But what has hurt Dell the most is recent completion from Apple's (NASDAQ:AAPL) MacBook lines, as well as the shift away from PCs altogether to wireless devices.
Inability to Keep Up With Innovations. By and large, Dell's innovation strategy is based on the application of a just-in-time system that has been for years used in the automobile industry into the assembling of computers—a non-proprietary innovation that can easily be replicated by the competition with limited potential for follow-up innovations.
The bottom line: Dell's business model has its place in history. I will certainly stay away from the stock, as well as from stocks with similar business models that have been popular with momentum investors--like Netflix (NASDAQ:NFLX).
Disclosure: I am short NFLX.