By Stuart McPhee
AUD/USD for Wednesday, February 4, 2015
In the last 24 hours the Australian dollar has been on a rollercoaster ride dropping sharply to a new multi-year low below 0.7630 before rallying strongly and moving back up above the 0.77 level and more recently 0.78. Prior to all the recent activity, in the last couple of weeks the Australian dollar fall very sharply and break lower from the trading range that had been established roughly between 0.8050 and 0.8200. The 0.77 range is currently offering some support to the Australian dollar which has allowed it to consolidate a little and temporarily stop the recent decline over the last couple of days. A few weeks ago it made numerous attempts at the resistance level at 0.82 only to be sent back often before finally finishing that week moving through this key level. In doing so it was able to reach a one month high near 0.83 before being sold back down again towards 0.82 as the resistance and selling activity above this level kicked in.
Over the Christmas / New Year period, the Australian dollar seemed to have been content with trading in a narrow range below the resistance at 0.82, which continues to remain a key level as it is presently provides resistance. The Australian dollar experienced a disappointing November and December moving from resistance around 0.88 down to the new lows recently. For a couple of months from September through to November, the Australian dollar did well to stop the bleeding and trade within a range between 0.8650 and 0.88 after experiencing a sharp decline throughout September which saw it move from close to 0.94 down to below 0.8650. Back at the beginning of September the Australian dollar showed some positive signs as it surged higher again bouncing off support below 0.93 and reaching a new four week high around 0.94 however that all now seems a distant memory.
It seems a long way away now but the Australian dollar reached a three week high just shy of 0.9480 at the end of July after it enjoyed a solid period which saw it surge higher through the resistance level at 0.9425 to the three week around 0.9480, before easing back towards that level. The Australian dollar enjoyed a solid surge higher reaching a new eight month high above 0.95 at the end of June, only to return most of its gains in very quick time to finish out that week. Since the middle of June the Australian dollar has made repeated attempts to break through the resistance level around 0.9425, however despite its best efforts it was rejected every time as the key level continued to stand tall, even though it has allowed the small excursion to above 0.95.
RBA's Stevens cut rates by a quarter point to a new record low of 2.25% today as his economy is on track to record below-potential growth for the sixth year of the past seven - expanding less than the 3.3% average of the past 30 years, when Australia began freeing up markets and lowering trade barriers. Unemployment has also remained above 6% for the longest stretch since 2003, when the nation's China-fueled mining boom began. Demand from China, along with fiscal stimulus and interest-rate cuts, helped keep Australia expanding throughout the global financial crisis that tipped the world into its worst postwar recession. That's changed. "China isn't there this time to bail Australia out of weakness, unlike 2009," said Katrina Ell, an economist at Moody's Analytics in Sydney. "The RBA has had to step up to the plate and do the heavy lifting this time."
(Daily chart / 4 hourly chart below)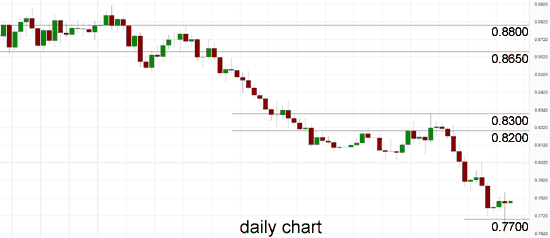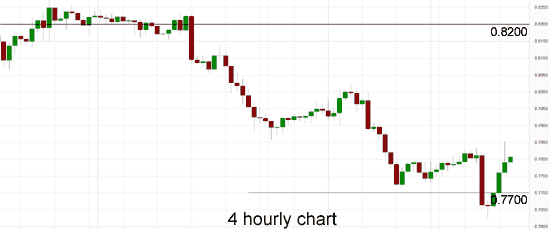 AUD/USD February 4 at 01:20 GMT 0.7805 H: 0.7806 L: 0.7754
AUD/USD Technical
| | | | | | |
| --- | --- | --- | --- | --- | --- |
| S3 | S2 | S1 | R1 | R2 | R3 |
| 0.7700 | - | - | 0.8200 | 0.8650 | 0.8800 |
During the early hours of the Asian trading session on Wednesday, the AUD/USD is rallying well and moving back above 0.78 after received solid support from around 0.77. This is after it fell sharply to new multi-year lows below 0.7630 in the last 24 hours. Current range: trading right above 0.7800.
Further levels in both directions:
• Below: 0.7700.
• Above: 0.8200, 0.8650, and 0.8800.
OANDA's Open Position Ratios
(Shows the ratio of long vs. short positions held for the AUD/USD among all OANDA clients. The left percentage (blue) shows long positions; the right percentage (orange) shows short positions.)
The long position ratio for the AUD/USD has fallen sharply back towards 50% as the Australian dollar has dropped sharply back under the resistance level at 0.82 and down to a multi-year low near 0.7600. The trader sentiment remains in favour of long positions.
Economic Releases
09:00 EU Composite PMI (Jan)
09:00 EU Services PMI (Jan)
09:30 UK CIPS/Markit Services PMI (Jan)
10:00 EU Retail Trade (Dec)
13:15 US ADP Employment Survey (Jan)
15:00 CA Ivey PMI (Jan)
15:00 US ISM Non-Manufacturing (Jan)
* All release times are GMT