January was anything but a quiet month for the well-valued growth portfolio, I described in an earlier article. As the volatility of the market as a whole rose dramatically, several of my growth stocks responded with significant price changes.
Name

First Purchased

Current Cost Basis

Price 1/2/2015

Price 2/1/15

Gain/

Loss Since Purchase

Gain/

Loss YTD

A Value Buy Now?

Dollar General (NYSE:DG)

1/24/2013

$50.77

$70.50

$67.06

32.09%

-5%

No

Express Scripts (NASDAQ:ESRX)

8/29/2014

$73.84

$84.91

$80.71

9.30%

-5%

No

LGI Homes (NASDAQ:LGIH)

8/29/2014

$18.71

$15.11

$13.17

-29.61%

-13%

Yes

LKQ Corp. (NASDAQ:LKQ)

6/16/2014

$26.49

$27.56

$25.81

-2.57%

-6%

Yes

Southwest Airlines (NYSE:LUV)

1/23/2014

$23.15

$42.83

$45.18

95.16%

5%

Probably not

MannKind Corp. (NASDAQ:MNKD)

1/10/2014

$6.02

$5.78

$6.35

5.48%

10%

Possibly

Old Dominion Freight Lines (NASDAQ:ODFL)

1/31/2014

$50.02

$77.33

$70.1

40.14%

-9%

Yes

Skyworks Solutions Inc. (NASDAQ:SWKS)

5/8/2014

$47.01

$73.10

$83.05

76.66%

14%

No

Thor Industries (NYSE:THO)

11/25/2014

$55.06

55.54

$56.35

2.34%

1%

Yes

Portfolio as a whole

33.93%

2.46%

S&P 100

1/23/2013

$1,494.81

$2,058.90

$1,994.99

33.46%

-3.1%0%

No
You can see how the individual stocks performed in the table above.
The Big Movers
The performance of individual stocks ranged from a drop of 13% for Texas-based home builder LGI Homes to a gain of 14% for Skyworks Solutions.
Earnings explain the behavior of the best-performing stocks, Skyworks and Southwest Airlines. Both of these stocks exceeded analysts' already ambitious expectations resulting in a significant boost in price.
MannKind Corp.'s stock rose significantly because of a major development in the company's business, since its flagship product, the inhaled insulin Afrezza, became available at pharmacies nationwide on January 26. Thirty-three percent of the stock's float is held short, and there had been a flurry of articles early in the month advancing the thesis that Sanofi (NASDAQ:SNY), MannKind's partner, was going to delay the launch until late in the year or back out of the deal entirely. Instead, the company not only began the launch, but launched the product at a very competitive price while offering discount coupons to patients that allow them to try the product for free. The stock has gyrated dramatically ever since, but it closed the month up 20% from its $5.25 low for the month.
Now that we know something about the price of Afrezza, it was possible to do some back of the envelope estimates about how sales of the product might translate in to earnings per share in a few years. These estimates, which I wrote up in another article, lead me to believe that MannKind is at least well-valued at its current price and quite possibly significantly undervalued.
The rest of the stocks in the portfolio have not yet reported their quarterly earnings, so their prices were affected by overall market forces or by earning reports of other companies in their industry or, in the case of LGIH, their geographical region.
LGI Homes was the worst performing of these stocks, with its price responding to investors' concerns that its heavily invested in houses in Texas, where the oil bust is having a dramatic effect on the economy. However, LGIH's own guidance about closings and contracts gives no reason to expect its earnings to do more poorly that analysts expected it to do when I first invested in it. In addition, though the reports of other homebuilders who have reported their quarterly results drive the price of LGI Homes up and down, I don't believe they are a good guide to LGI Homes' results because LGI Homes sells to the very low end of the housing market at prices competitive with apartment rentals, while the other companies reporting are usually selling more expensive homes.
F.A.S.T.Graphs now provides estimates for LGIH so it is possible to value it using the software, which was not the case last month, which is why its valuation has changed. LGIH does appear very well valued, but since it is only followed by a few analysts since it IPOed recently, we have no way of knowing how accurate these analysts' forecasts are.
I consider LGIH a very speculative stock. Because of that I have a relatively small investment in it and do not plan to invest more until I read the company's next earnings report. But the smaller size of my investment in LGIH means that its price drop did not have as much of an effect on my portfolio as a whole as the rise in the other stocks cited did.
The chart below shows what percentage of my portfolio each stock comprises and how changes in its price have changed what percentage it represents of the portfolio as a whole.
| | | | |
| --- | --- | --- | --- |
| Percent of Investment in Portfolio | Percent of 1/1/2015 Portfolio Value | Percent of 2/1/2015 Portfolio Value | Name |
| 12.8% | 13.7% | 12.6% | Dollar General |
| 5.3% | 4.7% | 4.4% | Express Scripts |
| 5.4% | 3.3% | 2.8% | LGI Homes |
| 11.6% | 9.3% | 8.3% | LKQ Corp. |
| 11.8% | 16.4% | 17.1% | Southwest Airlines |
| 12.0% | 7.9% | 9.4% | MannKind Corp. |
| 12.6% | 15.0% | 13.2% | Old Dominion Freight Lines |
| 18.7% | 22.1% | 24.6% | Skyworks Solutions Inc. |
| 9.9% | 7.7% | 7.6% | Thor Industries |
Changes in Valuation
The dramatic changes in price for several stocks in the portfolio changed how I view their valuation.
As I explained in my previous article, I use F.A.S.T.Graphs software to determine how the current price relates to the companies' earnings and its expected earnings. F.A.S.T.Graphs also shows me how accurate the analysts' estimates of future earnings have been for past earning periods, which helps me determine how much reliance to put on their future projections.
The boost in price for both Southwest and Skyworks has changed the valuation of these stocks to where they no longer fit the value parameters I would use for buying a stock. However, the analysts have tended to be pessimistic about Skywork's earnings in the past and even more so about Southwest's. So I take the future predictions with a grain of salt. Neither stock is so overvalued that I would sell them, but I am holding them for now and will be keeping a close eye on future developments.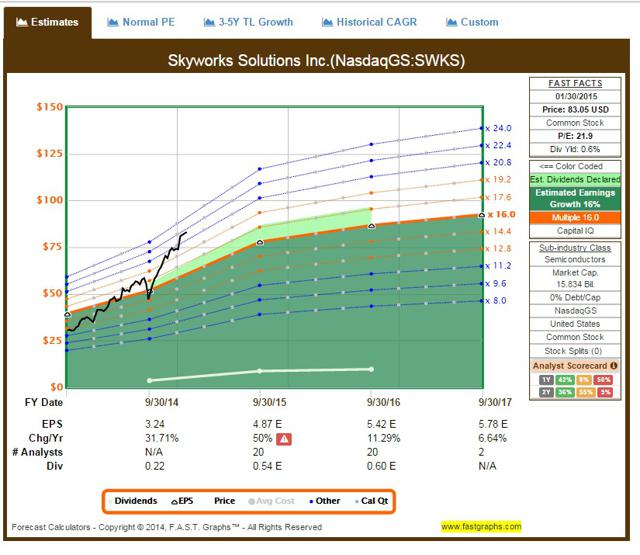 On the other hand, the decrease in the price of Old Dominion Freight Lines, which was one of my best performing stocks last year, but which had become significantly overvalued by year end, has brought it back into a range where it is at the higher end of the range that could be considered fairly valued. However, since it doesn't provide a margin of error and is already one of my largest stock holdings in this portfolio I am not going to add to this holding now.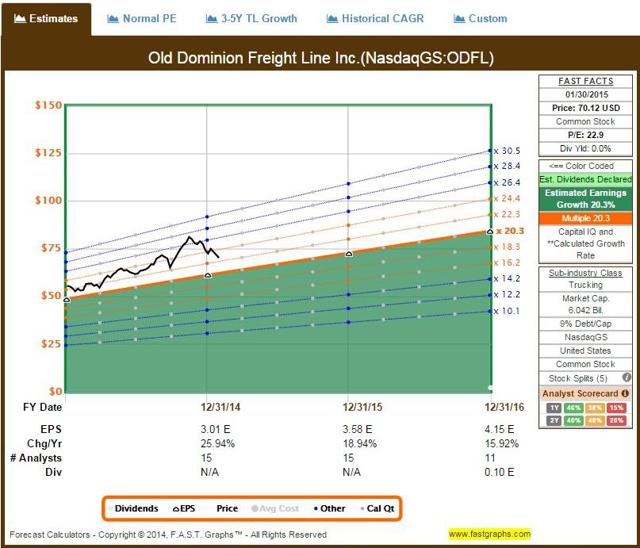 Changes to the Portfolio over January
I did not buy or sell any stocks in any of my portfolios during January, including this one. Only two stocks emerged on my screens that appeared to have the characteristics I look for in a well-valued growth stock. Those stocks were Priceline (PCLN) and Spirit Airlines (SAVE.) However, my due diligence caused me to eliminate Spirit because I don't like the very negative reputation it has earned with customers, and it is already very similar to Southwest, a company I originally bought because I choose to fly with them over other airlines when possible. It may well be a very profitable investment, but I like to buy the stock of companies whose business models I feel good about.
Priceline is still on my radar, but its growth has slowed dramatically This is what has brought the price down to where it appears to be in value.
But my experience with other growth stocks in the past that have come into value because their once-impressive growth has slowed has taught me not to buy into a stock when its price is dropping for that reason.
Once a growth stock loses its very high growth rate its price often drops significantly below value as growth investors flock to faster growing new flavors-of-the-month. So while Priceline's earnings are still growing at a pace that could provide a very nice long term boost to my portfolio, I would feel more comfortable buying it when its price has sunk deep enough to provide a good-sized margin of safety. I'm also not crazy about the quality of Priceline's debt, which is at the bottom end of investment grade according to S&P. However, I will keep monitoring it and pay close attention to its earnings report, which will be coming out in the middle of February.
The Lessons I Learned this Month
This was an excellent month for my education as a growth stock investor. The volatility that had been missing from the market over the past two years came back and gave me a good opportunity to see how my stocks would do in a more challenging market.
The fact that I had bought these stocks with good margins of error in most cases and at fair value for those growing swiftly, limited my losses and let me feel very comfortable holding all these stocks, even those that experienced sharp price decreases. The outperformance of two of my stocks more than balanced the underperformance of others.
Most importantly, because I had stopped buying into several of these stocks as soon as they went out of value-which happened very quickly with several of them last year, most notably ExpressScripts and Dollar General - my position size was limited or concentrated in much cheaper shares. This kept me from suffering significant losses as their prices came back down.
The peace of mind I get from using valuation to guide my buying, selling, and holding is the best part of investing this way. It also gives me clear cut signals that tell me when I should be taking profits and when I should be adding to a position. Valuation is only part of the process I use to make these decisions. I pay a lot of attention to what the actual business is doing and how its conditions are changing, as reflected both by the company's quarterly reports and earnings calls, but also what my common sense tells me about the business model and how larger factors at work in its business environment should affect its profits going forward.
Finally, to respond to the comments several people left on my original article about this portfolio, my portfolio as a whole is invested largely in broad market index funds and a few active mutual funds with excellent very-long-term track records. This well-valued portfolio is a tilt to the overall portfolio. I am very well aware that this portfolio contains too few stocks to be safe a stand-alone portfolio. And I do not suggest that anyone invest only in growth stocks!
Disclosure: The author is long DG, ESRX, LGIH, LKQ, LUV, MNKD,ODFL, SWKS, THO. The author wrote this article themselves, and it expresses their own opinions. The author is not receiving compensation for it (other than from Seeking Alpha). The author has no business relationship with any company whose stock is mentioned in this article.