On October 13th, it was announced that Atlas Pipeline (NYSE:APL) is being bought by Targa Resources (NYSE:TRGP). As part of that agreement, Atlas Energy's (NYSE:ATLS) ownership stake in APL will also be acquired. Note that not all of Atlas Energy is being acquired. As part of that transaction agreement, Atlas is spinning out their non-Atlas Pipeline-related investments so that all of ATLS can then be bought. This transaction is quite complicated as you can see and the spin-off, or 'stub', that is left over has been neglected by the market and can now be purchased well below liquidation value. The sharp fall in oil and gas stocks has caused people to overlook this opportunity.
Leon Cooperman of Omega Advisors is one of the company's largest shareholders and has been multiplying his stake in the sell-off over the past month or two. He has been a long-time holder of the stock (starting at a higher cost-basis) and now owns over 13.5% of ATLS.
Aspects of the Deal
When the merger closes, each unit of ATLS will be exchanged for $9.12 in cash, 0.1809 shares of TRGP, and one share of the stub.
In addition, holders of ATLS on the close of February 5, 2015 will receive a distribution of $0.52 per share - which effectively reduces the price of the stub by that amount.
With the current prices of TRGP and ATLS, the stub is being valued at $3.73.
With the distribution amount subtracted out, the stub is being valued at $3.21. This stub is greatly undervalued as discussed below.
| | |
| --- | --- |
| ATLS Price (2/3/15 close) | $30.27 |
| Cash | $9.12 |
| TRGP Share Fraction | 0.1809 |
| TRGP Price (2/3/15 close) | $96.32 |
| Stub Market Value | $3.73 |
| Dividend paid | $0.52 |
| Stub Market Value Post Dividend | $3.21 |
The distribution of the new Atlas stub is expected to be completed for all shareholders on the close of February 25, 2015 and begin trading on March 2, 2015. Additionally, the merger agreement is expected to be completed concurrently.
The shareholder votes will be held on February 20th. I see no reason why this merger would not pass - both management teams have continued to voice support for the merger.
Stub Details
The stub will hold bits and pieces of a number of different investments the company has made over the years. There will be 52,000,000 shares of the stub created. Also, the stub will have $145 million in debt. A summary of the stub assets is provided in the table below:
| | |
| --- | --- |
| Number | Asset |
| 20,960,000 | Shares of ARP |
| 3,750,000 | ARP Class C Preferred Shares |
| 100% | GP Interest in ATLS E&P Subsidiary |
| 80% | GP Interest in ATLS E&P Development Subsidiary |
| 8% | LP Interest in ATLS E&P Development Subsidiary |
| 16% | GP Interest in Lightfoot Capital (owns 40% of ARCX) |
| 12% | LP Interest in Lightfoot Capital (owns 40% of ARCX) |
| 11.5 million cf/day | Natural Gas production in Arkoma Basin |
Some of these holdings can be valued easily. Others are more complicated. The nearly 21 million shares of ARP can easily be valued as ARP is a publicly traded entity. ARP recently traded around $10.35. The ARP stake is worth roughly $217 million.
In July 2013, the ARP Class C preferred shares were bought for a total of $86.6 million. I'm valuing these at 65% of this price since they are not publicly traded or $56.29 million.
The interests in Lightfoot Capital can also be relatively easily valued. Lightfoot Capital owns 40% of the LP interest in Arc Logistics Partners LP (NYSE:ARCX). As a result, the stub will own 4.8% of ARCX. This piece has a market of $11.3 million. The GP interest has essentially no value as it is a non-economic interest with no right to distributions.
Additionally, on December 4th the company guided that the natural gas production should be valued at $1.15 per share. To add a margin of safety to that, I'm valuing it at 65% of their suggestion or $38.9 million in total.
While only valuing these five parts of the stub and accounting for the debt, you reach a per-share liquidation value of $3.45. Note that is giving no value to the E&P assets they own - and it is already trading at the liquidation value.
If you believe that the midcontinent development will continue in the future, the E&P assets are certainly worth something. Also, if commodity prices rebound, the 35% discount I applied to some of the assets should be meaningfully reduced and the publicly traded entities they own should be revalued to reflect the reduced pessimism.
Stub Dividends
The main attraction of this stub will be the dividend stream from the assets. Management initially guided for an annual dividend of $1.25 per share. This information was included in the company's Form 10 filed on November 5th. In that filing, they noted the following:
For purposes of our estimates set forth above, ARP has assumed that its weighted average net realized commodity price before hedges for its net production volumes is $3.55 per Mcf for natural gas, $78.78 per barrel for crude oil and $32.33 per barrel for NGLs.
In a subsequent update to the Form 10 on December 15th, they lowered the dividend forecast to $1.10 per share in annual dividends. In that filing, they noted the following assumptions:
For purposes of our estimates set forth above, ARP has assumed that its weighted average net realized commodity price before hedges for its net production volumes is $3.22 per Mcf for natural gas, $62.72 per barrel for crude oil and $18.63 per barrel for NGLs.
The values above are excluding hedges. The company's 2015 natural gas production has been at least 66% hedged since the November filing.
Since the price of these commodities has continued to fall since the last update to their dividend forecast, we can extrapolate based on these scenarios to determine what a reasonable expectation for an annual dividend is at current price. To do this, I fit both a linear trendline and an exponential trendline to these two points. The resulting chart is shown below. I used natural gas pricing because that is the majority of the company's revenues. Also, note that I'm using the spot price, not the price for delivery 3 or 6 months in the future.
The current spot price for March 2015 natural gas is $2.76.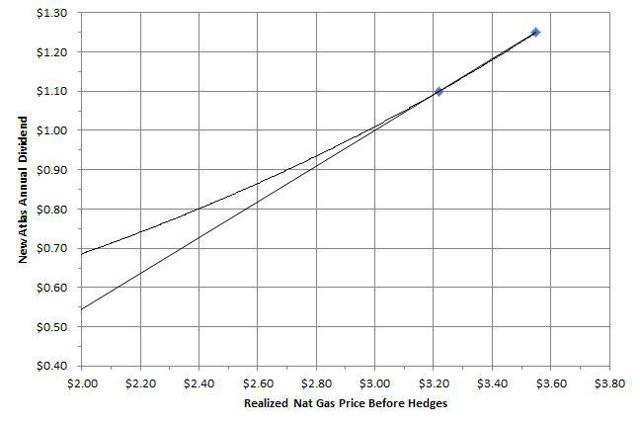 Using this very simple extrapolation and the current front-month spot price of natural gas, the dividend will probably be around $0.90 per year at current nat gas prices. Given the current stub value, that is a yield of 28%.
This yield is multiples of the normal historical average yield of ARP (the stub's main asset). Over that period, the normal ARP yield was around 8%. Applying that yield to the stub, it has an implied price of $11.25.
General Spinoff Research
Joel Greenblatt, the legendary investor now at Gotham Capital, often points to small spin-offs as areas where investors can make outsized returns due to a relative lack of interest from larger shareholders. Many mutual funds that will receive this stub have no interest in it because it is either too small of a company for their investing style or is too small of a position for them. As a result, many will sell the stub regardless of the price. Also, this stub will have minimal analyst coverage at first which presents good opportunities for investors to realize the value of the new company before large investors do. Those interested in building a stake in the new company can use this opportunity to increase their stake in the company at depressed prices.
There is academic research to back-up Greenblatt's observation about small spin-offs as well. The most recognized academic study on spin-off returns was written by John J. McConnell and Alexei V. Ovtchinnikov. They analyzed 36 years of spinoffs. A few excerpts from the study are provided below:
We show that excess returns are indeed positive for both subsidiary and parent companies over almost all holding periods considered. For subsidiaries the results appear both economically and statistically significant after various adjustments for risk. This evidence is consistent with investors earning an above normal rate of return by investing in recently spun off subsidiaries.
and
On average, subsidiaries have outperformed their benchmark companies by over 20% over the first three years following the spinoffs. Moreover, on an annualized basis, average subsidiary excess returns tend to be the highest over the first 12 months of trading.
With spinoffs, it is also important to see how management is compensated. The vast majority of management's compensation is equity and options. As a result, their incentives are closely aligned with shareholders.
Summary
The APL/TRGP merger has created a special situation where a small part of ATLS will be spun off. This situation presents an opportunity for investors willing to wade through the complexity and recognize the drastic undervaluation of the spinoff. At current prices, the spin-off is being valued at $3.21 versus a sum of the parts valuation of $3.45 and a dividend yield valuation of $11.25.
Investors interested in this stub have a few important dates to keep in mind- the ex-dividend date for ATLS is February 5th. The stub will be distributed to unit held at the close of February 25th and the stub will begin trading independently on March 2nd.
Disclosure: The author is long ATLS.
The author wrote this article themselves, and it expresses their own opinions. The author is not receiving compensation for it (other than from Seeking Alpha). The author has no business relationship with any company whose stock is mentioned in this article.