Below we highlight a time series report of Eric Mindich's hedge fund Eton Park through Q2 2011. Both shares as well as market value are shown over time to give a better understanding of the secular themes within his portfolio:
(Click chart to enlarge)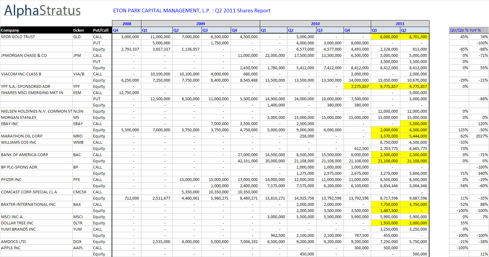 Some key points:
45% increase on call options on GLD but a 65% decrease in shares held

Continued to build position in high yield oil & gas company YPF Sociedad Annima (a hedge fund favorite)
Very significant increase in Ebay equity & call options after a short hiatus from the stock in Q4 2010.
62% increase in shares held of Marathon Oil after very briefly dabbling in the stock in 2010.
No change in shares (or options) held of Bank of America which has been a drain on performance (for Eton Park as well as others) since Q3 2010:
Major decrease in exposure to Baxter Intl.

Increase in exposure to Dollar Tree, Inc. (and closing out a small Family Dollar (NYSE:FDO) position)
Changes in reported market values over time are shown below: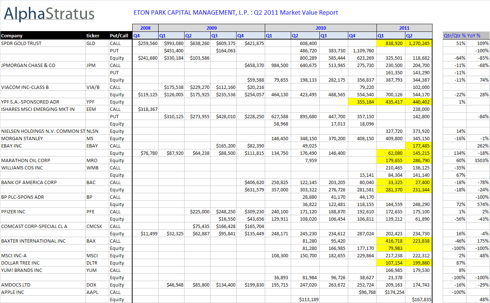 Disclosure: I have no positions in any stocks mentioned, and no plans to initiate any positions within the next 72 hours.