Datalink Corporation (NASDAQ:DTLK) engages in the design, installation, and support of data center solutions to mid- and large-size companies. The company's portfolio of solutions and services comprises consolidation and virtualization; enhanced data protection services, which include local and remote backup, disaster recovery, archive, and compliance; and advanced network infrastructures that include assessment, design, deployment, and support of network infrastructures, such as servers, storage, and networks.
Datalink is a very small company with a market cap around $150 million. Its competitors include Salesforce.com (NYSE:CRM), F5 Networks (NASDAQ:FFIV), Riverbed (NASDAQ:RVBD), and VMWare (NYSE:VMW). All these competitors have multi-billion dollar valuations with P/E ratios significantly higher than the S&P average. Simply put, the market believes these companies will grow substantially. Datalink on the other hand had a forward P/E of 10. So you would think that the company probably won't growing much, right? Wrong. The company's growth is accelerating. The company has beaten analyst estimates for several quarters now.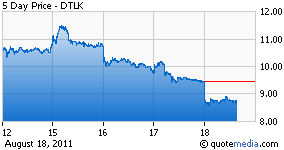 The most recent earnings call was phenomenal. The company raised guidance, AGAIN, by more than 30%. Management and the sales team have done a great job of adding customers. They added 77 new customers, including 36 multi-million dollar accounts. Keep in mind, this is a very small company compared with the big cloud computing names so these multi-million dollar deals are adding a lot to the top and bottom line.
The company is doing extremely well and management raised its outlook. When the company announced earnings, the stock jumped nicely. However, due to massive downtrend in the stock market, this gem got dragged down with the market. This may be your best chance to buy in on a name like this. Also I believe due to its market cap it is largely undiscovered. To see a cloud computing company with a forward P/E of 10, with the same if not more growth than its peers, is hard to believe. I am confident that the price will have to go higher. Most of these cloud computing names have forward multiples over 40. I think not only is it reasonable, but conservative to see Datalink at least at a forward multiple of 20, which would imply a price target around $16.

Disclosure: I am long DTLK.