Thursday's market action offered investors more lessons about managing market risk -- lessons that were similar to those offered by the previous three market meltdowns so far this month. Let's review.
Lesson 1: Diversification Doesn't Protect Against Market Risk
Diversifying among a basket of different stocks reduces stock-specific risk, but not market risk. When the market tanks, nearly all stocks get hammered. That's what happened again on Thursday, as 490 of the S&P 500 stocks were down on the day.
Lesson 2: Defensive Stocks Don't Protect Against Market Risk
This is a point Seeking Alpha contributor Sy Harding made in this article a few months ago, and it bears repeating:
The failure of defensive stocks to protect portfolios has been demonstrated over and over again. But the advice remains the same in every cycle.

After the market seemed to top out in the year 2000, the stocks most recommended as defensive stocks included Alcoa (NYSE:AA), Bristol Myer Squibb (NYSE:BMY), Citigroup (NYSE:C), Coca-Cola (NYSE:KO), Disney (NYSE:DIS), DuPont (DD), Fannie Mae (OTCQB:FNMA), General Electric (NYSE:GE), Home Depot (NYSE:HD), IBM (NYSE:IBM), Merck (NYSE:MRK), and WalMart (NYSE:WMT). However, they plunged an average of 59% to their lows in the 2000-2002 bear market, worse than the Dow's decline of 38% and the S&P 500 decline of 49%.
The screen-shot below shows the performance of each of those stocks on Thursday. Granted, some of these stocks (Fannie Mae, most obviously; Citigroup; General Electric, perhaps) haven't been considered defensive stocks for a few years, but others still are characterized as defensive by some investing columnists. All except WMT were down on the day. (And of the 4 steep down days so far this month, this is the first one on which WMT, or any other of these stocks, rose on the day.)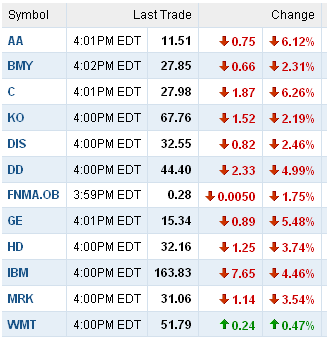 Lesson 3: Hedging Can Limit Market Risk
The screen-shot below shows the performance on Wednesday of the SPDR S&P 500 Trust ETF (NYSEARCA:SPY), the SPDR Dow Jones Industrial Average ETF (NYSEARCA:DIA), and a few put options on them that I have alluded to in recent articles. More on those below.

Up 63.16% Thursday

This is the $98.75 strike put option on DIA expiring in December, 2011. In recent articles, I've mentioned in the disclosures that I am long puts on DIA as a hedge. Those are the specific DIA puts I own. In late June, I used Portfolio Armor to find the optimal put options to hedge against a greater than 20% drop in DIA, and those were the ones Portfolio Armor presented. Below is a screen-shot of the detailed quote for these puts as of Thursday's close. First, though, a quick reminder about optimal puts.
About Optimal Puts
Optimal puts are the ones that will give you the level of protection you specify at the lowest possible cost. As University of Maine finance professor Dr. Robert Strong, CFA has noted, picking the most economical puts can be a complicated task. With Portfolio Armor (available on the web and as an Apple iOS app), you just enter the symbol of the stock or ETF you're looking to hedge, the number of shares you own, and the maximum decline you're willing to risk (your threshold). Then the app uses an algorithm developed by a finance Ph.D. to sort through and analyze all of the available puts for your position, scanning for the optimal ones.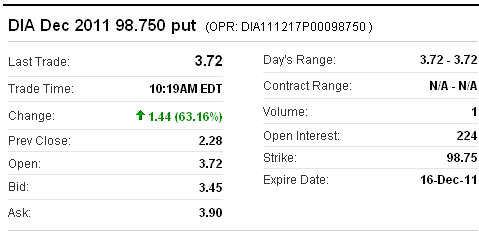 Up 90.32% Thursday
This is the $75 strike put option on SPY expiring in January 2012. These were the ones we pulled up for an article published on July 29, where we were looking for the optimal puts to hedge against a >49% drop in SPY. (Note that the ask price in the screen shot below is $1.18. On July 29, it was $0.25.)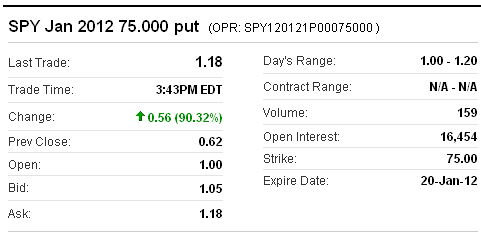 Up 10.89% Thursday

This is the $104 strike put option on SPY expiring in March 2012. This was the SPY put option we referred to for comparison purposes in this Seeking Alpha article published August 3.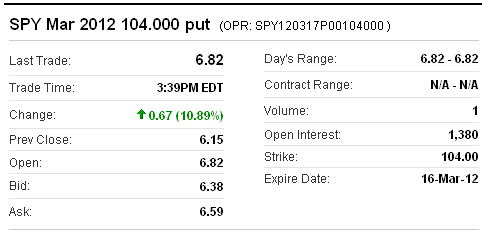 Disclosure: I have no positions in any stocks mentioned, and no plans to initiate any positions within the next 72 hours.

Additional disclosure: I am long puts on DIA as a hedge.