Historic negative events, such as the S&P downgrade of US credit, often rattle markets, and send investors running for cover. But, where can you go to seek shelter during these latest financial storms? Well, it turns out that over a third of the Dow Jones Industrial stocks have beaten both the S&P and the DOW since the S&P US credit downgrade on August 5, 2011. What's more, they're all dividend paying stocks: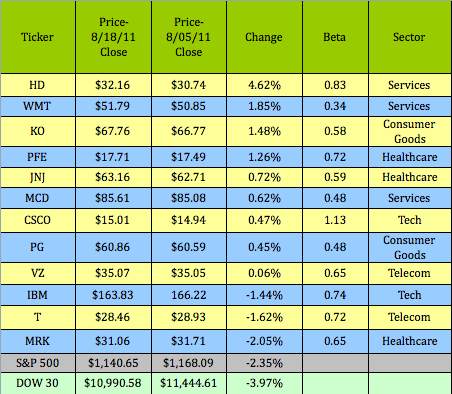 On 8/16/11, Wal-Mart (NYSE:WMT) and Home Depot (NYSE:HD) both reported EPS increases for the most recent quarter, and have also upped their guidance, which has probably helped them to weather this latest market storm better than other Dow stocks. Three quarters of these stocks had improved earnings in their most recent quarter, which you'll see more info on in the Valuations table at the end of this article. Note also that, other than Cisco (NASDAQ:CSCO), all of these stocks have a Beta under 1, which also helps in times of market downturns.
Dividends Info: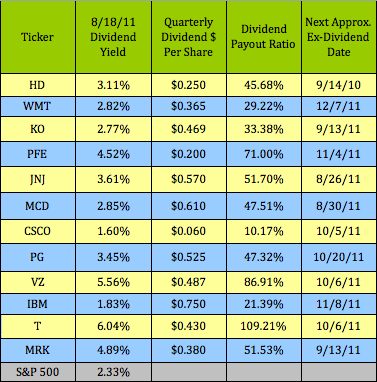 JNJ, MRK, PG, T, and VZ are all listed in their various sectors in our High Dividend Stocks By Sectors Tables.
Selling Covered Calls:
Seeing as we're entering the historically bumpy months of Sept. and Oct., you may want to hedge your bet by selling covered calls. The following table illustrates the additional income you can currently earn from selling covered call options for some of these stocks. Note how the call premiums all outstrip the dividends during this approx. five-month period. (The call options listed below all expire in Jan. 2012.)
You can find more info on these and other covered calls in our Covered Calls Table:


Selling Cash Secured Puts:
Selling cash secured put options below the current price of the stock will achieve a lower breakeven price, and afford you further downside price protection.
Due to the recent rise in volatility, these put option premiums pay up to 6 times the dividends during this same 5-month term.
(The put options listed below all expire in Jan. 2012.)
You can find more info on these and other covered puts in our Cash Secured Puts Table: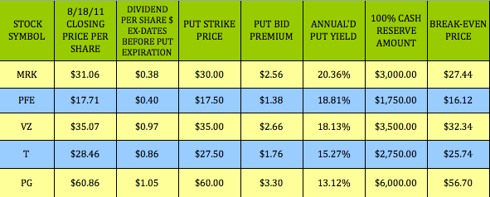 Financials: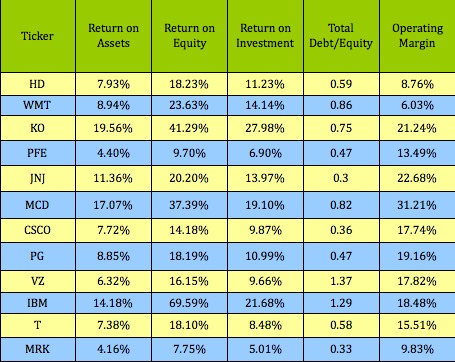 IBM, Coke (NYSE:KO), and McDonald's (NYSE:MCD) appear to be the most efficiently run firms, on an ROE/ROI basis.
Verizon (NYSE:VZ) looks to be the most undervalued on a next fiscal year PEG basis. VZ's earnings have benefited from their Apple (NASDAQ:AAPL) iPhone deal, which AT&T formerly had locked up. Home Depot, Coke, IBM, and AT&T have PEGs approaching the undervalued threshold of 1. The two healthcare stocks, PFE and MRK, both have very low analyst estimate for their next fiscal year, due to expiring patents, among other issues.
Disclosure: I am long PG, IBM, T.
Additional disclosure: I'm also short PG calls.