Over the last year, REITs have outperformed both the financials sector as well as the S&P. I believe this was fueled by their habitual lack of correlation with the broad market, historically low interest rates, and the benefits of an improving economy. REITs aren't hit as hard by things like capital requirements, market corrections, or the recent downturn resulting from the price of oil, so their long-term gains aren't as badly offset by short-term losses incurred by most equities.
While this paints a great picture for 1-year gains and a bullish 2015, I have two main concerns moving forward: rising interest rates and current valuations.
I believe real estate purchases will take a minor, but not substantial hit, when interest rates rise sometime later this year. This is because when interest rates rise, debt will be more difficult to finance, and increased interest payments will negatively affect real estate investments. In effect, REITs may experience decreased top-line revenues as a result of decreased demand for real estate, and if margins aren't solid, then their net income will decrease as well due to narrowing net interest margins.
Most REITs are trading at or near all-time highs as a result of their performance this past year, which puts their current valuations under scrutiny. Earnings season for REITs is coming up, and after looking at numerous REITs with varying sector exposure, my sentiment is mixed. Some companies forecasted positive earnings growth, while others forecasted negative earnings growth. Multiples are also at or near all-time highs, which makes me question how long REITs can keep the gains coming. This kind of uncertainty ahead of a rate hike could strengthen downside pressure, but I believe there are good moves out there.
Top 3 Ratings
The thing about REITs is that they're not like normal companies. They're holding companies, which means they have a portfolio of properties that have their own financials, and are more or less separate from how the REIT makes money. Going forward, I'm looking to specialized REITs that have bullish sector exposure and/or are undervalued companies. With interest rates so low, there are some REITs that have used this past year as an acquisition period. With good sector exposure, I believe that these REITs can be in a seller's market when their underlying sector looks to expand in 2015.
With this, I propose the following ratings:
American Tower Corp. (NYSE:AMT): Moderate-Strong sell
Acadia Realty Trust (NYSE:AKR): Strong buy
Senior Housing Properties Trust (NASDAQ:SNH): Moderate-Strong buy
American Tower Corp :
American Tower Corp is a Specialized REIT that sells real estate to telecomm companies (Verizon (NYSE:VZ), Sprint (NYSE:S), etc.) for their cell towers. They are facing global demand problems, competition (Crown Castle Intl. (NYSE:CCI)), and growth concerns. Getting back to how the underlying sector affects a REIT, telecomm is facing government headwinds and low growth expectations.
Qualitative Analysis
AMT just called for a redemption of all of its outstanding senior notes. This leaves them debt-free, which of course has serious benefits, but will really hurt their future cash flows, and in turn, their growth strategy. This is because they're redeeming every note with cash. The problem is that their current growth strategy is centered around acquiring smaller international companies. Without a large cash reserve, their growth strategy could be severely hindered at a time when global expansion is prime for real estate investments. Without the necessary funds to acquire smaller international companies, American Tower is missing out on a huge buying opportunity, which I believe will eventually hinder their long-term growth and global market share. If they can't manage to make some acquisitions, which again will be hindered by lack of cash, then the telecomm REITs that are able to make acquisitions will be ahead of American Tower.
Globally, the ECB is issuing QE measures, China's central bank is implementing measures to increase liquidity in the financial sector, Canada is cutting interest rates, and Japan increased monthly asset purchases. Global telecomm companies are in high-return growth stages, especially in Japan and China. On the world stage, now is not the time to be short on cash for international investments, because other telecomm REITs will be harvesting this opportunity.
One benefit that I see in AMT is its recent merger with Tim Participacoes SA (NYSE:TSU). It gained two of their real estate portfolios, adding ~6,500 towers in Brazil (as per its growth strategy). However, the difference between the transaction cost and projected annual margin and Brazils macroeconomic indicators make me question the profitability of this deal. The deal cost American Tower $1.2B with a projected annual margin of $75M. In a base case scenario, American Tower wouldn't break even for ~16 years. In my opinion, that's a hefty bet on an emerging market (which, as a sector, has been in a sell-off period for months with no sign of slowing down, due to bearish expectations).
Right now, the Brazilian real has a multiple of around 2.62 to the USD with years of steadily increasing estimates. This means any revenue growth filtered back to AMT will be diluted on the conversion. For example, if net income from the Brazilian towers grew from 100 to 150 (50%) 2015-2016, with a forward conversion rate of 2.68, AMT would only capture a 46% increase in revenue ($38.46 to $57.69).
Even though this deal shows growth in American Tower, the logistics behind breaking even and capturing future income from the Brazilian towers makes it seem a lot less desirable. With a conversion rate that could dilute earnings and with a break even point around 16 years away, I think this deal will create a burden on American Tower's bottom-line.
Quantitative Analysis
American Tower has done a great job of increasing revenue and keeping stockholders equity in the green, but their operating expenses have been steadily increasing for years, and their retained earnings have been steadily decreasing.
They are below of their all-time high of $106. Below is a table with three fair value estimates. Two are current price estimates, one derived from earnings, the other derived from cash flows. The third fair value estimate is a forward estimate based on EPS consensus. Based on this data, American Tower stock is heading towards overvaluation. It had a great year of returns, and a staggering performance for the last couple of years, but the question I don't have a good answer to is: is their growth sustainable? I argue not, because while the per share data is attractive, American Tower's multiples are bearish.
(click to enlarge)

1y chart:
(click to enlarge)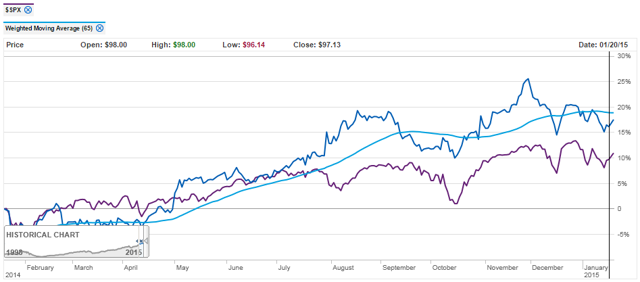 Senior Housing Properties Trust:
This REIT owns a portfolio of senior living communities, rehab hospitals, misc medical properties, biotech labs, and wellness centers.
Qualitative Analysis
With the entire baby boom generation set to retire in the next few years and with the recent reforms to medicare/medicaid provisions, I think its senior living segment will be set to grow, and the company is preparing for that change. They recently acquired 38 high-quality senior living communities. Even though they're assuming the debt associated with these communities, I believe this will be a lucrative deal because of the expected surge in retirees and their ability to manage debt. From now until 2021, the Trust has managed to finance their investments with fixed rate loans that mature on a laddered basis.
Quantitative Analysis
The Trust's leverage ratios were what I found very attractive about this REIT. Even after a period of asset purchasing, they've managed to keep their debt/book ratio under 50% for the 5 last quarters. Their adj. EBITDA/int. exp. ratio has been above 3, and they've managed to have a CAGR in CAPEX of 1.96% for the last 5 quarters.
The reason behind increasing valuations is that SNH has seriously underperformed the market, leaving it undervalued in my opinion. I attribute its performance to the scrutiny Medicaid/Medicare fell under, but with reforms and positive earnings, I expect a trend reversal. Notice on the table below how the forward fair value price is technically bearish. However, with bullish indicators on an earnings and cash basis, I have a strong opinion that not only will Senior Housing Properties beat forward earnings, but also experience a period of increasing fair value, driven mostly by FFO. Their FFO has increased with their asset purchasing on a 3mo ended and 9mo ended 3Q 2014 (79M to 90M and 237M to 257M, respectively).
(click to enlarge)

1y chart:(click to enlarge)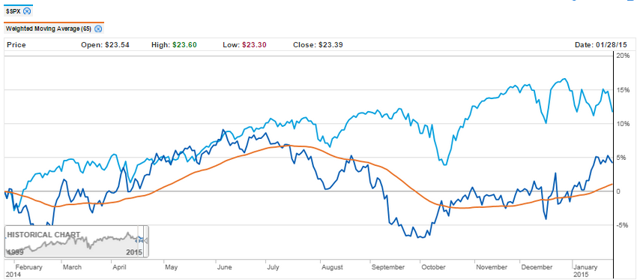 Acadia Realty Trust:
Acadia Realty Trust operates in the ownership, operation, redevelopment and management of retail and urban properties in densely-populated urban and metropolitan areas in the Northeast and Chicago. Its segments, core portfolio, opportunity funds, notes receivable, private equity investment, and other are all diversified in their holdings.
Qualitative Analysis
Recent developments in macroeconomic indicators are what will fuel this company long term, because Acadia is set to realize their indirect benefits. Remember that REITs are holding companies, so more often than not, any increases in income experienced by the companies renting their real estate won't be realized by the REIT. What will benefit the REIT is the demand for real estate. When the REIT owns real estate in high demand, renting prices increase, retainer fees increase, and bidding wars can ensue.
Because Acadia owns real estate in metropolitan areas, the following macroeconomic indicators will boost the consumer discretionary sector as a whole, and indirectly, Acadia's exposure.
Oil: Oil has dropped to the lowest price in 5 years (and continues to decrease). This will decrease overhead on the sell side, and decrease travel costs on the buy side of the consumer sector. All of Acadia's real estate lies in and around high-income areas and tourist destinations (New York, NY; Washington, DC; Chicago, IL; Fairfield, CN). This boost in the consumer sector will feed into demand for Acadia's real estate.
Consumer confidence: Consumer confidence just reached pre-recession levels. When consumers feel good about the economy, they tend to spend more. When consumers spend more, top-line revenues for Acaida's tenants increase, and they look to expand with Acadia.
Jobless claims: Initial jobless claims are near pre-recession lows, which means consumers have more discretionary spending in a thriving economy. This ties in to consumer confidence, and how boosting the consumer sector will feed into increased top-line for Acadia.
Inflation: Inflation has decreased on a yoy basis for two years now. This is crucial to revenue growth for Acadia because decreasing inflation means increased spending power. Consumers will be able to stretch their dollar further, which could lead to increased discretionary spending as well.
These macroeconomic factors don't lead to a direct increase in top-line revenue for Acadia, only because of their fee structure. They will, however, foster an environment wrought with competition. If consumer discretionary companies experience increased revenues, especially in the geographical areas specially exposed to realize such benefits, that will drive the price of real estate up, allowing Acadia to increase rent payments and retainer fees. It will also continue to expand in the areas they have a foothold in. They've proven that they can handle specialized retail real estate, and will continue to grow in urban areas fueled by a forecasted boost in the consumer sector.
Quantitative Analysis
Based on current fair value estimates derived from earnings and cash flows, I have Acadia as undervalued on almost all fronts. Based off of earnings, it's "overvalued" by less than a cent, and cash flows primarily drive REITs anyways. Going forward, I see massive upside potential for Acadia. This is because it has had historically strong FFO (4.3% increase 3Q2014 from 3Q2013 3mo ended and 11.4% increase 3Q2014 from 3Q2013 YTD).
(click to enlarge)

1y chart:
(click to enlarge)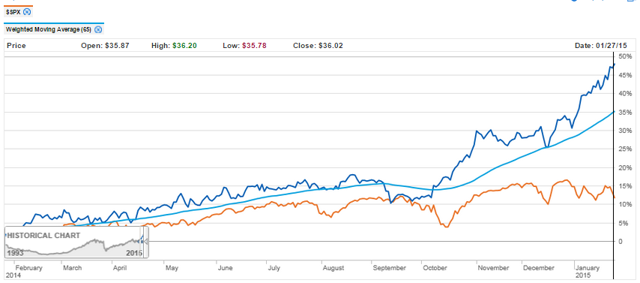 Conclusion
To wrap up, Senior Housing Properties Trust and Acadia Realty Trust are poised to experience the benefits of a growing economy. They are undervalued in an overvalued subsector, financially strong, and in the midst of other REITs looking for room to grow, they have a direct and achievable growth strategy. Spearheading the overvaluation REITs are facing is American Tower. They have made some questionable moves, and I don't think they're positioned well for growth in the coming year. They're presently overvalued, and their financial statements leave a lot to be desired.
Disclosure: The author has no positions in any stocks mentioned, and no plans to initiate any positions within the next 72 hours. The author wrote this article themselves, and it expresses their own opinions. The author is not receiving compensation for it (other than from Seeking Alpha). The author has no business relationship with any company whose stock is mentioned in this article.