With gold trading Thursday (August 18) at close to $1835/oz, many are asking if gold is in a bubble. While gold may be expensive relative to its price last year, how does it compare with the prices of other assets?
The chart below compares the S&P 500 (NYSEARCA:SPY) to gold going back to January 1971. In essence, this ratio represents the inflation-adjusted value of the S&P 500. Higher numbers represent a higher relative value for the S&P 500. Lower numbers indicate a higher relative value for gold.
Throughout this comparison, the lowest S&P 500-to-gold ratio was 0.1566 back in 1981. Using this as a peak relative value for gold, we can analyze today's gold price.
Conclusion: Today's S&P 500-to-gold ratio has not yet fallen to its historical low of 0.1566. To reach historical lows set in 1981, the S&P 500 would either need to fall to 290, gold would need to rise to $7275/oz or some combination of the two would have to occur.
(Click chart to expand)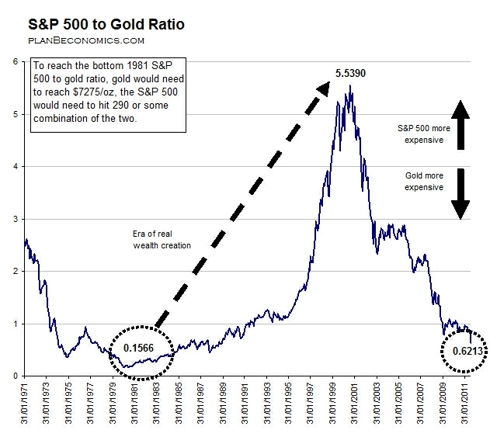 Disclosure: I have no positions in any stocks mentioned, and no plans to initiate any positions within the next 72 hours.