JDS Uniphase Corporation (JDSU) JDS Uniphase Corporation provides communications test and measurement solutions, and optical products for telecommunications service providers, cable operators, and network equipment manufacturers. The company was founded in 1979 and is headquartered in Milpitas, California.
JDS investors have been taking a lot of punches the past few months. This is a company that I have watched, traded, and examined since February. In fact, I wrote an article titled "JDS Uniphase: Investors Are Way Too Excited." It appears I did an acceptable job at timing the market. The trading day after the article appeared, JDS opened higher with a gap open, sold off, and closed lower for the day. JDS has not traded higher since.

Six months have passed, and now I believe it is time to write about JDS again. This time I am on the opposite side of the fence. I believe that JDS is or is very near a value buy.
If an investor examines the catalyst for Thursday's drop in price, the 'cause' comes from two of the 'best' reasons for a drop in share price. The best reason a company can have for a drop is that the overall market dropped. There is just not much that can be done when the whole market drops. When the S&P 500 (NYSEARCA:SPY) is sharply lower, about 80 or more of the stocks trading will be lower. As an investor you need to be aware of and accept it. The next reason can be a very good or a very bad reason depending on where the stock price is. For JDS, guiding lower-than-expected net revenue for the current quarter is about as good as it can get for a reason to sell off. This sell-off in my opinion demonstrates that it was not 'smart money' pounding on the stock by shorting as much as it could. This was about fear and panic, and not wanting to lose more money. Sadly for those who sold their shares so cheaply, I believe the odds favor a bounce and that we are just above major price support here.
I would agree that it is not a good thing that the company guided lower. There is no way to spin the news in a positive light. Still I believe that the stock is now a value buy because the decrease has already been more than priced in. At $15 it could be argued that most, if not all the guidance has been fully priced in. Under $11, it becomes difficult to argue that earnings are not fully priced in.

When a stock is doing well, it tends to overshoot to the upside and when the bias is negative it tends to overshoot to the downside. Clearly, with it repeating so often (including with JDS in February), it must be from emotion controlling actions.
I believe JDS should be looked at further with an important caveat. I like the idea of selling put options to enter into an investment. I especially like the September $11 strike put options. I like this particular option because there is enough premium that if the stock moves up from here, and never goes below $11 again, the gain is still very good. If the price between now and expiration date does not move higher, and an investor gets exercised, the average cost of the shares is around $9.55. Here are the reasons I believe selling put options or buying the stock is worth looking into:
Option premium is very high giving the seller the ability to make a good return even if the price does not move higher in the next month

We are on the other side of earnings, removing the biggest short-term unknown.

The earnings report was not full of doom and gloom.

Citigroup maintained the 'Buy' rating.


Net income in the last quarter grew $9.3 million year over year.

Short interest is falling. 7.17 million shares are short, a decline of 17% from last quarter. Short interest now amounts to 3.15%.

Net revenue was $471.8 million, up 20.7% year over year for the quarter.
Cash to debt improved year over year.
Europe, a great source of the market selling pressure, is only 26% of sales.
Rising year-over-year revenue? Yes, $1.80 billion for 2011 vs. $1.36 billion for 2010.
Rising year-over-year earnings? Yes, year-over-year earnings of $71.60 million for 2011 vs. $-61.80 million for 2010.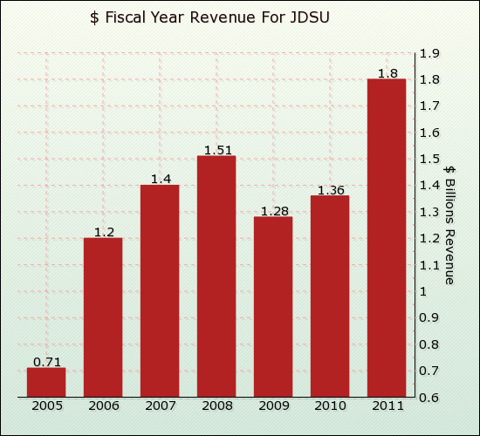 Take a look at JDS, and see if you agree that it is worth looking at as an investment. Let me know your thoughts (and why), by leaving a comment.

Disclosure: I have no positions in any stocks mentioned, but may initiate a long position in JDSU over the next 72 hours. I will be looking to short put options over the next 72 hours.