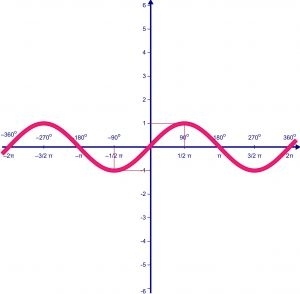 The formation of a double bottom (a second drop to, but not below, a previous low) is a well-liked, positive indicator. This price support in the face of previous weakness shows that buyers are stepping in and offsetting sellers. This sign, in turn, can produce confidence that the previous decline is ending, thereby bringing sidelined investors back into the market.
Thursday's sell-off has the look and timing of such a double bottom formation. While the day began with a large drop, it progressed reasonably orderly. More importantly, buyers were willing to participate at prices generally higher than last Monday's and Wednesday's low closes. As I previously described about Home Depot (HD), this action implies investors are beginning to rely more on company fundamentals and less on macro-fears. Prices have certainly been taken to levels that are normally viewed as very attractive.
The stock market backdrop
Here is how the S&P 500 Stock Index has performed this month to date. Note the mini-double bottom last week that set the important lows of the recent stock market drop. Now look at Thursday's decline. The close was 2% above the lows of last week.
[Click all to enlarge]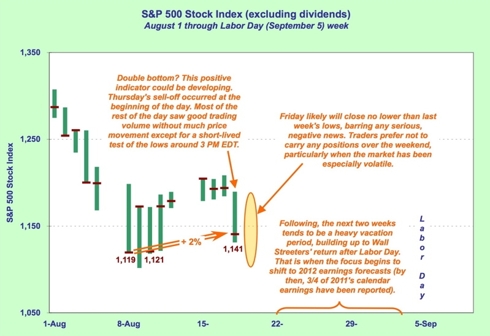 This table shows how the Dow Jones Industrial Average is similarly positioned, along with the varying levels of the DJIA's 30 stocks. Note that only three closed below last week's low closes.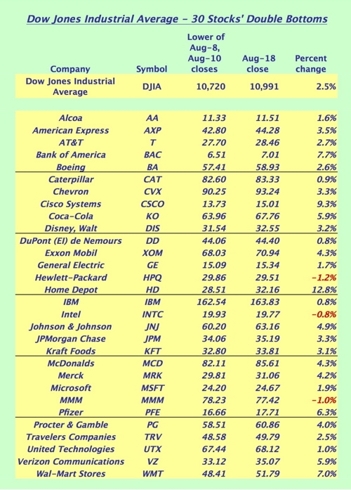 We read that technology stocks are weak, and two of those negative DJIA stocks are tech: Hewlett-Packard (HPQ) and Intel (INTC). They aren't the only ones, either. Amazon (AMZN) closed 5.8% below last week's low close, and Google (GOOG) closed 7.5% below. However, Apple (AAPL) closed 3.6% above. Therefore, it could be that we are seeing differentiation at work, not a generalized underperformance. If so, that would be another indicator that investors are focusing more on fundamentals.
The bottom line
Double bottoms are always easily visible in hindsight, but are tricky to spot as they occur. However, they do have some common characteristics, and we are beginning to see some now.
What is the value of acting at the first sign of a double bottom? The move up can be dramatic – and fast. The risk? That selling once again overwhelms buying, driving would-be buyers back to the waiting room once again. However, with valuations being so good, the risk of making a poor long-term investment purchase has been reduced by the stock market's latest drop.
Disclosure: I am long AAPL, XOM, KO, JPM, MRK, CAT, BA, HD, INTC.