The alternative energy industry has been full of promises but poor on performance. So far the only money this industry has attracted is from stock underwriters and government subsidies. Investments in this sector should be viewed as long-range speculative positions, not as conservative, long-range growth opportunities.
Fortunes have been lost in this industry for the simple reason that the energy produced from alternative energy sources has not been competitive to the cost of producing electric energy from coal, hydro-electric, oil and natural gas. In both the US and the world at large, governments are looking for places to cut budgets, and I predict one of the first items that will come on the chopping block is alternative energy subsidies.
Today I'm going to share with you my sharks-eat-minnows strategy. Yes, there is money to be made by finding companies that have growing sales and earnings, and that eventually will become the market leader in their sector. There is also money to be made in finding small, promising companies that will be acquisition targets for the large multinational conglomerates that are cash-rich and chose to increase their sales and earnings momentum not by internal growth but by acquisitions.
I predict that either Siemens (SI), General Electric (NYSE:GE) or some other multinational will acquire Vestas Wind (OTCPK:VWDRY) in the near future at a very large premium to its current market price. Even if I'm wrong, Vestas seems to have turned the corner with increased sales, earnings and positive cash flow from operations.
Let's look at the reasons I think now is the time to buy Vestas. Look at the price momentum over the last three-and-a-half years (provided by Barchart):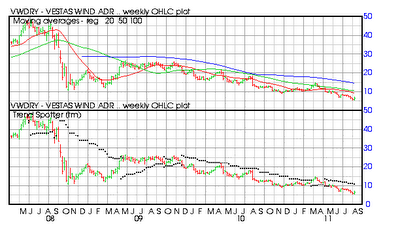 (And the profile from Yahoo Finance:) Vestas Wind ADR engages in the manufacture and sale of wind turbines and wind power systems in Europe, the Americas, and the Asia Pacific. It also offers wind project planning, procurement, construction, and operation services. In addition, the company sells spare parts. The company was founded in 1898 and is headquartered in Randers, Denmark.
Barchart technical indicators:
Price in September 2009 26.14
Current price Thursday 6.68
Discount from its high - 75%
Current Barchart short-term signal - neutral hold
Trend Spotter - sell
Below its current 20-, 50- and 100-day moving averages
Discount from 12-month high 55.29%
Barchart computes a support level at 6.04
Recent price momentum 13.64% up in just the last week
Relative Strength Index 45.13% but rising
Fundamental factors to consider:
The stock is a Danish ADR and is presently not on the watch list of any of the major Wall Street brokerage houses
Sales have increased 31% year-over-year
Earnings have become positive for the first time
Cash flow from operations has become positive
Forward-looking guidance from management, of course, has been positive even without subsidies
General investor sentiment:
Even though Wall Street hasn't discovered this stock, it is starting to get a following from the readers of Motley Fool
Currently the 146 readers that have this stock on their watch lists vote 97% that the stock will beat the market
The more experienced All Stars, who I have followed for years and found to be a very savvy group of investors, vote 100% for the same result. Not one negative or underperform vote.
Vestas is one of the few companies that actually has wind power installations in place that are generating energy at a profit. The company is past the product development stage, and is manufacturing and installing working wind power generators on a worldwide basis. I'd buy it for it's numbers alone. I really like that idea that this may be a double-barreled investment because the stock price is 25 cents on the dollar from its previous high, and if investors can't see the value here, the cash-rich, multinational sharks will -- and they just might pay a premium to today's market price (as they always do).
Disclosure: I have no positions in any stocks mentioned, and no plans to initiate any positions within the next 72 hours.