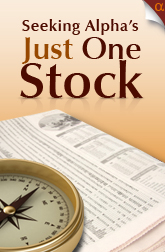 Seeking Alpha's Jason Aycock asks money managers about their single highest-conviction position - what they would own (or short) if they could choose just one stock.
---
Scott Kays is founder and president of Kays Financial Advisory Corp., an Atlanta-based RIA providing money management and financial planning to individuals and families. He's the author of Five Key Lessons from Top Money Managers.
If you could only hold one stock position in your portfolio (long or short), what would it be?
In a weak economic environment, I especially like companies where the earnings prospects are pretty stable, i.e., have toll-booth characteristics, as well as growth potential. DirecTV (NYSE:DTV) fits that description. It generates copious amounts of free cash flow, which it has used to fund massive share buybacks. In fact, DTV has spent about $10 billion over its last three fiscal years on buying back shares.
Tell us more about the company behind the stock.
DTV is the largest satellite TV operator in the United States. It also has extensive operations in Latin America that have been experiencing strong growth. Revenue from Latin America accounts for about 15% of the firm's total revenues.
As a satellite TV operator, DTV provides distribution for other companies' content. DTV offers the largest national audience for content providers of any single firm. This competitive advantage allows them to obtain exclusive rights to some of its programming, such as the NFL Sunday Ticket package.
How does your choice reflect your investment approach?
While I consider myself to be a value investor, I believe the line separating growth and value styles of investing is artificial - growth is a component of valuing a stock. Other things equal, a growing company is better than one that is not growing. I just want to be able to buy that growth at a discount to its true value.
While I look at value from a number of traditional angles (price/earnings, price/cash flow, etc.), I rely primarily on a discounted cash flow approach to value securities. I use First Call Consensus Estimates to project a firm's future earnings per share. I will adjust this figure if I believe the estimates may be too rosy. To be conservative, I assume a company's growth rate drops by 40% after five years, and I assume all companies grow at the long-term rate of inflation (3%) after 10 years. We also add net cash to a company's value.
Contrary to some analysts, I do not vary the discount rate based on the beta of the underlying security. I also do not vary the discount rate based on changes in interest rates because I believe interest rates and inflation will revert to the mean over time. Changing the discount rate as interest rates change can result in erroneously believing stocks are undervalued during periods of low interest rates, and, conversely, this can lead one to miss great opportunities when interest rates are high.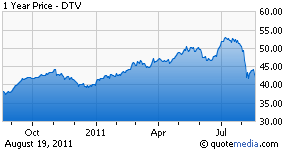 For DTV, my model assumes almost 25% earnings growth over the next 12 months, and almost 23% the following year. Let's assume 18% growth the following three years, 10.8% growth the following five years, and finally 3% growth thereafter. I assume an 8% discount rate. Add $5.52 for net cash, and you get an intrinsic value of about $95. The stock currently sells for around $42, and a forward multiple under 10.
I have had the problem in the past of undervalued securities generating poor returns because of declining earnings projections. The cycle went like this: A stock was undervalued; it missed its earnings estimates one quarter and downgraded its future earnings expectations and its price would drop, but it was still undervalued based on its new forecast. This process might continue for several quarters. I corrected this problem by incorporating analysts' revisions into my analysis. I now only buy a security when consensus analysts' projections are in a cycle of being revised upward.
One final note: I also look at a company's free cash flow as a percentage of its accounting earnings. There are two reasons for this: First, accounting earnings can be manipulated easier than free cash flow, and second, statistics indicate a positive correlation between the level of a firm's free cash flow generation and its future stock performance. DTV, in 2010, generated significantly higher free cash flow than accounting earnings.
How much is your selection based on DirecTV's industry, as opposed to a pure bottom-up pick?
The stock pick is a bottom-up call. However, the industry in which DTV competes increases my confidence that the firm will be able to meet our performance and growth projections. The entertainment industry is known for being resilient in recessions, which I find to be a major plus in this sluggish economic environment. Satellite TV is a great value relative to other entertainment options. DTV's earnings continued growing every year throughout the recent recession.
The media industry is in the midst of a transformational change brought on by new technologies for delivering content. Companies are trying to figure out what business models will succeed in the new environment. DTV's ability to deliver such a large audience to content providers gives it a competitive edge in obtaining top-quality unique content for its subscribers.
How is DirecTV positioned with regard to competitors?
The company is positioned favorably to current competitors. It has a national reach, and it offers the largest potential audience to content providers. It also offers the most impressive lineup of HD programming.
The company is also well positioned from a cost standpoint. The maintenance costs of its satellite network is less than the cost of maintaining a cable network, allowing it to maintain competitive pricing for its offerings to consumers.
However, competition is growing. Not only are cable companies upgrading their capabilities and offerings, but some telephone companies are offering television programming.
The biggest threat comes from delivering content over the Internet. Several companies are already developing offerings allowing consumers to view programming over the Internet. The Internet allows consumers to view what they want to see, when they want to see it, where they want to see it. Since DTV does not offer Internet access directly, it is more vulnerable to this threat than cable companies. This new competition will become especially threatening when programming can be viewed over the Internet at the same time it is released via other platforms such as cable and satellite.
How does DTV's valuation compare to its competitors?
DTV's primary direct competitor is Dish Network (NASDAQ:DISH). Analysts forecast only 5% long-term growth for Dish. So, even though DTV sports a higher P/E than Dish, the significantly greater growth prospects for DTV cause our process to give DTV a much better price/intrinsic value score. DISH sells for a forward multiple of about 8, but our analysis indicates it is only about 15% undervalued.
Cable TV companies offer the other primary competition for satellite TV. I will use Comcast (NASDAQ:CMCSA) as an example from this sector. Comcast is similarly valued to DTV. Analysts project 3-5 year annual growth for Comcast at 18%. It sells for a forward P/E of just over 10. We believe it, too, is significantly undervalued as well.
Does your view differ from the consensus sentiment on DTV?
Morningstar likes the company's prospects, but give the stock only a single star rating because they believe it is overvalued. A brief survey of other major analytical services showed ratings ranging from neutral to favorable.
Does DirecTV's management play a role in your selection?
While I am always concerned about management, we focus primarily on numbers. If management has made some major blunders in execution that are not reflected in the numbers yet, or if they have taken significant actions that we believe are especially unfriendly to shareholders, I may forgo owning a particular company. I have not observed either of these in DTV's case.
What catalysts, near-term or long-term, could move DTV stock significantly?
I look at a catalyst as an event that unlocks the value inherent in a stock, causing its price to rise exceptionally fast for some period of time. I do not see any particular such event that could move the company's stock price in that manner going forward. Rather, I am looking to DTV for more steady performance and relying on their management for solid execution of their plan. Rapid growth in the Latin American markets, or expansion into new markets, would likely provide longer-term support for the stock price.
Latin America is a real story for DirecTV. As CEO Mike White said in this month's earnings call, metrics there exceeded the year-ago measures - and a year ago they had the benefit of the World Cup. Do you see the key in that region as selling midmarket products to a growing middle class, vs. trying to squeeze more profitable customers with premium products in places like the U.S.?
I think in essence you are asking if DTV's future revenue increases in Latin America will come primarily from increasing Average Revenue per Customer (ARPU) or increasing subscribership. I don't think this is an either/or situation. They will likely experience both. However, I do believe the company has a major tailwind in the form of an expanding middle class in Latin America, and I expect the bulk of near-term revenue gains to come from that factor, i.e. increased subscribership from an expanding middle class.
And what could go wrong with your pick?
As I stated earlier, the competitive environment for DTV is changing rapidly. Probably the biggest threat to the company would be delivery of content over the Internet at the same time such programming is available via satellite. This would almost assuredly cost DTV much market share as well as much of its exclusive programming. Also, its exclusive contract with the NFL ends in 2014. Loss of this contract, or being forced to pay excessive fees to maintain it, could cost the company.
Thanks, Scott, for sharing your choice with us.
Disclosure: Long DTV.