Originally, I thought about doing this article on a single Texas cement supplier. The first one I found was Eagle Materials (NYSE:EXP). However, as I dug deeper it turned out that while there were good reasons to be bearish Eagle Materials (such as those explained on this article), Eagle Materials' own cement exposure to Texas was lower than I thought. This doesn't mean there isn't enough exposure to warn about the effect I am talking about, but it does mean it's not enough for an entire focus article on it.
Then I found Texas Industries … but that got bought out in 2014 by Martin Marietta Materials (NYSE:MLM), so again this took the direct exposure below my own "focus" thresholds. And finally I found Ash Grove Cement Company (OTCPK:ASHG), but while it seems to have enough exposure, it also trades through an illiquid OTC stock and there's precious little information regarding its activity.
The rest of the exposure to the Texas cement market is through international companies and I won't cover those. Anyway, the thesis that made me want to write this article is still valid - it will serve as a warning that the above cited companies have some exposure to these developments.
Cement In Texas
Texas is the largest cement market in the U.S. by production and consumption. Texas produced 11.6 million tons of cement in 2012 and consumed 13.7 million tons. Texas is thus undersupplied by local production, receiving the balance of its needs from imports (Source: Cement Council of Texas).
Cement use:
Cement is used in construction, both for infrastructure and housing;
Cement is also used in the energy business, which as seen a massive boom in Texas due to the shale revolution.
There has been a boom in cement usage in Texas in the recent years, led by:
An inflow of population to Texas, attracted by its vibrant economy;
And the shale boom.
This has meant that Texas is close to hitting record cement consumption sooner than the other U.S. states, most of which saw a significant decline after the housing bust (Source: Eagle Materials Presentation).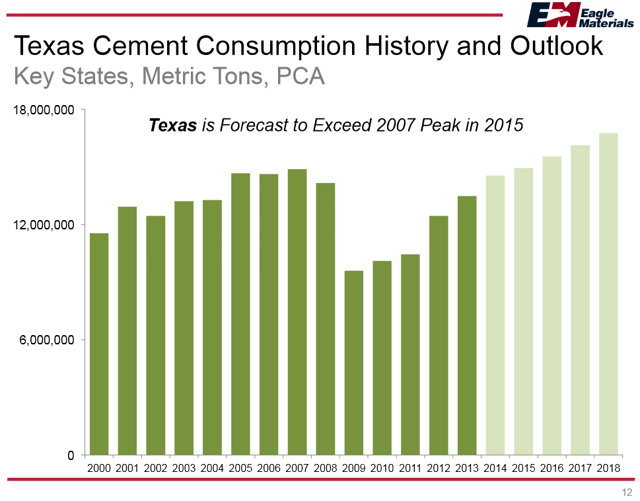 The shale relevance can be seen by the way Eagle Materials is shifting its production towards "oil cement grade" cement.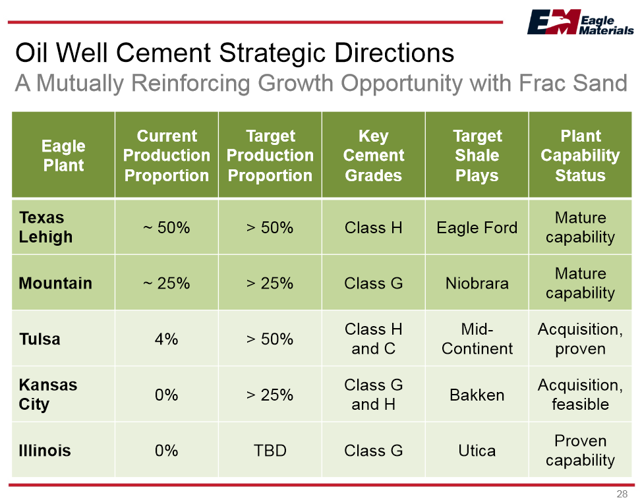 Likewise, Martin Marietta Materials presented shale development as one of the key drivers of its business (Source: Martin Marietta Materials Presentation)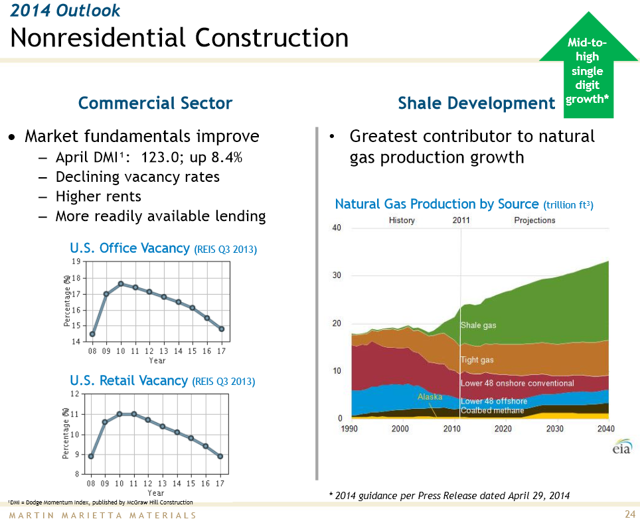 The Thesis
The thesis here is simple. We're witnessing an energy crash in oil and natural gas prices. This is leading to a crash in energy capex and will lead to a lot less drilling. In turn, this will lead to a lot less demand for well materials like cement and fracking sands. This will be particularly acute in Texas and North Dakota.
Furthermore, since the shale boom has greatly helped the local economies, the impending shale bust will also hurt them. This will lead to less immigration, less economic activity, less housing activity and less commercial activity. These will also lead to a dip in local cement consumption.
In short, the stated companies, while not pure Texas cement producers, do have exposure to the cement market in Texas. They are thus likely to see weakness coming from this particular segment due to this particular thesis.
Of these companies, Eagle Materials also has other worries and trades at a rather high valuation in terms of EV/EBITDA, so out of them it seems the riskiest bet.
On The Positive Side
The first positive is that Texas has been seeing an inflow of population. This should be in great part because of its vibrant economy, which is tied to energy, so the incentive to emigrate to Texas might be somewhat at risk. However, if Texas keeps on gaining population then there will necessarily be greater demand for housing within Texas, which would support the cement industry.
Another positive would be the fact that road construction with cement has become more competitive. This has three angles to it:
Building roads with cement is less costly than doing so with asphalt. The recent implosion in oil prices, however, will probably take most of this advantage temporarily away;
Cement roads are more durable;
And cement roads require less maintenance.
It's thus likely that cement can gain share from asphalt, which would be a positive for cement including in Texas.
Conclusion
The dynamics in the current energy bust are likely to hit demand for cement and other drilling/well building materials including fracking sands. These dynamics will also hit the economies of the most exposed States, including Texas and North Dakota.
Thus, it might pay to be careful in the exposure to the companies which have a "Texas cement" component. I managed to identify 3 such companies: Eagle Materials, Martin Marietta Materials and Ash Grove Cement Company. Out of these the one which would worry me the most, due to this and other issues as well as valuation, would be Eagle Materials.
Disclosure: The author has no positions in any stocks mentioned, and no plans to initiate any positions within the next 72 hours. The author wrote this article themselves, and it expresses their own opinions. The author is not receiving compensation for it (other than from Seeking Alpha). The author has no business relationship with any company whose stock is mentioned in this article.
Editor's Note: This article discusses one or more securities that do not trade on a major U.S. exchange. Please be aware of the risks associated with these stocks.