Our world and our economies are petroleum based. If you you disagree with that premise stop reading right now. If you agree with that premise then I think you can agree that if and when the world economies begin to grow again the world's largest petroleum producer, Exxon (XOM) should be one of the first and biggest beneficiaries of the economic recovery.
Petroleum fuels the energy for our factories, homes and transportation. Petroleum based products especially plastics are used not only in manufacturing but also in packaging and getting the products to market. Look at the price percentage change Exxon vs the S&P 500 over the past 10 years provided by Barchart. Which would you rather own?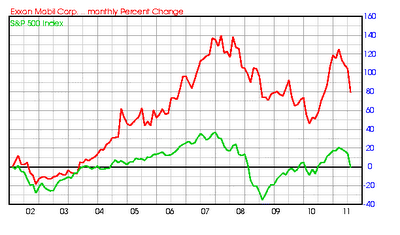 Exxon Mobil Corporation (XOM) engages in the exploration and production of crude oil and natural gas, and manufacture of petroleum products, as well as transportation and sale of crude oil, natural gas, and petroleum products. The company manufactures and markets commodity petrochemicals, including olefins, aromatics, polyethylene and polypropylene plastics, and other specialty products. As of December 31, 2010, it operated 35,691 gross and 30,494 net operated wells. The company has operations in the United States, Canada/South America, Europe, Africa, Asia, and Australia/Oceania. Exxon Mobil Corporation was founded in 1870 and is based in Irving, Texas. (Yahoo Finance profile)
Barchart technical indicators:
Remember, technical sell signals on high quality stocks can be an indicator of the time to buy at a discount
80% Barchart technical sell signal
Trend Spotter sell signal
Below its 20, 50 and 100 day moving average
Down 19.66% from its 52 week high
Trading around 70.55 which is a 12.16% from its 50 day moving average
Relative Strength Index is 37.16% and falling
Barchart computes a support level at 68.33
Fundamental factors to consider:
The stock is a core holding on Wall Street not only in growth portfolios but also in income portfolios
Wall Street brokerage analysts have released 6 strong buy, 5 buy, 10 hold and only 1 under perform recommendation on this company
Sales are projected to increase by 21.10% this year and another 8.00% next year
Earnings are estimated to increase 37.80% this year, 5.40% next year and continue at the rate of 6.57% annually for the next 5 years
The 2.54% dividend rate is only 25% of earnings so the dividend looks secure
The P/E ratio is 61% of the markets P/E ratio which is great for a company that has enjoyed a 100 score out of a possible 100 on price stability
General investor sentiment:
As measured on Motley Fool this is one of the most widely followed stocks with over 8,105 readers having it on their watch lists
Readers voted 94% that the stock will beat the market
The more experienced All Stars are more positive with a 97% vote for the same result
Summary: In an environment where you can't be sure which companies will stay in business and make a profit Exxon (XOM) is a company you can bet will stay in business and make a profit, the only question is just how much. If sales and earnings projections are met and the stock grows to a normal P/E ratio investors could see a 12% -14% annual total return over the next 5 years.


Disclosure: I have no positions in any stocks mentioned, and no plans to initiate any positions within the next 72 hours.