Russia is a turnaround story of the grand sort. Russia has vast natural resources and a highly educated population. I will not argue that Russia is without their problems. They have ample problems–in fact some might suggest they have a disproportionate amount of problems compared to other countries with respect to stability, corruption, etc. But as Thomas Edison once said, "discontent is the first necessity of progress." I only bring this up as I do buy into the notion that the majority in Russia want things to progress to a less [add your own adjective] economic climate.
As the already tepid economic recovery in the U.S. and in Western Europe wanes, investors seeking growth opportunities have to consider investments outside their ordinary purview. Again, it's not without its risks…but just because something has risks doesn't mean it should be precluded from consideration. After all, someone is going to get rich as Russia develops into an economic powerhouse or at least an economy on par (per capita) with other Western European countries and/or the United States.
Recent economic data out of Russia is indicative of a country that is still seeing a recovery. Investment and construction data surprised to the upside in July, increasing 7.9% on a year over year basis which compares very favorably to June which saw an increase of 4.7% year over year. Industrial production was reported up 5.2% vs. 5.7% in June–a slight ease but still indicative of a recovery with some degree of resilience.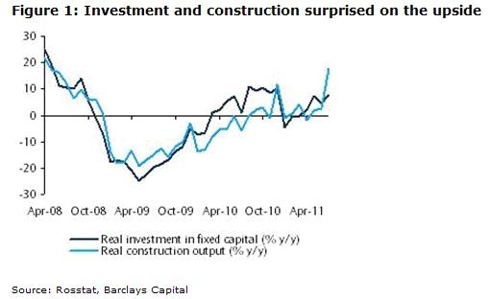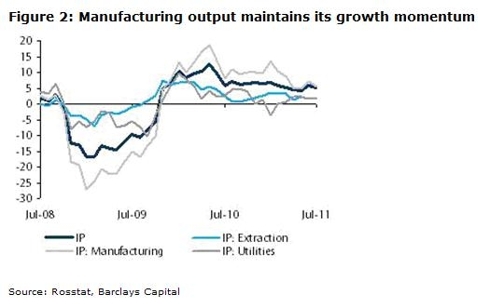 According to Barclays Capital, the growth emphasis is shifting from export-led industrial production to domestic demand. This, in my estimation, is a good sign that, slowly but surely, Russia is developing their economy away from their disproportionate reliance on natural resources. Retail sales were reported up 5.6% on a year over year basis. The reported unemployment rate is 6.5%, which must be noted was 0.40% higher than in June–but still notably better than in the United States. There are also some signs that inflationary forces are easing a tiny bit as CPI data declined 0.1%, which isn't anything to write home about but is better than the alternative. Some might be inclined to respond by saying that Russian economic statistics are manipulated and unreliable but unless they have something better to use at the present time...it is still useful information in considering the direction of trends, if not the precision.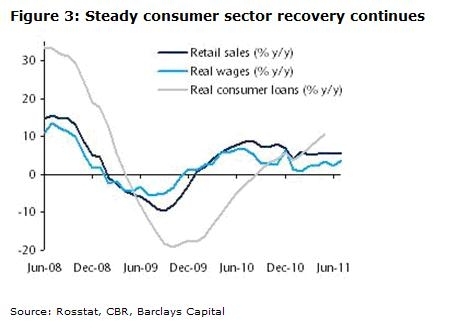 I am not sure you could argue that Russia experienced quite the same sort of recession that is still on going in the United States and the EU (a balance sheet recession) ... but consumer lending growth is a telltale sign of an improving economy. According to Figure 3 Consumer loans continue to expand, which in my opinion is good evidence that the recovery in Russia is still persisting and that, as they say, is a good thing.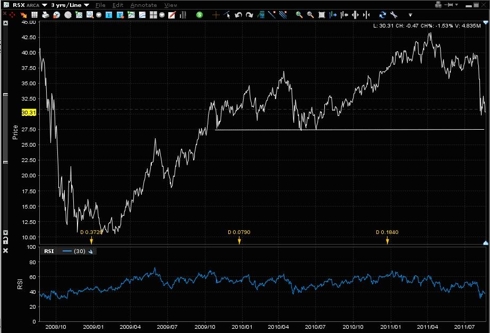 The Russian market ETF (NYSEARCA:
RSX
) has gotten pummeled along with every other investment out there. Nonetheless RSX is showing some degree of support at around $30 per share. Potentially there could be some additional support right around $28 per share. Not really sure it matters but the Relative Strength Index is as low as it has been since October 2008 which indicates to some extent RSX is in oversold conditions. People more familiar with technical indicators please feel free to correct me. The way I see it, RSX represents a compelling opportunity to take a punt with a stop loss around $27.50-$28.00 if RSX trades down to those levels for an hour or two. The upside target is all dependent on your time frame and what the powers that be do about Europe. If stability is added in the short run RSX shouldn't have much trouble finding its way to $35 maybe even $40. If there are some legitimate plans issued to fix Europe as well as the United States AND the market buys into them, RSX should appreciate well beyond $40 as whatever contagion fears that the Russian recovery will be derailed by Western Europe will diminish, allowing investors to focus on improvements and progress in Russia.
Disclosure:
I have no positions in any stocks mentioned, but may initiate a long position in
RSX
over the next 72 hours.