CenturyLink (NYSE:CTL) is the third largest telecommunications company in the U.S. The company offers an appealing 8.6% dividend yield. CenturyLink recently purchased a cloud computing company, Savvis, to offer cloud services similar to Amazon (NASDAQ:AMZN) and Apple (NASDAQ:AAPL).
CTL is the telecommunication utility industry leader in innovation, currently pursuing acquisitions which enhance CTL's business model. Company product offerings include: a) broadband services; b) voice and wireless services to personal household and businesses; c) cloud computing services; and d) entertainment services and product offerings to customers.
CTL's offers telecommunication utility investors an appealing aspect. CTL management is aggressive in pursuing acquisitions which provide accretive earnings. As a dividend investor, CTL offers the following benefits:
Telecommunication utilities are considered to be essential and necessary by many households and businesses.
Discretionary product offerings have higher profit margins and are desirable by many household and businesses. These offerings include Prism TV and DIRECTTV.
CTL management is aggressively focused upon growing revenues, earnings nd dividend distributions.
images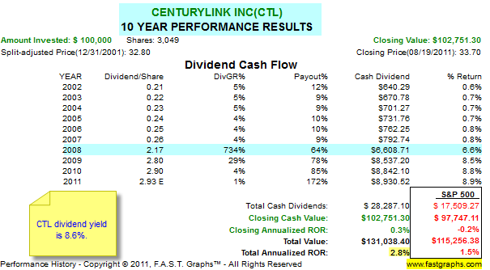 Investors, if considering CTL's 8.6% dividend yield, need to consider the U.S. Treasury security returns in comparison to the U.S. Treasury debt yields:

Income investors need a consistent income. Investors are compelled to exit the U.S. Treasury debt markets if they want a yield higher than 3.5%. CTL's 8.6% dividend yield provides a vehicle to earn a high-yield dividend in a low-beta industry.
CTL's 10-Year Forecast: Earnings and Dividend Growth
The analysts covering CTL have projected the following 10-year earnings and dividends projections: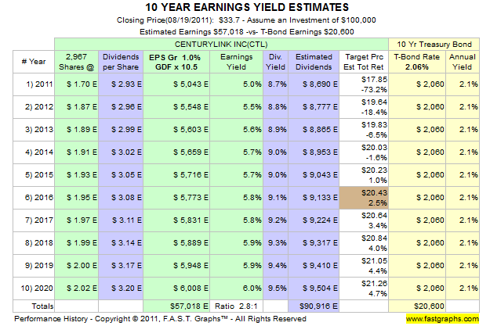 The CTL dividend for 2016 is projected at $3.08-per share. Assuming a CTL stock cost basis is $33.70, the $3.08-dividend would offer a 9.14% yield-on-cost. This is a very attractive yield-on-cost for a telecommunication utility holding. CTL has a .76-beta. This infers that the stock should move up or down at a 76% rate of the normal stock market. Higher beta stocks include biotechnology and high-growth rate stocks.
Growth Prospects: CenturyLink's Future Is Bright
1. CenturyLink, on April 27th, agreed to terms with Savvis for another acquisition.
The total cost was $3.2-billion. The terms are $30 in cash and $10-CTL stock. Per CTL, the Savvis purchase
.... will allow CenturyLink to achieve global scale as a managed hosting and cloud services provider, and accelerates its ability to deliver those capabilities to its business customers.

Cloud computing is very much an innovative offering compared to the typical telecommunication utility company. Cloud computing should be a significant revenue and earnings driver.
Amazon (AMZN) has an entire business unit focused upon cloud computing. Amazon sells these services through numerous product offerings. The customers needs are based upon personal or business needs.
Apple (AAPL) announced iCloud.com plans on June 6th. The company will provide unique services to customers to store their songs and content. Apple's thrust will begin this fall with specific offerings to its iTunes and computer users. Cost will be based upon the amount of usage.
2. Qwest Acquisition
On April 1st, 2011, CenturyLink completed its acquisition of Qwest. This year-long review process is officially approved by regulatory officials.
Per the SEC 10Q, page 9, Qwest was acquired
...to realize certain strategic to realize certain strategic benefits, including enhanced financial and operational scale, market diversification and leveraged combined networks...
The total cost was estimated to be $12.27-billion. The Qwest integration will more than double CTL's annual revenues.
Balance Sheet: CenturyLink's Strong Comparison to Its Peers
CenturyLink has a strong balance sheet compared to the telecommunication utility peer group. Alaska Communication (NASDAQ:ALSK), Frontier Communications (NYSE:FTR), and Windstream (NASDAQ:WIN) all have debt exceeding their market capitalizations. This data is reflected in their enterprise value. CTL has stated its plans to reduce its debt level and focus upon growth both with the Qwest acquisition and the Savvis cloud computing offerings.
CenturyLink Telecom Utility/Cloud Computing Peers
Company Name
Symbol
Price
Dividend
Yield
Debt/Cap
Alaska Communications
ALSK
$7.04
$0.86
12.2%
100% plus
Apple (cloud computing service)
AAPL
$356.03
n/a
n/a
0%
Amazon (cloud computing service)
AMZN
$178.93
n/a
n/a
0%
BCE, Inc.
BCE
$38.62
$2.09
5.4%
36%
CenturyLink
CTL
$33.70
$2.90
8.6%
43%
Frontier Communications
FTR
$6.97
$0.75
10.8%
100%

plus

Windstream
WIN
$11.63
$1.00
8.5%
100% plus