When I signed on as a SeekingAlpha contributor over two years ago, my mission was to present investors with ideas that represented relatively low risk and relatively high return. Over the past year, I have narrowed that focus, zeroing in on stocks that I believe have the potential to triple. Both strategies have proven very successful.
In this article, I'll provide an update on my performance, along with a few of the most timely opportunities:
All data as Aug 19, 2011

Stock

Initial Price

NASDAQ

Subsequent High *

NASDAQ High *

Peak Return

NASDAQ Peak

Delta

3.26

2,858.83

6.15

2,858.83

89%

0%

89%

CERP

4.92

2,827.56

5.30

2,887.75

8%

2%

6%

5.36

2665.54

7.93

2,887.75

48%

8%

28%

QPSA

6.58

2534.24

15.45

2,887.75

135%

14%

121%

2.25

2534.24

7.64

2,799.82

240%

10%

226%

ZHNE

2.01

2461.6

3.24

2,887.75

61%

17%

44%

12.45

2318.42

22.97

2,887.75

84%

25%

60%

5.41

2183.09

9.84

2,297.51

82%

5%

50%

1.56

2183.09

5.19

2,887.75

233%

32%

200%

2.77

2183.09

7.15

2,799.82

158%

28%

126%

6.06

2245.56

6.53

2,509.39

8%

12%

-4%

10.28

2245.56

10.55

2,352.77

3%

5%

-26%

4.48

2200.38

5.41

2,887.75

21%

31%

-10%

12.64

2131.92

14.50

2,887.75

15%

35%

-21%

6.10

2298.23

8.73

2,497.12

43%

9%

17%

1.23

1532.47

6.21

2,799.82

405%

83%

316%

Averages

103%

21%

82%
On the surface, the results have been great. My average pick has returned over 100% at its peak, versus a peak return of just 21% for the NASDAQ composite. That being said, picking the peak of any stock (or the market in general) is hard to do. However, coming close is critical to success, because the higher they go, the harder they can fall.
My focus on small- and micro-cap stocks often centers on the timing of fundamental events (i.e. a new product cycle). Grabbing a highly discounted stock at the onset of a powerful revenue driver will usually result in big profits, but when that tailwind stops blowing, look out below.
Everyone's heard the phrase "buy low and sell high", but it's easier said than done. As I discussed in Part 1 and 2 of my recent series, Identifying Stocks That Are Poised to Triple, building risk and reward charts can help. Let's look at a few examples, starting with iGO (OTCPK:IGOI):
This chart depicts a path that would take IGOI to $17 by the end of 2012. Obviously, a lot of things have to go right for IGOI to go from 1 to 17 in 16-months. However, based on iGo's patent filings, its power-saving technology could eventually be designed into every wall outlet. Is that happens, $17 is just the beginning. As such, I want to optimize my risk and reward as the story unfolds.
This chart helps to enable profit maximization. At the high end, it shows the channel in which IGOI might travel to $17 (potential reward). It also shows IGOI's reasonable floor ($1.20), which represents my calculation of its net assets (which I call "adjusted net tangible assets" or "Adj'd NTA"). Armed with this chart, I can clearly see how much potential risk and how much potential reward exists at any point in time.
As you can see from the chart labels, the trend lines rise at a rate of 32% annually. That's a nice return. However, if you catch the shares at a low and ride it up to the high (reward) line, your annual return will be 113%!
Let's review how the story has unfolded thus far.
The circle shows where I first introduced IGOI to Seeking Alpha readers. At the time, the company was at the onset of selling its products into Wal-Mart (NYSE:WMT) and Best Buy (NYSE:BBY). It had also been awarded a patent, which led to a potentially explosive partnership with Texas Instruments (NYSE:TXN).
Over the next several months, IGOI's quarterly results excited investors as much as the potential for its patent. The stock quickly tripled to $5 and even popped above my risk and reward trend line. I saw that as a mandate to greatly reduce my position. The risk (falling to the bottom line) was great, while the near-term upside appeared very limited.
Soon after, iGO's initial sales to Wal-Mart and Best Buy subsided. Investors started piling out. In fact, the downdraft was so steep that investors started panicking out. In the process, they must have forgotten about iGo's patent potential – the shares fell all the way to my bottom trend line. At that point, I started buying the shares again, mindful that the stock had broken the upper barrier and that the company was likely to announce poor earnings results. Sure enough, the company announced weak results, sending the stock right through its lower barrier and straight to my Adj'd NTA line. Without hesitation, I piled on. As a result, I not only tripled my initial investment, I have now repurchased my original stake at a cheaper price than before!
If things work out, IGOI could be a 10-bagger. If not, the most I can lose is $1.20, which is merely a third of the profit I made its first ride to $5. Stay tuned…
Next, let's look at Calix (NYSE:CALX):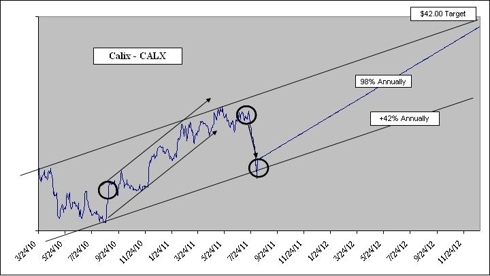 The first circle on this chart shows where CALX's shares were trading when I wrote Calix to Buy Occam: Time to Buy Calix?. At the time, my fundamental analysis calculations determined that CALX had the POTENTIAL to top $40 per share by the end of 2012 (for reasons you can review in the original article). Based on these calculations, I was able to generate a risk and reward chart, predicting the path CALX's shares might take.
As the stock rose toward the top of my predicted range, the risk increased. Simultaneously, the potential reward diminished. Going into Calix's earnings report, the shares hovered near its top trend line. The gambler in me wanted to hold on for the report. Plus, my profits were just a few weeks away from becoming long-term capital gains (which results in much lower taxes).
However, the chart told me that there was little upside left and plenty of downside. That spurred me to look at how other fiber-oriented companies were faring. As it turns out, many had reported weak earnings due to a tsunami-related shortage of fiber-optic cable. I immediately unloaded my position (depicted by the second circle) and avoided the precipitous drop that followed.
Without this chart, most of my 80% profit would have evaporated in just a couple weeks.
Amazingly, the chart would pay off again, when shares of CALX hit the bottom trend line (third circle). In the midst of the panic selling, the chart gave me the confidence to jump back in at $14 per share. They quickly rebounded above $16.
FYI, I subsequently sold the shares at $16. After revisiting the prospects and Street expectations for Calix, I determined that its potential to reach $40 has decreased in recent months (especially in light of economic events). That being said, I'll continue monitor its progress, in case it once-again appears poised to triple.
The final example is Atrinsic (NASDAQ:ATRN):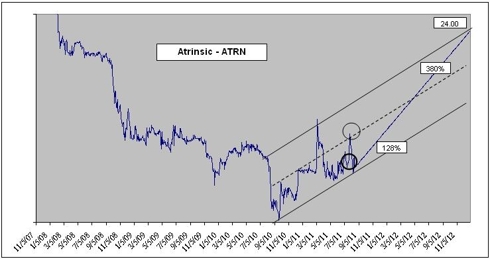 I intentionally chose this company because of its wide range of possible outcomes. As I outlined in Shares of Atrinsic Are Poised to Triple, this stock's potential is explosive, but so is its risk profile. I believe it could go to zero just as easily as it could become a 10-bagger.
Of course, I don't like the idea of losing 100% of my investment, but I love the idea of making 10 times my money. Net-net, for the reasons outlined in my initiation piece, I believe the potential reward outweighs the risk by a wide margin.
That being said, I want to be very careful about how I play it, and that's where a risk and reward chart comes in.
As you can see, it appears that ATRN found a bottom late last year and has been steadily moving up within the confines of the top and bottom trend lines I have drawn in. The dashed line represents the mid-point between top and bottom lines. As such, it also represents the point at which risk and reward are equal.
This is important, because we don't want to risk large sums of money on 50/50 bets. Thus, in high-risk cases like ATRN, it is usually prudent to trim one's position when it has moved from the bottom trend line to the mid-point. If it then proceeds to the upper trend line, it is usually prudent to further trim the position and wait for a more-attractive re-entry point.
Looking at the chart, you can see how well this strategy has applied to ATRN over the past year. The stock has hit the mid-point four times. In three of those cases, the shares retreated to or near its lower trend line. In one of those cases, the stock quickly rocketed to (and momentarily above) its upper trend line, which proved to be an incredible selling opportunity. After hitting $7.68, ATRN pulled to within a few cents of its lower trend line in the low $2 range (which in turn proved to be a great buying opportunity.
It's important to understand that this is NOT technical analysis. Technical analysis attempts to predict future price movements based on past price movements and patterns. The problem with this is that a stock's price is ultimately determined by the company's fundamentals. Because of this, investors can maximize their returns by first understanding the fundamentals. Once that is accomplished, predicting how a stock's technical patterns will play out over time becomes a relatively easy matter.
Risk and reward charts focus on the idea that a company's prospects will lead it to achieve a certain valuation in the future. How it gets there will likely ebb and flow within a channel that leads to that valuation (as represented by top and bottom trend lines). By coming up with a reasonable estimate of where the company's fundamentals might lead the stock, we can predict how the technicals might unfold.
In doing so, you can stay one step ahead of the crowd.
Keep in mind, fundamentals must be closely monitored for any significant shift. In the case of CALX, investors are beginning to look past the opportunities that the Broadband Stimulus package brings to its table. In addition, a weaker economic picture and the threat of governmental austerity measures greatly impact the company's odds of achieving a $40 price target.
Similarly, ATRN is likely to be a fast-moving target, subject to financing, the performance of its new CEO, and the progression of the online music industry. All factors must be constantly monitored to determine whether any material shift occurs in its risk profile, or potential reward.
Accordingly, a new price target and timeframe might be warranted. If so, our risk and reward trend lines must be adjusted to reflect our updated beliefs. But this can also create trading opportunities. By knowing that a company's new fundamental outlook requires new trend lines, you can continue make the right moves. Meanwhile, pure technical analysts will continue to play the stock based on fundamentally invalidated patterns.
As in the case above, you will be able to stay one step ahead of the crowd.
Disclosure: I am long ATRN, OTCPK:IGOI.