Can the chief economists of nearly all the major firms be wrong? Yes they can. In a poll by Bloomberg of 67 economists in 2014, all 67 said that rates would rise and advised investors to sell bonds (Eisen, 2014). They could not have been more wrong. The 30-Year Treasury yield dropped 1.16% in 2014. This reduction might not seem significant until you observe that this represents a decline of almost 30% as the chart below illustrates: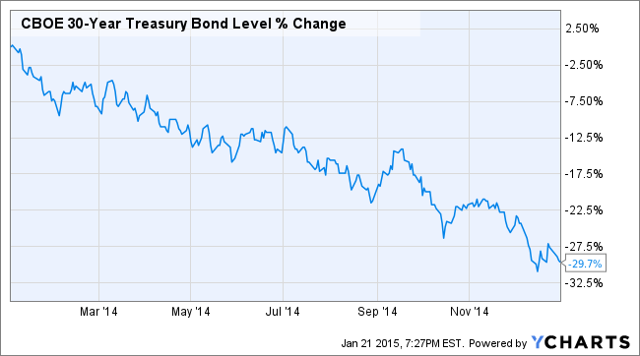 For investors, long-duration Treasury ETFs provided an easy way to benefit from the decline in yields last year that trounced US equity indices including the S&P 500. The iShares 20+ Year Treasury Bond (NASDAQ:TLT) returned over 27% in 2014 and the Vanguard Extended Duration (NYSEARCA:EDV) provided an even more dramatic result of 45% last year compared to the S&P 500's total return of 13.69%, as the chart below shows: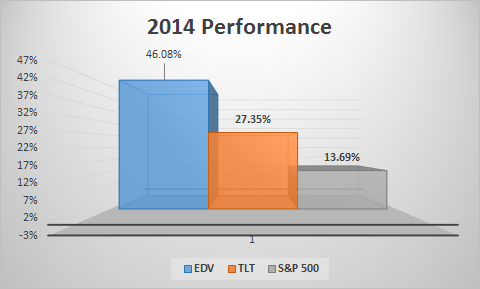 While long bonds would likely suffer the most if rates were to rise, in our view, US 30-Year yields could decline to 1.7 percent by the end of 2015, and perhaps even lower.
Our base case for lower yields is based upon:
Observations of low inflation, slowing global growth, particularly in China and Europe
Lower commodity prices
Flattening yield curve and the possibility of an inverted one
A significant spread in the yields between US Treasuries vs. other Sovereign debt
Additional Quantitative Easing by central banks
Inflation is not picking up: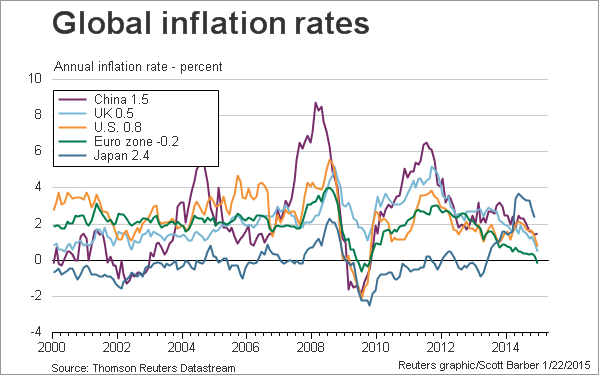 Growth in China is slowing: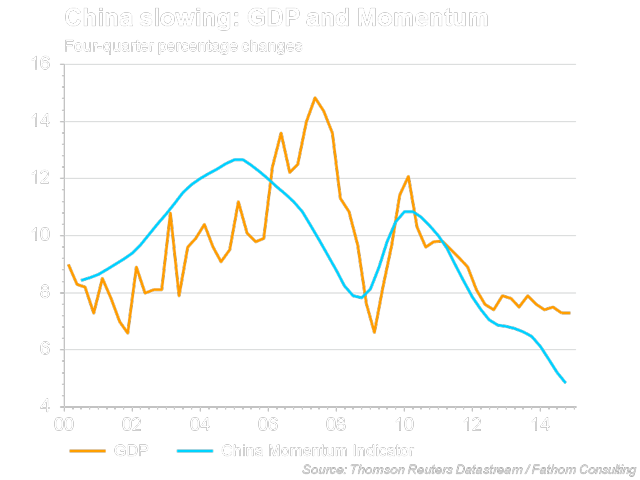 Commodity prices including oil, copper and steel continue to decline: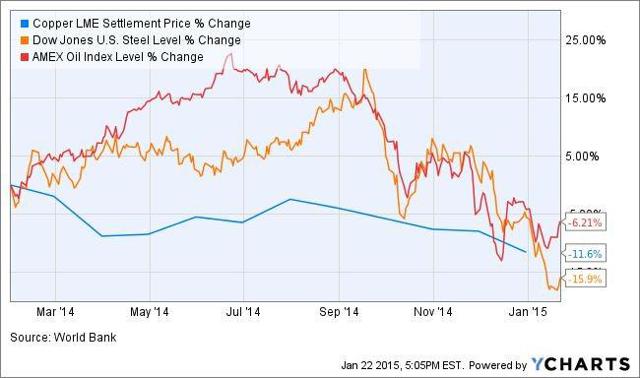 We believe that as investors price in the impact of lower commodities like oil and slowing growth - both deflationary in nature, the spread between shorter term and long bond yields may decline further resulting in a "flattening yield curve."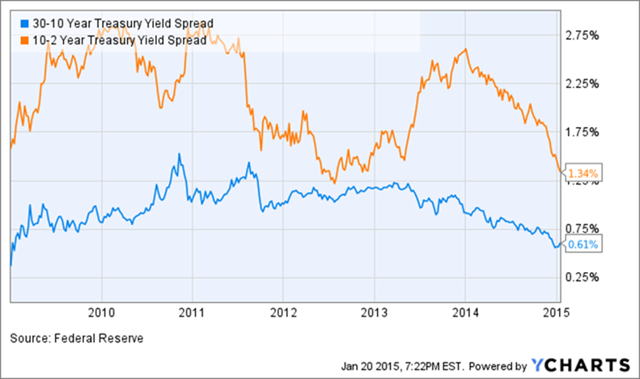 If this continues, we could see long-term yields lower than short term - an inverted curve. This can occur when investors have so little visibility into the future that they are prepared to take the certainty of a lower yield offered by a long-term bond, over the uncertainty of yields offered by a shorter term maturity and the subsequent reinvestment risk of lower rates. For that reason, inverted curves are also associated with recessions because central banks have historically lowered rates during economic slowdowns.
Of course there are reasons why the Fed might want to raise rates, and this is why we hear what one analyst recently called "the Fed's persistent chatter" on the subject (Martens, 2015). Principal among these reasons is the wish to help huge institutional investors like pension funds, who need income and cannot by law invest only in stocks. It is not inconceivable that the Fed might raise rates for a while, but we firmly believe this would be risky, and could only be temporary. Additionally, this would be counter to the efforts of other central banks in Europe, China, and Japan to jump start their economies.
Rates will go up again, but when? Historically, over the past two hundred years, they have often taken 10 to 15 years for interest rates for sovereign debt to bottom out, and in contemporary Japan they have already been bottoming for over 20 years. We see nothing in the global economic scene to suggest that we are anywhere near a turnaround in 2015.
Currently, U.S. Treasuries are considered to be lower risk and pay higher yields compared to other sovereigns. The table below illustrates US Treasuries vs. foreign equivalents.
With U.S. rates higher than those of major foreign markets and the US recovery better than many other countries, U.S. Treasury bonds are compelling on a relative basis.
Global Treasury Bid Yields

As of 01/22/2015

Country

2 Year

10 Year

30 Year

United States

0.523

1.872

2.444

Germany

-0.168

0.396

1.12

Japan

-0.015

0.325

1.285

United Kingdom

0.356

1.508

2.197

France

-0.091

0.616

1.526

Italy

0.318

1.558

2.883

Source: Thomson Reuters
Demand for high-quality, long-maturity U.S. debt could increase even absent another recession or stock market crash, with the recent announcement of a European Quantitative Easing program. While we do not predict a crash, we certainly cannot exclude the possibility and we believe that a long bond position could be a hedge against that eventuality.
Disclosure: The author is long EDV. The author wrote this article themselves, and it expresses their own opinions. The author is not receiving compensation for it. The author has no business relationship with any company whose stock is mentioned in this article.