Johnson & Johnson's (NYSE:JNJ) revenue growth hasn't been very good lately. There has even been some contraction in the market. Still, operational income and net income have shown steady increases as cost-cutting measures have taken effect and margins have been improved.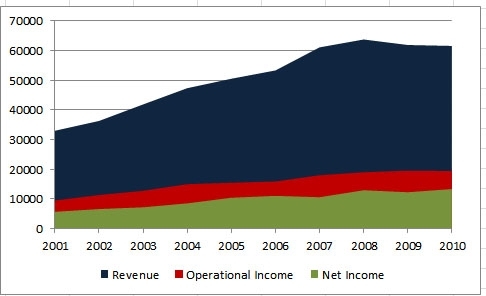 This has been the case with many large-caps in the last few years. Economic slowdowns have shrunk markets across the board, and only the strongest firms have kept up growth. JNJ certainly is not a weak company, but its overall revenue growth is stagnating - it is not nearly as impressive as it was in the early 2000's.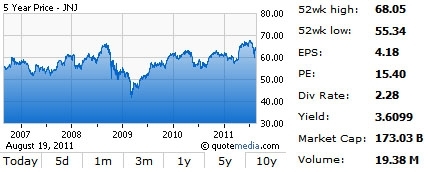 JNJ stock, assuming that it continues what it has been doing for the last five years is pretty much a bond in equity form. Relatively safe from the huge market swings that destroy and supersize your portfolio, you're pretty much guaranteed that the shares will stay around $60, and the probability of a decrease in the dividend is extremely low. The dividend payout ratio is sitting at a steady 44% - higher than the historical average (and thus more generous).
Looking at its earnings and outlook presentation for quarter two, one of the things that jumped out at me is that there is not much of an emphasis on statistics, but qualitative presentation of the pipeline of JNJ products. It's hard to say just how successful these will be. One theme is very apparent though - diversity. There is a nice split of 54% of the firm's revenue from outside the US and 46% inside, and major presence in 7 major healthcare sub-industries (everything from vision care to the latest line of diabetes testing products).
Like stated before, ultimately JNJ stock isn't too dissimilar from a fixed-income instrument. Since its growth is probably not something you want to rely on in a portfolio, the dividend is where you will likely make your gains. The risk to reward ratio is quite good for JNJ, but the slow outlook makes it hard to justify its purchase over other equally safe equities unless you are an extremely risk-averse investor.
Disclosure: I have no positions in any stocks mentioned, and no plans to initiate any positions within the next 72 hours.