The 5% +/- drop in the U.S. markets on Thursday was exciting. Fortunately I hadn't got around to doing anything about the decision I made in early August to jump in at SPX 1,150…Oops!!
Agonizing about that, I looked up a tongue-in-cheek analysis I put out 30th March 2009 after Roubini's pronouncement two weeks earlier that the rally from the low on 9th March was a "dead-cat-sucker-rally".

The idea there was that perhaps there was a relationship between the likelihood of a dead cat bounce (when the market bounces from a low and then falls down a lot below the previous low), and the preceding drop.
It wasn't a particularly exhaustive review, I just looked at the 1929 stock-market crash. I found some sort of correlation, which basically said that you can distinguish a "dead-cat" from a live one by the size of the bounce as a function, of how far the cat fell in the first place, my conclusion then (which turned out to have been correct) was that the bounce from 9th March was not a dead-cat bounce.
[Click to enlarge]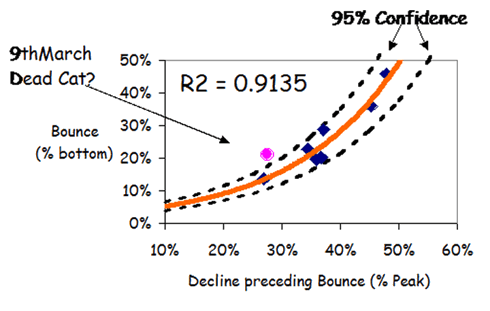 Sticking with DJIA, the drop from the last high on 21 July (12,724) was 15.7% (to the bottom of 10,720 (I go with closing prices)). The bounce took the index to 11,482 (7% up from the bottom) which, if you look at the chart, is classic dead-cat territory.
Mm…regardless of my previous pronouncement that SPX 1,150 would be the bottom, I think I'll wait until DJIA bounces a good 10% above its bottom (i.e. to 11,800) before I jump back in. That's why they call me a scaredy-cat.

Disclosure: I have no positions in any stocks mentioned, and no plans to initiate any positions within the next 72 hours.