I guess the "glass half empty" crowd is winning out over the "glass half full" crowd when it comes to Corning (NYSE:
GLW
). The stock closed last Friday at $14.32 – about 39% below its year-to-date high. But the "glass half full" crowd can take comfort that Friday's close was up more than 8% from the $13.20 low back on August 10.
After reading a Barron's article over the weekend, I think the glass is way more than half full for investors who take a position now. And I'll be joining them..
The story is compelling for several reasons. There's an improving balance sheet, more diversified revenue streams (not emphasizing LCDs as much), and even an interesting recent insider purchase. While I have not studied this company in great detail, Edward Shill, Chief Investment Officer at QCI Asset Management, told Barron's that he's followed the stock for his entire career. He sees only $2 to $3 of downside and $10 worth of opportunity.
And while I don't think dividend investors will be all that impressed, the stock does come with about a 1.4% yield now.
Improving balance sheet
According to the Barron's article:
Corning's balance sheet is in fantastic shape with $6.4 billion of cash and short-term investments more than offsetting $2.3 billion of debt. In the last downturn, when shares traded down to $8, the company's balance sheet was in such dire straits that the company's solvency was a concern.
As Barron's points out, the stock trades close to its book value. And if you believe in consensus analyst estimates, the stock has a forward PE of 6.7.
Let's take a look at the balance sheet. I like to view a company's value through the prism of its current assets and current liabilities. It's sort of like the "current ratio," but I like to view it in dollars and cents – not as a ratio.
Here's a look at some key items on Corning's balance sheet for the last few years: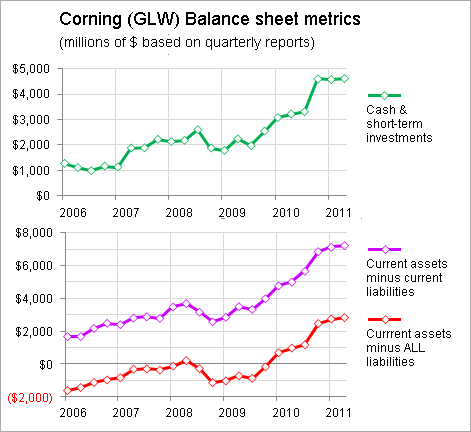 Note the growth in cash and short-term investments. The bottom chart shows two measurements – current assets minus current liabilities and current assets minus
all
liabilities (current and long-term). So from a balance sheet perspective, the company is certainly healthier than it was a couple of years ago. But what about income?
This chart shows that on a trailing four quarters basis, operating income is rising, as is net cash from operating activities, which is about $2.30 per share right now: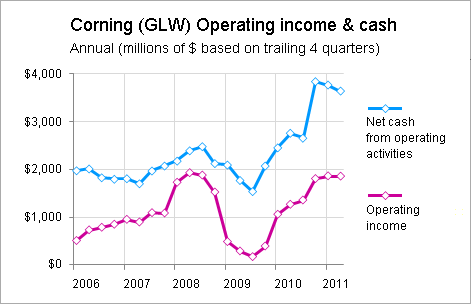 (For more details, see the Capital IQ charts Motley Fool
ran a few weeks ago.
)
"A bigger more balanced company"
For the past few years, Corning's LCD display glass business has represented the majority of its revenues and income. But the company is diversifying. More of its sales now come from optical fiber and cable, ceramics for filtering car and truck emissions, specialized materials for the life sciences industry, and other specialty materials like "
Gorilla Glass."
In a recent investor presentation, CEO Wendell Weeks explained that the company's plan is to boost sales by 50% to $10 billion, while relying less on the LCD TV market to generate revenues. Here's one of Wendell's slides from that presentation []: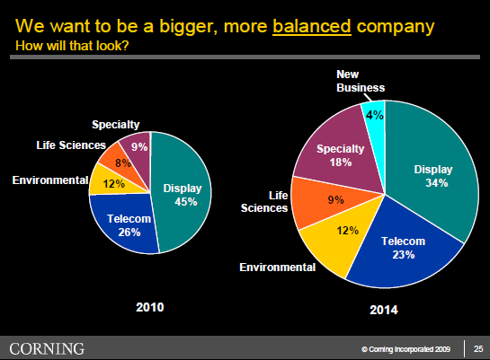 And diversifying is what the company has been doing for the past several quarters, as you can see from this chart of Corning's sales revenues by segment: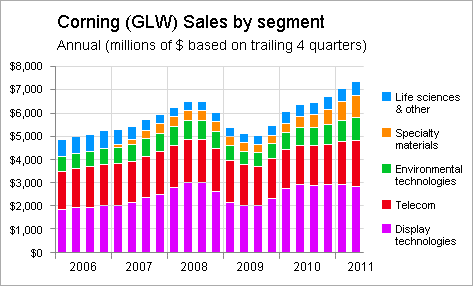 But although the display technologies category represents a lower percentage of sales now than in previous years, that has not yet translated into income. According to net income by segment figures from the company's reports, most of the net income remains in display technologies.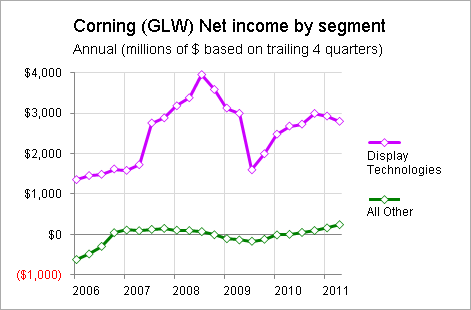 But that "all other" category, although small by comparison, is rising. And I think it will continue to rise to bring that metaphorical glass to a level well more than half full.
The company's CFO, James Flaws, seems to agree. According to Barron's, he bought 75,000 shares earlier this month at $13.50 per share. While he would not say what he thought the shares were worth, he did let on that "at $13.50, it went below fair value."
I agree. Unfortunately the market doesn't agree. However, sometimes you have to be very disagreeable with the market and go ahead and buy stocks that others are kicking the snot out of. But I'm not going to do it all at once. You know how the market is. There could easily be more snot-kicking yet to come.
But when the dust settles, I think there's a pretty darned good "glass half full" argument for this stock.

Disclosure: I have no positions in any stocks mentioned, but may initiate a long position in GLW over the next 72 hours.