The data storage industry is one of the more speculative industries. Investors and traders endlessly argue about the potential of data storage. Some argue many of these stocks will end up bankrupt in the long term while many believe the future of data storage will grow many times greater than it is now. In fact, according to EMC, "data volumes are set to multiply 44 times by 2020." If this is true, the data storage industry should be one of the leading sectors over the next decade.

Below I have listed the stocks that make up the data storage industry. I will also detail several securities that have been successful in the past, as well as a few stocks investors should stay away from. Last, I will give investors ideas about small cap data storage companies that are M&A targets or could grow over 1000% in the next decade.

Before investing in any data storage stocks, it is important to remember the current stock market environment is very volatile. Also, the overall technology sector has taken a beating the past month. Even Apple (NASDAQ:AAPL), technology leader, has been unable to outperform the market during this downward move. Nevertheless, investors should open new positions after the market stabilizes; possibly in about six weeks, according to Nicholas Bloom.
To begin, the data storage industry is made up of 20 publicly traded companies, including two listed on the OTC Bulletin Board and two foreign companies that I will not list. There are another 45 companies that are privately held or sub-companies of greater data storage giants. Data storage stocks range from high cap bellwethers to struggling micro-cap startups. What these companies have in common is a bright future when considering the possibilities of the data storage market. Below is a table that lists 18 publicly traded securities in order of market value.
| Company | Ticker | Market Value | P/E (ttm) | Debt | Cash |
| --- | --- | --- | --- | --- | --- |
| EMC | EMC | $41.9B | 21.28 | $3.45B | $5.33B |
| NetApp | NTAP | $13.3B | 21.8 | $1.26B | $4.71B |
| Western Digital | WDC | $6.16B | 8.5 | $294M | $3.49B |
| Seagate | STX | $4.3B | 9.25 | $3.51B | $3.15B |
| Brocade | BRCD | $1.6B | 16.3 | $835M | $465M |
| Fusion IO | FIO | $632M | 387 | $0.00 | $219M |
| Emulex | ELX | $577M | N/A | $0.00 | $168M |
| STEC | STEC | $450M | 8.31 | $0.00 | $213M |
| Quantum | QTM | $415M | 199 | $234M | $74M |
| OCZ Technology | OCZ | $285M | N/A | $924K | $64M |
| Imation | IMN | $261M | N/A | $0.00 | $258M |
| Xyratex | XRTX | $240M | 3.6 | $0.00 | $127M |
| Dot Hill Systems | HILL | $85M | N/A | $210K | $46.5M |
| Overland Storage | OVRL | $57.5M | N/A | $2.1M | $17.3M |
| Hutchinson Technology | HTCH | $52M | N/A | $148M | $50.7M |
| IceWEB | OTCPK:IWEB | $25.7M | N/A | $1.78M | $42.3K |
| Dataram | DRAM | $13M | N/A | $3.65M | $345K |
| Alanco Tech | ALAN | $5.96M | N/A | $4.76M | $183K |
(Values are current as of Market close August 19, 2011)

As you can see based upon four of the more important statistics, some of these companies are in position to ride the wave of the data storage boom to success, while other companies seem to be struggling to bring in revenue with an increase in debt. Before moving on it is important to note some stocks have performed very well the past 12 months. This is more or less an indication of consumer confidence in a particular company, which can stem from increased customer base or sequential earnings beats.

The three stocks that returned the most to investors over the past 12 months are OCZ Technology, Dot Hill Systems, and Overland Storage. Respectively each stock has risen 176.5%, 44.6%, and 42% over that period. All three of these are small cap storage companies that should more likely be acquisition targets than future stock market bellwethers. It is important to keep in mind while these securities are growing at fast rates, investors are willing to dump these stocks on any little sign of weakness.

The three laggards over the past 12 months are STEC, Xyratex, and Hutchinson. Respectively each company has lost 31.3%, 30.9%, and 29.5%. It is important to note Alanco Tech's stock has retreated 33% the past 12 months, however since the company was delisted from the Nasdaq on July 29, 2011, I left the company off the list. Nevertheless these stocks should be avoided as losses may continue. Also, these companies are micro cap stocks, which means it will be difficult for the share prices to catch momentum as institutional investors will stay away.

Top 3 Data Storage Stocks

One of the better overall data storage stocks is Western Digital. While many feel the future will be on the cloud, Western Digital may be able to gain as more hacking groups pummel the world. Western Digital focuses on external storage, internal storage, and networking products. Western Digital's external hard drives can store data from 500 GB up to 3 TB. Portable external hard drives range from 250 GB of storage to 1 TB. Western Digital also offers shared storage for networks that can store up to 8 TB of data. With regards to internal storage, Western Digital offers devices from 80 GB up to 3 TB of added storage. Western Digital offers a wide array of products that should keep the company moving in the right direction.

Western Digital's stock is one to look into because the company has a nice cash pile of about $3.5 billion, with only $300 million in debt. Because of this Western Digital can easily pay off the debt and turn towards developing new storage devices that can hold upwards of 20 TB of data. Another option Western Digital has is to acquire a smaller cap cloud company.

A technical reason to look into Western Digital is if the P/E ratio were to rise to 15, the share price would be about $46.35, which would be a 73% increase. This may be speculative, but as data needs expand, Western Digital is in prime position to capitalize. Of course if Western Digital is not able to obtain a cloud partner and the other major cloud storage companies are able to ensure, and insure, protection from hackers, we may see Western Digital fade away.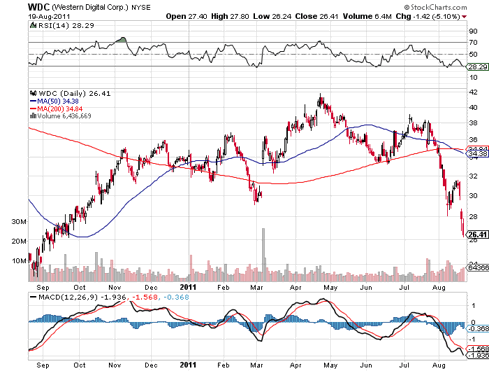 (Western Digital chart over the past 12 months - all images)

Another well known storage company investors should look into is EMC. EMC is a better choice than NetApp, because as NetApp's recent earnings showed, EMC and other cloud companies are gaining market share while NetApp stagnates. Keep in mind EMC did not lower the company's guidance and the most recent earnings [see transcript] barely beat estimates. Therefore while most companies in the data storage industry missed earnings and/or gave negative outlooks, EMC is holding steady through strong headwinds. Part of this can be attributed to the company's stake in VMWare (NYSE:VMW), which allows EMC to capitalize on VMWare's virtualization success.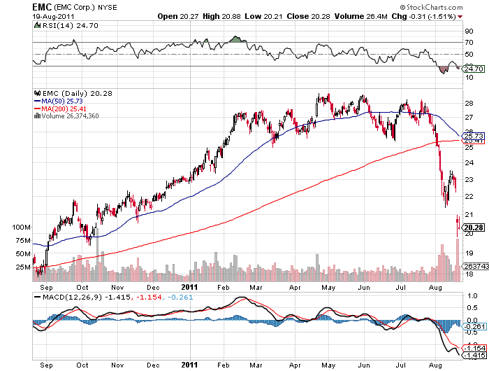 (EMC chart over the past 12 months)

A final stock to keep a close eye on is Fusion IO. Fusion IO recently had the company's IPO, on June 9, 2011. This means it is difficult to measure share price returns over the past year, but recently the stock has done very well. Most recently, on August 4th, the company reported earnings that beat estimates and the company presented a guidance that topped estimates as well. The share price rumbled about 10.5% over the August 5th session, including a spike of about 7% after hours on August 4th.
Fusion does not have any debt as the company paid off the long term debt of $5 million since March 31st. Unlike EMC and Western Digital, Fusion has a towering P/E ratio above 387. This means investors have confidence the company will increase revenue and net income over the next few years. Keep in mind LinkedIn (LNKD) carries a P/E of 440 after the stock dropped 30%, which shows investors are still believing the social media company will prevail in the long term.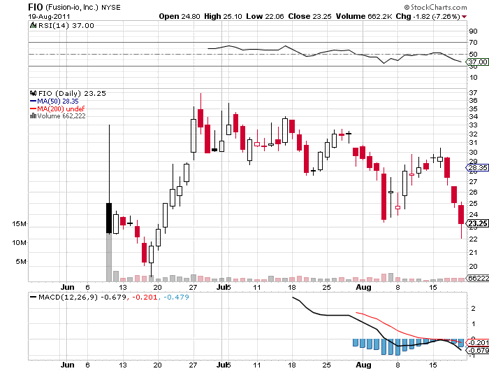 (Fusion IO chart over the past 12 months)

Bottom 3 Data Storage Stocks

Brocade and NetApp are the clear laggards of the data storage industry. Brocade's share price is already off over 50% from the 52 week high, but we may see continued losses as the company only gave in line guidance during the conference call [see transcript] on Thursday. This leads me to believe Brocade may miss estimates next quarter as the company loses market share and demand weakens. NetApp is in the same boat as Brocade. With that said, NetApp does have potential as the company has under $1.5 billion in debt and over $4 billion in cash, but we may see NetApp cut costs in order to keep margins in line in the future.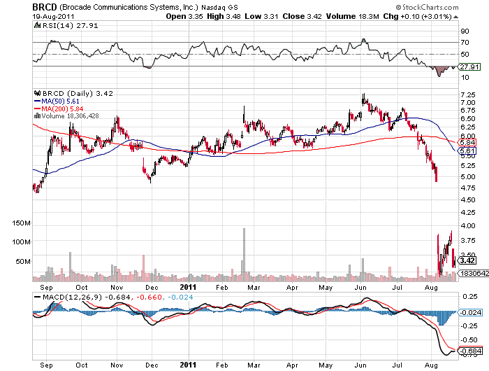 (Brocade chart over the past 12 months)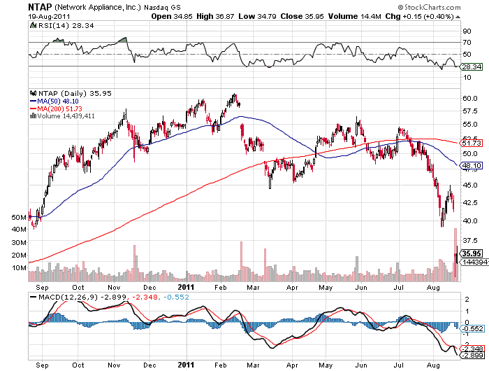 (NetApp chart over the past 12 months)

Another stock to avoid is STEC. An easy explanation as to why investors should avoid STEC is by viewing the company's July earnings that led to a 39% one session drop followed by a 12% slide since then. Some say STEC is a great buy as the stock is dirt cheap, but if the market keeps heading down investors will continue to liquidate their portfolios, starting with companies such as STEC. The best part of STEC is that the company has no debt and $213 million in cash on hand. However, investors should not be fooled as the company is struggling to bring in customers and the few major customers looking for data storage are flocking to EMC and Western Digital.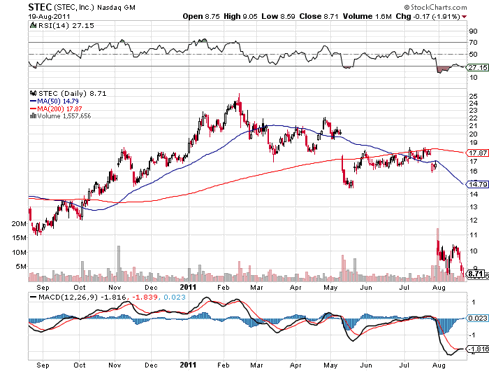 (STEC chart over the past 12 months)

2 Speculative Data Storage Leaders

The first data company that has a good chance to break out to new highs is Overland Storage. As mentioned above, Overland is one of the leading stocks over the past 12 months with regards to share price growth. Along with this, the company has just over $17 million in cash and only about $2 million in debt (as of March 31, 2011). More importantly the company has been decreasing the overall debt at an average of 25% per quarter over the past 4 quarters; which means the debt may be paid off within the next four quarters. Also, cash and equivalents have increased over the past three quarters. This shows the company has potential as there is not any uncontrollable debt issues that could hold the company back in the future; unlike the debt problems Domino's Pizza (NYSE:DPZ) has.

On the other hand, Overland may have hit a ceiling. Revenue has decreased on a yearly basis by considerable amounts since 2007. Therefore, as expected, quarterly revenue has sequentially decreased over the past four quarters. With that said, annual net income over the past 4 years has improved from a loss of $44.84 million in 2007 to a loss of $14.36 million in 2010. As expected the improvement in net income is directly related to decreased expenses. Overland is rated a speculative leader because the stock has potential and in my mind can make a run to the $7-8 range in a few years. Also, with the company valued at $40 million and almost no debt, the company would be an easy pick-up for plenty of public and private technology companies.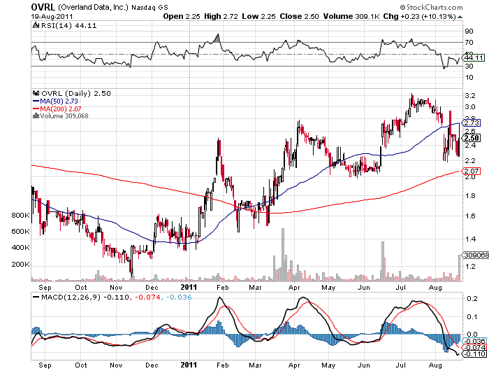 (Overland Storage chart over the past 12 months)

A better speculative stock investors should take a serious look at is OCZ Technology. As mentioned above, OCZ's stock has risen over 170%. Unlike Overland, the company has seen increased revenue annually over the past four years. Similarly, quarterly revenue has grown sequentially over the past five quarters. Another positive sign is OCZ has increased expenses over 100% over the last five quarters. This may indicate the company is gearing up for increased business in the future. Unfortunately, due to the increase in expenses, net income has decreased to a loss of over $9 million in the quarter ending May 31, 2011. Despite this, the company only has $924 thousand of debt with a healthy cash pile of $64 million.

As the financial sheets and chart show, OCZ is in growth mode and the stock may be one to keep an eye on and possibly take a position in while the share price is still low. Another thing to keep in mind is OCZ's outstanding shares have increased roughly 94% over the past five quarters. This indicates investors are loading up on the stock and a real break-out may be over the horizon. Keep in mind if the company continues to hit revenue records the share price will continue to rise even though the company trades over 100% of the current book value.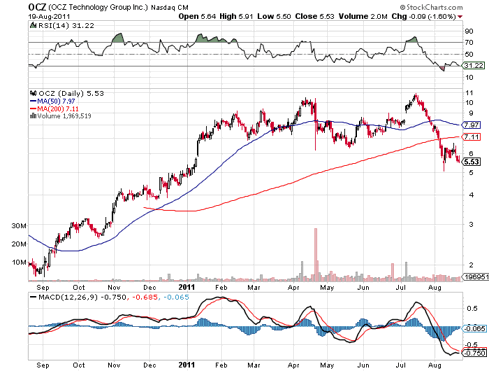 (OCZ Technology chart over the past 12 months)
Of the many sectors and industries that make up the stock market, the data storage industry is one of the few that has the potential to expand to such large levels. However it must be remembered recessionary uncertainties can slow down data storage stocks because major customers may not be willing to upgrade their data system if the current system works fine. It is also important to keep in mind over the long term more data storage companies may join the industry and cause a dilution of the market, which will hurt the major players. Nevertheless investors should be able to find a few stocks from this industry that spark interest and possibly a lifelong relationship.

Disclosure: I am long EMC.