Introduction
National Presto (NYSE:NPK), a housewares and small appliances company that diversified into defense and absorbent products, was founded in 1905 to manufacture industrial-size pressure canners. The company pioneered the saucepan-style pressure cookers in 1939 with the trade name "Presto", which soon became synonymous with pressure cooking in American households.
During WWII, the company contributed to the war effort by converting almost all of its production to the manufacturing of artillery fuses, aerial bombs, and rocket fuses. NPK's innovations and products in the decades that followed include:
1949 – First vapor steam iron that used ordinary water instead of distilled water,
1956 – Immersible electric cooking appliances that employed a removable heat control,
1958 – World's first automatic, submersible stainless steel coffee maker,
1974 – PrestoBurger hamburger cooker, first of a series of 'mini-appliances',
1988 – Electric slicer and shredder SaladShooter product, and
1994 – PowerPop microwave multi-popper.
The company was directed by conservative management throughout. Maryjo Cohen, who became the CEO in 1994, has been with the company since 1976. She is the daughter of Melvin Cohen, who joined the company as a customer service manager in 1944 (who married the daughter of Lewis Phillip, a majority shareholder). Lewis Phillip acquired the majority stake in 1942, when NPK was on the verge of bankruptcy following curtailment of aluminum in domestic products. Melvin Cohen became president in 1960 and during his early tenure, was honored by value investing guru Benjamin Graham with a mention in the best-selling book "The Intelligent Investor". Warren Buffet also held shares of NPK in the 1970s.
The company's primary business strategy in the 1970s and 1980s involved launching new products, acquiring patents for the technologies developed, and defending against copycat competitive products through litigation. Not all its products enjoyed commercial success, and the company held significant cash to help tide over difficult phases in its business.
In 1999, SEC launched an investigation to determine whether National Presto should be designated as an investment company under the investment company act of 1940 – per that law, companies holding more than 40% of assets in investment securities can be reclassified as investment companies, and can be made to comply with additional SEC regulations.
In 2002, the SEC asked National Presto to register as an investment company and at its refusal filed suit. NPK's defense was that it was only being extremely cautious and was finding it hard to locate areas to plant capital that can grow the business. In 2005, the company registered as an investment company when it lost in the district court case.
But in 2007, NPK won the lawsuit when an appeals court ruled that the SEC was treating National Presto harshly. Ultimately, it turned out to be much ado over nothing. The company could have just as easily applied for an exemption to the 40% rule, a process other companies had successfully done, thereby avoiding litigation and its associated costs. In the past decade, the company diversified into defense and absorbent products by investing to acquire a group of companies.
Also, in place of hoarding the cash generated, NPK issues a special dividend in addition to a regular dividend every year based on earnings.
Business Issues
National Presto's housewares and electrical appliances business is dependent on the aptitude to innovate and develop new product designs that can be manufactured and sold profiltably. A critical aspect of this scheme is the ability to protect intellectual property. NPK has been relatively successful in obtaining patents for key technology and by defending it aggressively through legal ways.
With the industry consolidating, NPK faces competition from large manufacturers with far more resources than this division of National Presto. It is only a matter of time before NPK will find it tough to compete in this market, as big manufacturers sport competitive advantages:
The ever growing patent portfolios of big-name manufacturers can make NPK suing them for IP violations a non-event for NPK can be easily counter-sued for violation of its competition's IP rights.
Large manufacturers offer national retailers a superior product mix that can command better product placement in retail shelves.
Private label products at the giant retailers are a major competitive threat for NPK. A retailer only stands to profit by approaching manufacturers in China and other countries with low production costs directly than through National Presto. Service and warranty programs are areas where National Presto can remain competitive in the long run. It is unclear whether management will invest to dramatically alter the business model for this unit.
National Presto's defense products segment consists of products from three acquisitions:
AMTEC Corporation (February 2001) – manufactures 40mm ammunition and precision mechanical and electro-mechanical products for the U.S. Department of Defense (DOD),
Spectra Technologies LLC (July 2003) – produces munitions and ordinance related products for the DOD and its chief contractors, and
Amron LLC (January 2006) – makes cartridge cases used in medium caliber ammunition primarily for the DOD and its prime contractors.
The mainstay for this business unit is a five-year key contract for management and production of the Army's 40mm ammunition system originally signed in 2005 and renewed for another 5 years in 2010. The obvious risk is the dependency on DOD for the government can choose to terminate the contract at any time. Also, these contracts are fixed price with the only protection against raw material inflation being some limited escalation clauses for the price of steel, aluminum, and zinc.
National Presto's absorbent products sector is a business unit formed in 11/2001 when it purchased the assets of RMED International, a private label diaper manufacturer. The company also purchased the assets of NCH Hygienic Products, Inc an adult incontinence products manufacturer in 10/2003.
Unlike the other units of NPK, this business unit is capital-intensive and requires utilizing high-cost, high-speed equipment. This is a relatively new business for the company and it is shooting to be a player servicing the baby-boomer demography that is starting to retire. The idea could turn out to be lucrative, but depends on how management executes the strategy.
The company has virtually no presence outside of US and Canada. This is a legacy of conservative management style that has shied away from investments that involve any risk. This approach could cause the company to miss-out on the huge global marketplace.
Finances
The table below summarizes National Presto's financial position:
| | | | |
| --- | --- | --- | --- |
| Year | 2008 | 2009 | 2010 |
| Revenue | 448.3M | 478.5M | 479M |
| Net Income | 44.2M | 62.6M | 63.5M |
| Shares Outstanding | 6.845M | 6.854M | 6.864M |
| Earnings per Share (Normalized – one-time items removed) | 6.45 | 9.13 | 9.26 |
| YoY Earnings Growth | 14.4% | 41.63% | 1.44% |
| YoY Revenue Growth | 6.4% | 6.7% | 0.1% |
| Net Profit Margin | 9.85% | 13.08% | 13.26% |
NPK's financial position indicates an overall slowing trend. The 1st and 2nd quarter 2011 reports showed a further slowdown in the overall business – the defense segment demonstrated good growth while the housewares segment showed a YoY decline. The absorbent business indicate an increase in revenue but decrease in profitability due to increased material costs – a fire in the product facility also caused the decline in earnings.
Quantitative Rating
The spreadsheet below shows our quantitative rating summary of National Presto (click here for understanding of the ratings on this spreadsheet; click to enlarge image):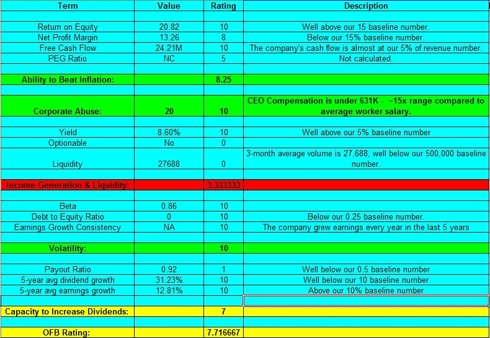 National Presto scores 8.25/10 on its ability to beat inflation: Return on equity, and free cash flow are perfect. Net profit margin is healthy. PEG ratio (5-year projected) is at best a guess as the stock is not widely followed and the company doesn't give guidance – OFB gave that an average value.
Corporate Abuse rating is 10/10 as its executive compensation is outstanding: The CEO Maryjo Cohen made $631K which is about 15 times the average worker. Her salary has accelerated in the last few years. Prior to this recent surge, she was among the most meagerly compensated CEOs in corporate America. She controls around 30% of the outstanding shares.
Income generation and liquidity measure is below average at 3.33/10: National Presto has an outstanding dividend of 8.60% including a special dividend paid every year, depending on profitability. The stock is however not optionable and average daily volume is at 27,688 meaning it is not that liquid.
Volatility ranking is well above average at 10/10: NPK has no debt, beta is outstanding, and has grown earnings every year in the last 5 years.
Capacity to increase dividends scored 7/10: NPK pays out the bulk of its earnings as dividends and special dividends and so the payout ratio is very high, accounting for the low score there. Dividend and earnings growth in the last 5 years have been stellar.
The overall quantitative rating or the 'OFB Factor' came in at 7.72/10, which is above average.
Summary
National Presto has an enterprise value of $550.61M and a forward PE of about 14, assuming earnings will go down around 20% this year. The PE seems reasonable especially when $113M ($16.51 per share) in total cash in the balance sheet is taken out.
The company reported a slight YoY increase in sales in 1st quarter 2011 but earnings went down about 14% primarily due to increases in raw material costs. The 2nd quarter fared even worse as sales and earnings dropped 16% and 28% respectively YoY. Even so, the valuation seems very reasonable, assuming raw material costs will stabilize as the year progresses.
National Presto's strategy to diversify into the defense and absorbent areas is paying off, as the company's earnings growth rate in the individual units suggests. Both the areas are attractive with the defense business giving a fair amount of stability and the latter providing growth opportunity, given the projected demand growth for such products as the baby-boomers retire. The businesses have their associated risks, but the divergent nature of the businesses should give NPK some level of insulation.
National Presto's stock has low liquidity and high short-interest. The stock is currently down around 45% from the 52-week and all-time highs. Our OFB quantitative analysis showed an above-average rating for the company. As the valuation is reasonable, we believe the stock should be a good fit in the small-cap section of a diversified portfolio.
Disclosure: I am long NPK.