The consumer goods sector was down strongly last week in sympathy with the market fall, and based on fears of a global recession and its impact on consumer spending, and on the margins and profits of companies that provide various kinds of goods for the consumer. Overall, the consumer staples sector SPDR Fund (NYSEARCA:XLP) ended flat for the week and consumer discretionary sector SPDR Fund (NYSEARCA:XLY) ended down 5.6% last week. This article covers our analysis of the big news and price moves in the consumer goods sector last week, evaluating them for buy and sell ideas.
General Motors (NYSE:GM) and Ford Motor (NYSE:F)
: Both automakers GM and F were down a severe 13.9% and 9.7% respectively last week, on the back of a weak market, and concerns that the weak economy would adversely affect consumer spending, particularly for large ticket items such as automobiles. At their closing prices on Friday, both GM and F trade at a forward 5 P/E.
We believe that both stocks have overreacted to the downside as fears of a double-dip are probably overblown. Both are good values here, particularly GM that trades at a slightly lesser P/E relative to F, and is also projected to grow at 41.3% for 2011 and at 4.1% for 2012 versus flat earning for F going forward. Also, even if the economy does indeed go through a recession, both GM and F are expected to be profitable and won't repeat their poor performance in 2008 as they have reduced their break-even levels and improved their balance sheet since then. Furthermore, even in a recession, auto demand may not temper too much as there is pent-up demand in the system due to consumers having delayed their purchase decisions, and with the average car driven in the U.S. at all-time high levels in the 11-year range, people may have to replace their cars even if recessionary conditions prevail. And finally, both automakers, and particularly F, have made good inroads into expanding their product line-up to electric and hybrid vehicles, which should support growth going forward.
Buy Research in Motion Ltd. (RIMM)
: RIMM is a Canadian manufacturer of Blackberry handheld devices for the mobile communications market. It was up 8.7% last week on news of a buyout of its peer Motorola Mobility Holdings (NYSE:MMI) by Google (NASDAQ:GOOG) last week. We wrote just over a month ago about our
buy thesis on RIMM
, arguing that while RIMM was admittedly a gigantic train wreck of late, it was an attractive value buy below $25 based on its current cash reserves and cash-generating capacity going forward; its third largest market share of just below 25% in the booming mobile handset market; opportunities in emerging markets, particularly in selling cheaper handsets in the prepaid market; the company's announced buyback of its stock; its approaching technical support levels; and the possibility of an acquisition by a strategic buyer. We believe that with the acquisition of MMI by GOOG, there is an even stronger argument that RIMM has formed a bottom in the low-$20s, and we would continue to be buyers here, now on dips near the recent $21.60 lows precipitated by any further market weakness.
Eastman Kodak (EK)
: EK
manufactures digital and film imaging systems for the photographic and graphic communications markets. Its shares surged 46.9% last week based on a Bloomberg article that speculated that EK digital imaging patents may be worth five times more than the business itself. The article highlighted that EK's technologies are used in 85% of digital cameras and smartphones, and that its patents might make it very attractive to a smartphone manufacturing company such as Microsoft (NASDAQ:MSFT) or Samsung (OTC:SSNLF). EK is currently generating high losses and trades just over 0.1 price-to-sales (PSR); analysts have a median target of $2 on the stock, and a majority of them are bearish on EK with only one rating it a buy, two at hold and the remaining three at underperform/sell.
SodaStream International Ltd. (NASDAQ:SODA)
: SODA is an Israeli manufacturer of home beverage carbonation systems, which transforms tap water into soft drinks and sparkling water. It develops, manufactures and sells the soda maker and exchangeable CO2 cylinders, as well as consumables such as CO2 refills, reusable carbonation bottles and flavors to add to the carbonated water. It was among the biggest decliners, down 20.8% last week on top of a 33.3% decline the prior week, after the
company reported not-so-stellar results
for the June quarter. We reviewed SODA earlier and
recommended selling it on a bounce
into the $50s after the severe plunge the prior week, arguing that while the SODA growth story was still intact, shares had recalibrated to lower levels based on the lower growth implied in the company's guidance, and that they were likely to remain range-bound until the company reports reaccelerated growth in revenue and earnings in future quarters. The stock briefly rebounded into the $50s on Monday and then sold off to close at $37.94 on Friday.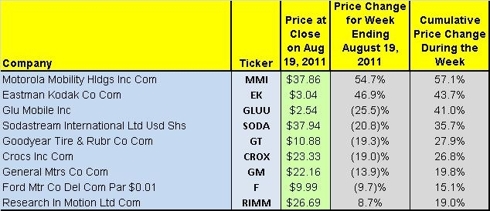 (Click to enlarge)
Please note that the cumulative price change referred to in the last column of the Table above is used here as a measure of volatility to determine big movers in the group. It equals the sum of the absolute value of the change in daily prices. So, for example, if a security had price moves of 2%, -3%, 4%, -6% and 1% during the five days of the week, the cumulative price change during the week would be the sum of the absolute values of the daily price changes, which in this case would be 16%.
Credit: Historical fundamentals including operating metrics and stock ownership information were derived using SEC filings data, I-Metrix® by Edgar Online®, Zacks Investment Research, Thomson Reuters and Briefing.com. The information and data is believed to be accurate, but no guarantees or representations are made.
Disclosure: I have no positions in any stocks mentioned, and no plans to initiate any positions within the next 72 hours.
Disclaimer:
Material presented here is for informational purposes only. Nothing in this article should be taken as a solicitation to purchase or sell securities. Before buying or selling any stock you should do your own research and reach your own conclusion. Further, these are our 'opinions' and we may be wrong. We may have positions in securities mentioned in this article. You should take this into consideration before acting on any advice given in this article. If this makes you uncomfortable, then do not listen to our thoughts and opinions. The contents of this article do not take into consideration your individual investment objectives so consult with your own financial adviser before making an investment decision. Investing includes certain risks including loss of principal.