It looks like the next couple of months in the market are going to continue to be rough sailing. In this sort of turmoil it pays to get defensive and find equities with low valuations, steady earnings and robust generous yields. One stock that meets those criteria and looks compelling here is Time Warner Cable.
Time Warner Cable (TWC) –
Time Warner Cable Inc. provides video, data, and voice service over its broadband cable systems to residential and commercial customers in the United States. It offers a range of residential video services, including on-demand, high-definition (HD), and digital video recorder (DVR) services.

(Business description from Yahoo Finance)
8 reasons to find value in TWC at under $62 a share:
1. Time Warner yields 3.1% and just raised its dividend payout by 20% for 2011.
2. It is selling at the bottom third of its five year valuation range based on P/S and P/CF.
3. It has beat earnings estimates three of the past four quarters and consensus EPS for 2011 have been raised over the last three months.
4. TWC is within 10% of long term technical support (See chart).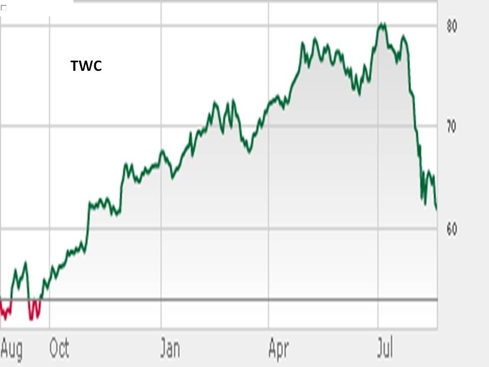 5. Time Warner is selling at just over 13.5 times this year's projected earnings, but under 11 times 2012's consensus EPS.
6. TWC is a low beta stock (.71), priced at about one times sales with a five year projected PEG of less than one.
7. Both the recently announced Insight acquisition and the Verizon (NYSE:VZ) strike should boost TWC's revenues.
8. TWC is significantly under analysts' price targets. Credit Suisse has a price target of $92 on TWC, S&P is at $86 and Barclays' price target is at $80.
Disclosure: I have no positions in any stocks mentioned, but may initiate a long position in TWC over the next 72 hours.