LDK Solar Co., Ltd (ADR) (NYSE:LDK) is due to report earnings after the closing bell on Monday, August 29.
Overview
LDK trades an average of 5.4 million shares per day.
LDK Solar Co., Ltd., together with its subsidiaries, engages in the design, development, manufacture, and marketing of photovoltaic (PV) products; and development of power plant projects. The company was founded in 2005 and is based in Xinyu City, China.
52 Week High: $15.10
52 Week Low: $4.65
Book Value: $8.94
On average, analysts are expecting a drop of $-0.25 in earnings per share compared to last quarter's results of $0.67. Investors will be looking to see a number north of $0.42 per share, based on the earnings estimates.
Looking at the price movement over the last month, the stock has fallen in price -30.21 %; in the last quarter, it has returned -17.29%, with a one year change of -28.02%. Comparing to the S&P 500 price changes, the price performances are -16.45% vs. the S&P 500 from a month ago, -58.14% vs. the S&P 500 from six months ago, and the year to date difference is -44.03% vs. the S&P 500 price change.
Investors have been rewarded with an increase of year-over-year revenue. Revenue reported was $2.58 billion for 2010 vs. $1.10 billion for 2009. The bottom line has rising earnings year-over-year of $294.37 million for 2010 vs. $-237.57 million for 2009. The company's earnings before income and taxes are rising with an EBIT year-over-year of $434.92 million for 2010 vs. $-230.13 million for 2009.
Annually, revenue is growing at a rate of 134.55%.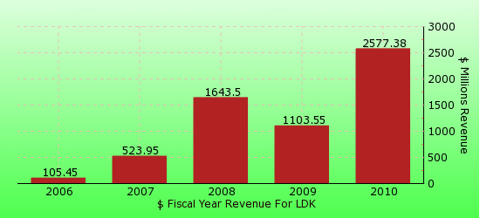 I use a proprietary blend of technical analysis, financial crowd behavior, and fundamentals in my short-term trades, and while not totally the same in longer swing trades to investments, the concepts used are similar. You may want to use this article as a starting point of your own research with your financial planner. I use Seeking Alpha, Edgar Online, Google Finance, MSN Money, CNBC, Zacks and Yahoo Finance for most of my data. I use the "confirmed" symbols from earnings.com that I believe to be of the most interest.
Disclosure: I have no positions in any stocks mentioned, and no plans to initiate any positions within the next 72 hours.