The coming week in the market is going to be a telling one for sure as the market closed just 100 points above its previous monthly low, and we are in a tough spot here right now in the market. Economic data continues to come in very weak, and it should most likely remain that way. The week will be packed full of more economic data, a lack of company earnings, more talk of where the USA's GDP is going, and finishing off with the highly anticipated Jackson Hole meeting where Fed Chairman Ben Bernanke will hopefully give some form of relief to the markets.
With earnings coming to a lull, economic data is really the place where this market will look for continued signals of where to move next. This week we get New Home Sales on Tuesday, Durable Orders on Wednesday, Initial Jobless Claims on Thursday, and Q2 GDP Revised Estimates on Friday. It is not a jam packed week of economic data, which may actually help to bring some of the volatility down in the market. Yet, we are facing a breaking point: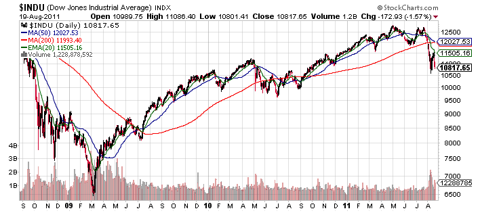 The main issue you can see is that we are retesting the 10500 level much like last year, and we have a death cross about to occur on the DJIA. A lot of technical traders have been talking about this death cross, but actually the death cross last year came right before the QE2 announcement last year and allowed us to rally significantly from that point until this latest pullback. The death cross could mean the correction can turn into a long-term downtrend, and unless something drastically changes in the market, we may be facing that fate.
The treasury market suggests that we are in a 2008/2009-like situation where banks need to be recapitalized. They are at the same yield levels as during the market crash...
So are we in the same situation?
I tend not to think so. The market is in a tough spot, and more downward movement should be expected. Yet, to suddenly think that the world is crashing down upon us like it was in 2009 is fairly premature. American banks, while not in the healthiest state, are much better off than they were in 2009. The type of careless investing that brought us to 2009 is also not prevalent. Overall, the financial system in America seems healthy to me, and this move is overdone.
We have to know what is the right move though and what the market is going to do. For that reason, we have been positioning ourselves into more short sales and inverse ETFs for trading purposes.
So, what should you be doing as a trader and what stocks do we think have more downside?
You want to find stocks that have had large downward movements on large volume that did not show significant recovery or had some recovery during the uptrend at the end of two weeks ago to mid-week of last week. These are the stocks that can continue lower in a general market trend and not recover as well on intermittent recovery days. Inverse ETFs can be traded fairly easily as well for upside movements.
What are we watching?
Salesforce.com (NYSE:CRM) - We have been telling investors to SELL CRM for over a year now as we believe this stock is heavily overvalued. A company that continues to operate at significant valuations when its growth is mired by excessive SG&A expenses and slowing growth. The stock rallied during the rally on very light volume, and then fell again.
It has broken a key 120-support line, and the downward movement below it should continue to around 100 before we see a large amount of support. The company's latest earnings were definitely solid, and they continue to show good growth. Yet, they are so heavily overvalued with a future P/E at 60 that their excessive growth is still not enough to hold up the stock during tough market times.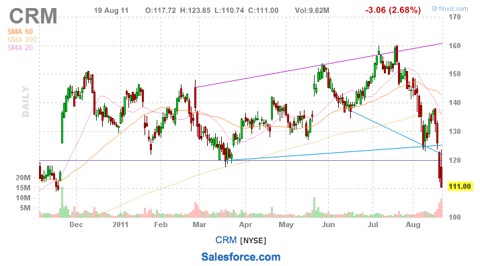 KB Homes (NYSE:KBH) - KB Homes is another company that we have Sell-rated, but we had a PT of $8, which we put on when the stock was trading at $12. The stock, though, is showing some more signs of downward momentum. The stock has dropped from $8 to $5.60, and it barely recovered during the past recovery. The stock no support below it, and $5 may be the next place where KBH can even mount any recovery if we continue down from here.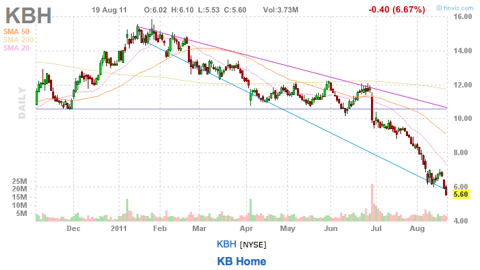 Some of the best inverse ETFs we like to trade and which should have the best success increasing are Direxion Daily Financial Bear ETF (NYSEARCA:FAZ), which is probably the best vehicle since this problem is based in financials. Ultrashort Proshares Financial (NYSEARCA:SKF) works well, but it is less leveraged. Another good candidate is Ultrashort Proshares Real Estate (NYSEARCA:SRS), as it acts well in bear markets. To short the Nasdaq, we like SQQQ and QID.
All in all, it's a tough time right now. Be nimble and be prepared to short and go long and everything in between.
It should be another wild week.
Disclosure: I have no positions in any stocks mentioned, but may initiate a short position in CRM, KBH over the next 72 hours.