What Is Moving The Market:

Today, global consumption of coal has reached historic highs despite the negative environmental impact caused. In 1925, coal was used to produce 83% of global energy. By 2000, that number shrank to 25% leading most to believe that coal was on the way to becoming obsolete, which of course couldn't be further from reality. Coal consumption continues to expand.
In 2010 6.4 billion metric tons of coal was burned. The primary usage (roughly 80%) remains to generate electricity ("steam" or "thermal" coal). Steelmaking accounts for 15% of global use and the balance continues to fall under "home" usage.
Due to its relatively low cost and abundance, coal is used to generate about half of the electricity consumed in the US Coal is the largest domestically-produced source of energy. The United States is home to the largest recoverable reserves of coal in the world. In fact, the US has enough coal to last more than 200 years based on current consumption levels. Although 25 states produce coal, approximately 72% of current production originates in just five States: Wyoming, West Virginia, Kentucky, Pennsylvania and Montana.
click on images to enlarge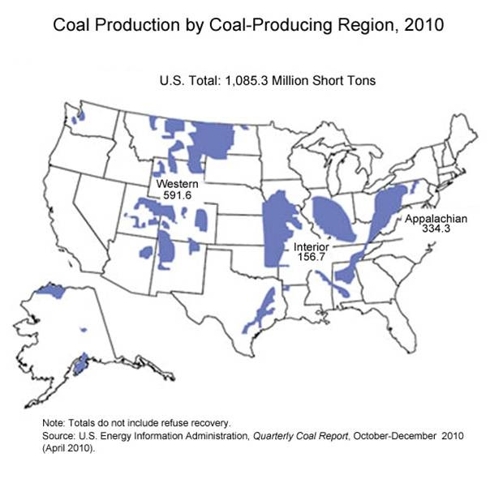 Electricity demand is on the rise as well. In the United States consumers use almost 4 trillion kilowatt-hours of electricity annually. In China there has seen a 275% increase in 11 years to about 4.5 trillion kilowatt-hours and in India the demand has increased by 62% to 600 billion kilowatt-hours. Currently 80% of global electricity is produced by burning coal.
Our Outlook:

Coal generates half of the electricity in the United States and more than three quarters of China's. According to the International Energy Agency (IEA) China surpassed the US in 2010 as the world's largest energy consumer. Currently the US is phasing out older, less efficient coal fired plants in favor of cleaner burning natural gas, as China and other developing countries build new coal fired plants.
US coal producers, rail companies, and port operators continue to establish a suitable West Coast port to ship from. Peabody Energy (NYSE:BTU) and SSA Marine are jointly supporting opening a deep water port close to Bellingham, Washington in order to meet the demand coming from the Far East.
The latest figures from the Department of Energy report that US coal exports for the first quarter of 2011 totaled 26,617,157 short tons a 49.5% increase over the same period in 2010.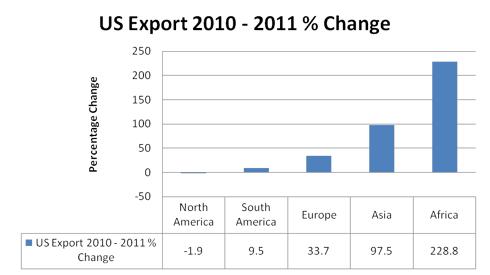 Source: US Department of Energy (DOE)
Projections suggest the demand for coal will continue to grow as the economies of China and India expand. The graph below from the US Energy Information Administration indicates the largest demand will come from China.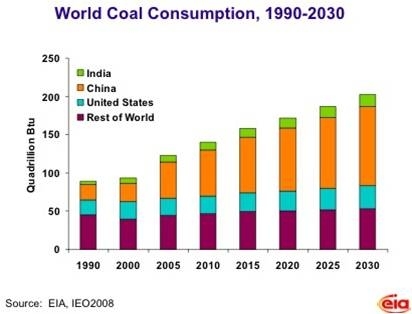 Currently the US is the largest exporter of coal. Taking a look at a state by state production revealed that Wyoming leads the US mining 109,063 short tons during the 1st quarter of 2011 with West Virginia (35,384 short tons), Kentucky (27,669 short tons), Pennsylvania (15,006 short tons) and Montana (9,394 short tons) round out the top five states.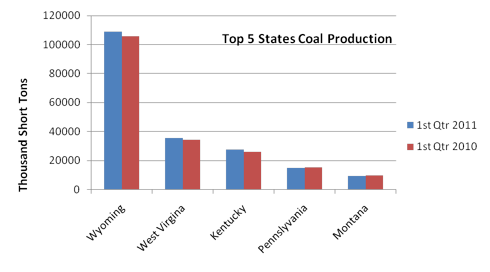 Within the United States projections suggest coal consumption used in the generation of electric power will fall by 2.5% in 2011 due in part to increased conversion and generation from natural gas and as renewable energy sources increase.
US coal production is projected to also fall by 1.2% in 2011 even with significant increases in coal exports. However, 2012 projections reveal a 1.8% increase.
Exports, though, rose almost 50% during the first quarter of 2011 (compared to the same period in 2010) which was the highest level (on a quarterly basis) since 1992. Exports are not expected to drop along with production until 2012 as other exporting countries rebuild and recover from natural disaster disruptions.
Coal prices have been on a steady rise over the last 10 years due to contracts initiated during periods of high energy prices, higher transportation costs and increased consumption. This trend is likely to continue through 2011 with any shift not occurring until 2012 as the power sector price paid for coal remains stable.
Our Research Reveals:

With exports expected to remain steady to higher we broke down three areas of interest: Coal mining, transportation, and distribution. Within each of these sectors we took a look into the supply chains to identify companies that are positioned to benefit from the demand coming from China, India and other emerging economies.
Coal Mining Companies – currently the Revere Coal sector has 53 companies, of which 20 are focused and 11 are pure play (100% of revenue generated).
Alliance Resource Partners L.P. (NASDAQ:ARLP) – is the fourth largest eastern US coal producer and has the highest percentage of sales tied to long term contracts. As of December 2010 it has approximately 697 million tons of proven and probable reserves. Reported record quarterly results for Q2 2011 on strength of record sales volumes and pricing. Alliance increased their quarterly cash distribution 3.7% to $0.92 per unit.
Peabody Energy (BTU) – owns majority interests in 28 coal mining operations located in the US and Australia making it the world's largest private sector coal company. Peabody also markets, brokers and trades coal as well as export and transportation joint ventures. Peabody's principle business is the mining, preparation and sale of coal to electric utilities.
Currently Peabody Energy and SSA Marine are attempting to establish a deep water port in the state of Washington to facilitate exports to the Far East. Second quarter earnings rose by 21%, Operating profit rose 41%, diluted EPS increased 38% to $1.05. Also Peabody announced a partner agreement to develop potentially one of China's largest coal mines (Mongolian Tavan Tolgoi).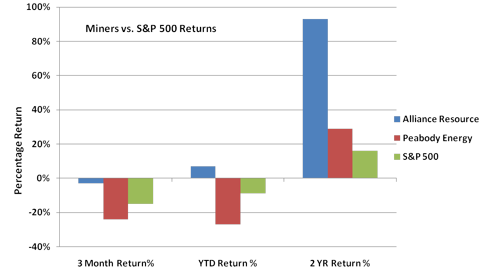 Coal Transportation

Railroads: Using Revere relationship data revealed 3 major railroad companies service most of the coal industry within the continental United States. Collectively the major railroad companies outperformed the S&P 500 on a consistent basis:
3 month:

-10%

vs.

-15%

,

YTD:

+3.6%

vs.

-9%

2 Year:

+48%

vs.

+16%
CSX (NYSE:CSX) – CSX is the largest coal transporter east of the Mississippi River providing interchanges with Western railroads and short lines and provides access to multiple eastern seaports.
Union Pacific Corp (NYSE:UNP) – Union Pacific Railroad links 23 states in the western two-thirds of the US as well as every major west coast and gulf coast port. UNP connects with Canada's rail system and currently is the only railroad serving all six major gateways to Mexico. UNP provides transportation services to the western coal reserves.
Norfolk Southern (NYSE:NSC) – Norfolk Southern has been involved with coal transportation for more than 100 years using their own lines or in concert with connecting carriers. Norfolk Southern owns and operates the largest coal loading pier in the northern hemisphere, Lamberts Point Pier 6 in Norfolk, Virginia.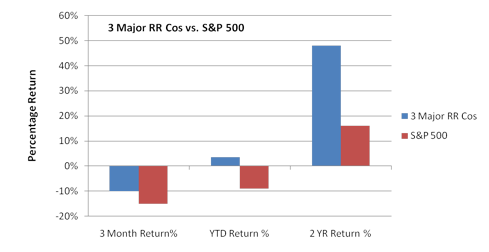 Maritime:
Seaborne shipments of coal fall under "dry bulk". This category also includes steel products, grains, sand, gravel or similar materials. Maritime shippers have as a sector received several downgrades during 2011. Combined with the overall market correction the damage done as revealed via the return figures is substantial.
The graph below clearly shows the damage vs. the S&P 500. Both Paragon Shipping (PRGN) and Diana Shipping (NYSE:DSX) are global maritime providers with growing fleets. Exports will continue to move around the globe regardless of what may be happening in global equity markets.
Granted the market does not forgive exuberance rational or irrational but companies with a solid footprint within their prospective sector, strong customer bases, and stable reserves should be a better position to ride out these "perfect storms" and more often than not outperform during periods of recovery. We feel this will ultimately be the case with Paragon Shipping and Diana Shipping.
Paragon Shipping Inc. (PRGN) – is a provider of international seaborne transportation services carrying various dry bulk cargoes including coal.
Diana Shipping Inc. (DSX) – is a global provider of shipping transportation services specializing in dry bulk cargoes which includes coal.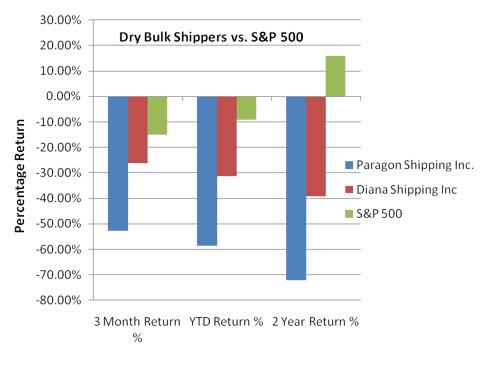 Limited Partnership – (Royalty Trusts)
Royalty trusts typically own oil or natural gas wells, the mineral rights of wells, or mineral rights on other types of properties. Actual operation of the oil, gas field or mine is performed by an outside company. In the US a royalty trust may have no employees with the trust itself being overseen by a trust officer in a bank. Royalty trusts provide a powerful investment tool for investors looking to invest directly (in our example) in mining with the added possible benefit of diversification since most trusts own numerous mines.
Royalty trusts are a type of corporation but unlike corporations most profits are not taxed at the corporate level since 90% of profits are distributed to shareholders as dividends. Similar to real estate investment trusts (REITs) then, royalty trusts avoid the double taxation of corporate income.
We view royalty trusts as a solid tool for investors when navigating and riding out periods of uncertainty and extreme volatility. With returns currently exceeding many of the true "blue" companies (PG, GE, INTC, and JNJ) royalty trusts within oil, natural gas and mining would be expected to continue to provide higher dividend payouts as the overall bullish energy cycle remains intact.
Natural Resource partners LP (NYSE:NRP) – operating as a limited partnership NRP engages in the business of owning, managing and leasing mineral properties in the US. Currently the company owns coal reserves in three US coal producing regions: Appalachia, the Illinois Basin and the Western United States. NRP is also involved in the ownership and leasing of mineral properties and related transportation and processing infrastructure.
With a market cap of over $3 billion NRP continues to report strong earnings as a result of high coal prices. The latest quarterly report for the second quarter showed a 15% increase over the second quarter of 2010 and a per unit net income improvement of 26% to $0.48 vs. $0.38 per unit reported for the 2010 quarter.
Penn Virginia Resource Partners, LP (NYSE:PVR) – is engaged in the management of coal and natural resource properties in the US PVR conducts operations in two business segments: Coal and natural resource management and natural gas midstream. During 2010, PVR's coal and natural resource management contributed 74% to operating income. Formed and merged into a Limited Partnership in 2010 PVR reported strong 2nd quarter results and announced a 2.1% increase in the quarterly cash distribution.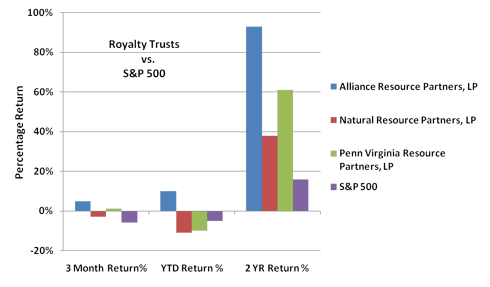 Disclosure: I have no positions in any stocks mentioned, but may initiate a long position in NRP, PVR over the next 72 hours.