The shorts completely nailed solar stocks across the board in 2011. Short interest in many solar stocks increased through most of 2011. The charts below show short interest in select solar stocks normalized to late 2009 (or the first day of trading for the stock). This representation facilitates comparison across stocks. I labeled the lines and separated the stocks into two groups to make it a little easier to read through the wildly swinging levels of short interest.
Click to enlarge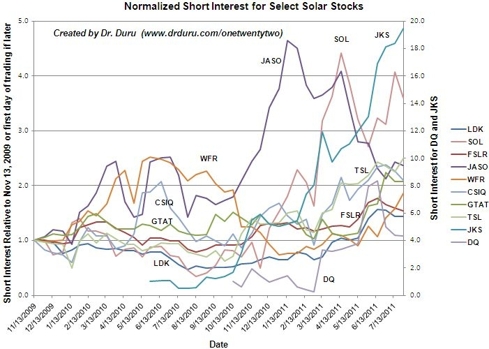 In 2011, short interest has soared for most of these highly shorted solar stocks.
Click to enlarge
(Source: NASDAQ.COM)
Solar bears have been very vocal, and very correct, in predicting a severe downturn in solar. Not only have many solar stocks retested 2010 lows, some are retesting March 2009 lows and worse. It is easy to extrapolate from here to say that solar is forever doomed. But, as I have often argued, the time to buy solar stocks is during swoons and NOT when higher prices convince everyone a boom will continue uninterrupted forever (I made a similar point when discussing trading oversold markets). To me, the key question is what to buy and how much, not whether to pick through the rubble left of solar stocks.
Given the continued risks, going forward I am focusing on adding to positions in just three solar stocks: First Solar (NASDAQ:FSLR), GT Advanced Technologies (GTAT) and Trina Solar (NYSE:TSL). FSLR and SOLR reported earnings earlier this month (and unfortunately in the aftermath of the U.S. debt ceiling circus). TSL will report this week, but the company has already revised its guidance downward for these earnings. I will summarize what most caught my interest in each of these reports. I round off the discussion with LDK Solar (NYSE:LDK) given its recent dramatic reduction in guidance that has essentially put an exclamation point on the ongoing malaise in solar.
First, let's start with a heavy dose of reality. In "Power Cut for Solar Stocks," Bill Alpert writes in Barron's about the celebration dance for solar bears including quotes from analyst Gordon Johnson of Axiom Capital Research.
Here are the key points:
JA Solar (NASDAQ:JASO) hit negative gross margins in the latest quarter.
Former First Solar (FSLR) CEO, Michael Ahearn, sold 90% of his holdings (I have covered these sales in earlier posts. In particular, Ahearn was selling while the current CEO was buying in early 2010).
FSLR gross margins fell 10 percentage points last quarter and faces under-utilization of its manufacturing plants. (It was actually a 9.2 percentage point drop. Regardless, even worse to me is that return on net assets (RONA) continues to decline rapidly, now at 13.1%, down from 21.1% a year ago. FSLR prefers RONA over gross margins as a performance metric).
Europe is in the process of phasing out subsidies.
Solar needs to provide a return on capital, not just cost parity with other sources of electricity generation. This will require another 30% drop in prices in Germany and Japan, 67% in some parts of the U.S. (This is the bearish perspective given First Solar remains on schedule to hit cost parity in the sunniest parts of the U.S. by 2014).
Alpert quips at the end: "The prospects for solar stocks may no longer excite Wall Street, but it's all for the good of polar bears - not to mention humans with beachfront property." Lack of interest from Wall Street sets up the first component of the opportunity remaining ahead for solar stocks. Granted, it simply will NOT be easy going forward, especially if the global economy plunges into another recession and/or an entrenched period of austerity.
The stock chart for TAN, the more liquid solar ETF (Guggenheim Solar ETF), demonstrates the overall dismal context for solar stocks. Stock picking has been critical as TAN's entire recovery from the March 2009 lows lasted all of three months. Also, 2010 was a down year, and 2011 is looking like the year TAN makes a new all-time low. That low is just a few percentage points away.
Click to enlarge
In late May, I insisted that FSLR was a buy on the other side of a post-earnings disappointment. The stock managed a small gain on the day before selling off to new 52-week lows as the rest of the market swooned. However, diligent short-term traders received a great pay-off when FSLR surged the last three days of June, culminating in the announcement that the company had won conditional loan guarantees from the Department of Energy covering $4.5B in loans required by three massive California solar projects. The stock has tumbled all downhill since then. On the heels of another earnings report, FSLR is now down about 50% from its 2011 highs, smashing through my earlier presumed valuation low for FSLR around $120.
Click to enlarge
FSLR ended last week with a three-day 15% plunge. The skids were greased by the news of yet another FSLR executive jumping ship. Jens Meyerhoff, president of the Utility Systems Business and former CFO, left FSLR. With an almost six-year tenure, this departure is nothing but bad news in a time where economic forces are all lining up against the company, and solar utilities represent the most promising line of FSLR's businesses.
FSLR's last earnings report did not strike me as particularly dire or pessimistic, especially since FSLR is largely sticking to earnings guidance it put in place at the end of 2010 (an example of how well the company is managed). I am using Seeking Alpha's transcript from the call and FSLR's earnings presentation to summarize what most caught my interest in FSLR's results.
Q2 net sales dropped 6% to $533, mainly from lower ASPs (average selling prices). Policy uncertainties in Europe reduced demand for the quarter:
"The delayed implementation of a new decree in Italy, the slow start to Germany after January's FiT reductions and lack of clarity with respect to France's tender process contributed to excess channel inventories for the industry ...
... access to credit has been an issue, especially if you look at Italy. Because of the uncertainty and all of the debate and discussion that took place ... no one could get funding for some of the projects that were in Italy because of that uncertainty."
Despite the negative headwinds, FSLR expects a much better performance in 2011 and has set guidance for EPS at $9.00-$9.50 per fully diluted share, little changed from last quarter's guidance of $9.25-$9.75. Increasing operations in the U.S. generated much of the reduction in guidance with a $0.20 per share hit from a 2% increase in FSLR's effective tax rate. In other words, the small reduction in guidance has little to do with FSLR's inability to handle the negative pricing environment for the balance of the year.
FSLR used factory downtime to "... implement conversion efficiency improvements which (the company) expects will have a meaningful impact by the end of the year." Of course, such efficiencies will mean little if problems with under-utilization persist. Overall cost reductions continue as planned with standard utility-scale Balance of System (BoS) costs down 29% from two years ago. At $0.99 per watt, FSLR's BoS cost is already approaching the 2014 target of $0.91 to $0.98. FSLR's CEO Robert Gillette insisted that the company "will still have a significant cost advantage regardless of what happens with the poly pricing in general." FSLR estimates its costs to be $0.68/watt when using the same methods as Chinese solar companies – primarily excluding shipping, warranty, recycling, capacity ramp, insurance and other production costs.
FSLR's diversification away from Europe continues. India will generate 10% of MWs this year. In the latest quarter, India and North America accounted for 50% of FSLR revenues.
First Solar explained the large drop in gross margins in the quarter:
"Gross margin was 36.6%, down 9.2 percentage points from the prior quarter. The decline was the result of the ASP's decreases, a mix shift both geographically and to more system sales and an unfavorable FX impact. Module gross margin was 40.2%, down 9.5 percentage points from the prior quarter."
One of the most attractive parts of investing in First Solar has been its ability to generate a lot of cash. Cash, cash equivalents, marketable securities and investments peaked at $1.1B in Q4 of 2010. FSLR cut that by over 50% in just two quarters. I will be watching to see whether FSLR can follow-through on its assurances that it will return to cash generation in the second half to the year.
For the past few quarters FSLR has talked about its ability to shift business from Europe to North America if markets soften. In this earnings call FSLR acknowledged this "flexibility has declined and will continue to decline ... through the year." However, FSLR "will continue to use (its) systems pipeline as a buffer against European demand fluctuations."
At a forward P/E of 8.2 and a price-to-book of 2.0, I like adding to FSLR here. Price-to-sales of 3.0 remains high for pricing in a recession for a cyclical company, so I am preparing for further downside in the stock. Perhaps a last purchase will come toward the end of 2011 or early 2012.
GT Advanced Technologies
Now on to GT Advanced Technologies, formerly, GT Solar. I think previous earnings calls have provided a very strong investment case even in the face of a solar recession (click here for previous articles). The company's announcement on August 4 did not produce much additional new info or change my mind (click here for the earnings presentation). GTAT reiterated fiscal 2012 revenue guidance of $1.0B to $1.1B. The company provided a reminder that this guidance includes expectations for weak PV demand. Guidance for fully diluted earnings per share remains $1.55 to $1.85. GTAT slightly raised gross margin guidance from 42-44% to 43-45%. Cash and cash equivalents increased from $362.7M to $473.4M (Q4FY11 to Q1FY12).
One on-going concern with GTAT is its highly concentrated revenue. Two customers provide 10% or more of GTAT's revenue; the largest customer is 17% of revenue. Asia still provides almost all of GTAT's revenue (98%).
GTAT's reiterations did not stop the stock from sliding 9% on a day the S&P 500 and Nasdaq dropped 5% (again, unfortunate timing in the wake of the debt ceiling circus). GTAT is down 21% since reporting earnings and has plunged to a forward P/E of 5.3 and price-to-sales of 1.4. Price-to-book remains well above 1 at 5.3. This is well below the valuation floor I originally envisioned so of course I think GTAT is a screaming buy here. However, with the stock now below its 200DMA but still positive for the year, I expect selling pressure to continue as investors lock in whatever profits remain in their holdings. I recommend pacing buys as though there is no valuation floor. That is, downside risk is far too uncertain to buy aggressively.
My strategy of replacing my shares with calls turned out to be a major profit saver, and I am using the free cash to plan future purchases of GTAT at lower prices.
Click to enlarge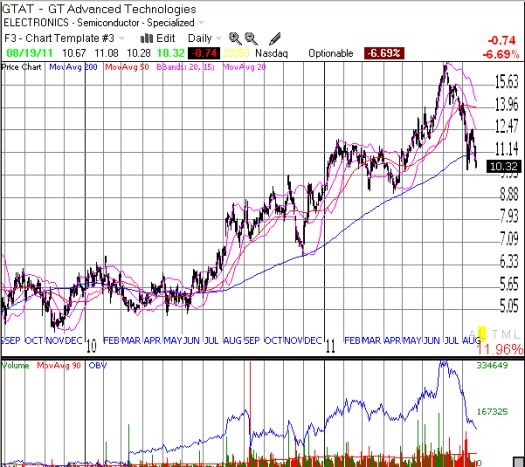 GTAT's strong uptrend has finally cracked with a breach of the 200DMA. Next technical supports at $9 and then $7.
Trina Solar
Among the publicly-traded Chinese solar companies, I have always preferred TSL. It has one of the strongest and cleanest balance sheets, including one of the lowest debt-to-equity ratios amongst these stocks. I last wrote about TSL earnings in December. At the time, TSL reported strong results once again, but the market gave it a lukewarm reception. I noted a potential breakdown in the stock as well. TSL's valuation looked cheap THEN with a forward P/E of 6.7, price-to-sales of 1.3 and price-to-book of 1.7. Now, TSL is down 45% for the year, and it's down to a forward P/E of 4.8, price-to-sales of 0.5 and a price-to-book at an amazing 0.8. I finally started scaling into TSL in July and plan to add more if the stock continues to swoon.
Click to enlarge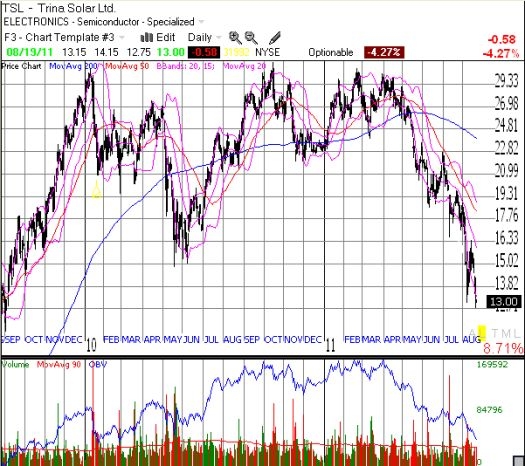 Trina Solar had a down year in 2010. The stock is now below the LOW for 2010.Trina Solar will report earnings this week, on August 23. On August 2, the company significantly reduced its second quarter guidance as follows:
Solar module shipments: 395 MW to 397MW, down from previous guidance of 430 MW to 450 MW.
Overall gross margin: 17.0% to 17.5%, down from previous guidance for low 20s.
TSL blamed slower demand and increasing inventory on Italy's reduction in solar subsidies. However, the company still expects to increase shipments in the third quarter and will further reduce production costs. TSL even reiterated full year 2011 guidance for PV module shipments from 1.75 GW to 1.80 GW. This is an impressive 66% to 70% increase from 2010. I will be looking closely for an explanation of this reiterated guidance in the earnings announcement. In particular, I now worry that pushing to make this year's guidance will materially hinder results for 2012.
LDK Solar
I mention LDK here only because it represents one of the most disappointing solar companies of 2011. LDK started 2011 with an exciting hike in sales guidance. Guidance increased double-digits across the board. In particular, revenue guidance for FY2011 increased 12-21% to $3.5-3.7B. Given the general stock market was in a general rally mode at the time, LDK's news sent the stock soaring 18% on the day. Fast forward to today and LDK is down 50% for the year after dropping 23% in one day after significantly reducing guidance. Guidance for FY2011 revenue is now $2.5-2.7B, a full $1B and 28% reduction from the over-optimistic expectations that began the year. Gross margin expectations are down to 15-20% from January expectations of 22-28%. Notably, gross margins for the second quarter will drop precipitously to 1.5-2.5%.
An even bigger concern with LDK is the potential distraction of loans taken out by CEO Xiaofeng Peng against company shares. In "Long March to Disclosure for Chinese Firms", John Jannarone notes:
"The big question is whether Mr. Peng, who has pledged 31% of LDK's shares to back a loan, has the cash to meet any margin calls. In the event of a default, lenders could seize Mr. Peng's shares, potentially gaining control of the company or liquidating the stake."
This loan is disclosed in SEC filings, but apparently the stock price at which a margin call could get triggered is not disclosed. LDK survived similar margin calls last summer when the stock fell under $6. This is a big distraction from the fundamental solar business, but it is something to keep an eye on nonetheless. A related sell-off could actually provide the catalyst for some kind of bottom in LDK.
Click to enlarge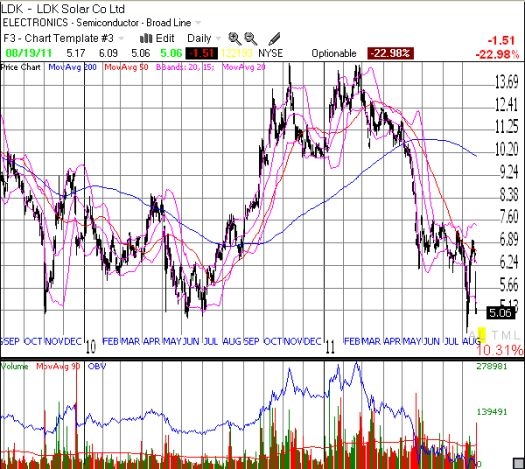 After an exhilarating start to 2011, LDK now struggles to hold 2010 lows.
(*All stock charts created using TeleChart)
Overall, the prospects for solar look almost as grim as they did in 2008 and early 2009. However, this is the time to pick and choose these stocks as they get thrown into waste bins up and down Wall Street. Also note that I gave solar stocks a "special" mention in my playbook for a commodities crash. Most solar stocks have triggered the playbook for the past several months as they have erased their QE2-inspired gains over this time.
Be careful out there!
Disclosure: I am long FSLR, JASO, JKS, LDK, TSL, SOL, GTAT.