My definition of an expert is a person who knows more and more about less and less until he knows everything about nothing at all. T. Boone Pickens is the guy I consider a expert when it comes to the narrow field of Texas oil and gas. He is the guy who said there were two ways for the U.S. to become energy independent in energy production and he is putting a lot of money on both wind and natural gas.
You cannot turn on a TV discussion about natural gas without hearing them mention Chesapeake Energy (NYSE:CHK) and right now it's selling at a 19.86 discount to its recent high. Just look at the price momentum in the last 6 months: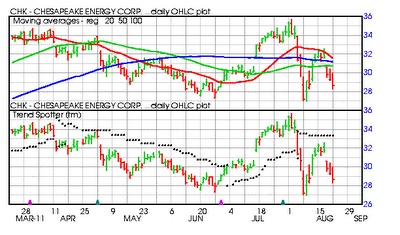 Chesapeake Energy Corporation, together with its subsidiaries, produces natural gas in the United States. The company focuses on discovering, acquiring, and developing conventional and unconventional natural gas reserves onshore in the United States, primarily in its six natural gas shale plays: the Barnett Shale in the Fort Worth Basin of north-central Texas; the Haynesville and Bossier Shales in the Ark-La-Tex area of northwestern Louisiana and east Texas; the Fayetteville Shale in the Arkoma Basin of central Arkansas; the Marcellus Shale in the northern Appalachian Basin of West Virginia, Pennsylvania; and New York and the Eagle Ford Shale in south Texas.
It also has operations in the Granite Wash Plays of western Oklahoma and the Texas Panhandle regions, as well as various other plays, both conventional and unconventional, in the Mid-Continent, Appalachian Basin, Permian Basin, Delaware Basin, south Texas, Texas Gulf Coast and Ark-La-Tex regions. As of December 31, 2009, the company owned interests in approximately 44,100 productive wells; and had proved reserves of 14.254 (22,900 net) trillion cubic feet of natural gas equivalent. The company was founded in 1989 and is based in Oklahoma City, Oklahoma. (source: Yahoo Finance).
Barchart technical indicators:
Short term sell indicators can signal when a stock is selling at a discount
Barchart 32% technical sell signal
Trend Spotter sell signal
Trading below its 20, 50 and 100 day moving average
Has lost 19.86% from its 52 week high
Relative Strength Index 40.76% and still falling
Barchart computes a technical support level at 27.18
Recently selling around 28.59 which is below its 50 day moving average of 30.81
Fundamental factors to consider:
When I see double digit growth projections for sales and earnings I take notice
Sales projection are for increases of 21.80% this year followed by another 25.80% next year
Earnings are expected to decrease by 1.70% this year but increase by 4.50% next year and compound annually by 11.00% for the next 5 years
The Wall Street brokerage analysts that forecasts these numbers have also released 9 strong buy, 9 buy, 13 hold and 2 sell recommendation for their sales reps to push to clients.
The 1.17% dividend is less than 15% of projected earnings so the dividend should be safe
At the present time the P/E ratio for the company is about 61% of the P/E for the overall market
Management has been using a positive cash flow to pay down debt so even in a soft market the balance sheet is getting stronger
General investor sentiment:
As measured on Motley Fool this stock has a wide following with 7,445 readers having the stock on their current watch list and are voting 97% that the stock will beat the market
The more experienced All Stars vote 98% for the same result.
Summary: If you agree with T Boone Pickens that natural gas is the answer for US energy independence then it should be hard not to pick up a few shares of Chesapeake Energy, which is selling at a 19.86% discount to its recent high. If the sales and earnings projections come in and the stock begins to trade at a more normal P/E ratio, investors could see a 9% - 11% annual compounded total return over the next 5 year period if you acquire at today's prices.
Disclosure: I have no positions in any stocks mentioned, and no plans to initiate any positions within the next 72 hours.