Abby Joseph Cohen of Goldman Sachs fame received rave reviews for her bullishness on stocks and the U.S. economy in the 90s. Yet, even in the final years of the decade, when signs of irrational exuberance were everywhere, Cohen stubbornly expressed upbeat forecasts. She viewed stocks as terrific buys in 1999, 2000, 2001, 2002 ... heck, throughout the entire dot-com blow-up.
Cohen was equally stubborn when rejecting the notion that the economy or stocks were in trouble in 2008. She advocated passionately on behalf of the terrific potential for the technology and energy sectors across the "intermediate term." Cohen even talked about an economic rebound in mid-2008. (Yep, she missed the 2007-2009 bear as well.)
At the start of 2011, Abby Cohen expected double-digit returns for stocks. In April, Cohen told folks to tune out "noise" on a softening of the economy. By June, Cohen reaffirmed the "prediction" or target of 1,450 for the S&P 500 by year-end; that currently requires a 30% broad market surge through December 31. And here in August, she describes a recession as "unlikely."
Honestly, perma-bulls are going to get it right more often than they are going to get it wrong. But when Cohen speaks, I hear the voice of the Queen in Hamlet, "The lady doth protest too much, methinks."
It's not that stock assets are overvalued ... they're not. Even if we witnessed earnings flatness or contraction, stocks would still be more compelling than the treasury bond alternative.
With that said, if Cohen and other hold-n-hope analysts stay in the Ivory Tower, many financial freedom dreams will burn on the proverbial funeral pyre. Valuations can't address a disturbing lack of confidence in the system itself.
What can address the high anxiety for risk assets? Three-month LIBOR rates will need to stop ticking higher. They are at 0.31% today, which means it is 24% more expensive for banks to borrow from one another than it was a month earlier. (See "Hazardous LIBOR Trends.")
The CBOE Volatility Index ("VIX") has to cool off significantly. In fact, you may need to wait for the iPath S&P 500 VIX Short-Term Futures (NYSEARCA:VXX) to fall back below its 200-day trendline. With VXX still climbing, sellers of stock may not even discriminate in their efforts to raise cash.
Click to enlarge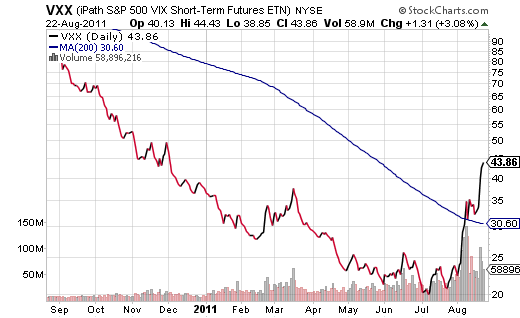 If you have been waiting with a chunk of cash for an opportunity, however, I wouldn't discount nibbling at certain dividend ETFs. For instance, WisdomTree Large Cap Dividend (NYSEARCA:DLN) yields roughly 3.4%. It has very little exposure to the financial sector compared to many other large-cap ETFs. And it sure beats the 10-year treasury bond's 2.1%.
I may not differ from Ms. Cohen on the notion that stocks are attractive for a 10-year time horizon. Then again, if you lose half your wealth in a 2-3 year span, you may spend a decade trying to get it back. It follows that I continue to advocate a lighter-than-normal allocation to stocks until volatility subsides and LIBOR ticks lower.
Disclosure: Gary Gordon, MS, CFP is the president of Pacific Park Financial, Inc., a Registered Investment Adviser with the SEC. Gary Gordon, Pacific Park Financial, Inc, and/or its clients may hold positions in the ETFs, mutual funds, and/or any investment asset mentioned above. The commentary does not constitute individualized investment advice. The opinions offered herein are not personalized recommendations to buy, sell or hold securities. At times, issuers of exchange-traded products compensate Pacific Park Financial, Inc. or its subsidiaries for advertising at the ETF Expert web site. ETF Expert content is created independently of any advertising relationships.