Dominion Resources, Inc. (NYSE: D) is a leading utility with regulated and unregulated operations in gas and power. D operates in three segments: Virginia Power, Dominion Generation, and Dominion Energy.
Virginia Power is a regulated entity serving customers in Virginia and northeastern North Carolina.
Dominion Generation provides merchant power generation, marketing, and risk management services.
Dominion Energy provides gas distribution and transmission in Ohio and West Virginia as well as gas storage facilities (unregulated).
In combination, D has almost 28 gigawatts of generating capacity, almost 1 TCF of natural gas storage, over 6,000 miles of electric transmission lines and approximately 11,000 miles of natural gas pipelines.
The following table shows the most recent quarterly revenues:
2011 Q2 Revenue
| | | |
| --- | --- | --- |
| Segment | Revenue ($ millions) | % of Total |
| Regulated Electric Sales | 1,728 | 52% |
| Nonregulated Electric Sales | 794 | 24% |
| Regulated Gas Sales | 44 | 1% |
| Nonregulated Gas Sales | 337 | 10% |
| Gas Transportation & Storage | 322 | 10% |
| Other | 116 | 3% |
| Total Revenue | 3,341 | 100% |
Source: 2011 Q2 10-Q filing from www.sec.gov
D has a strong track record of paying dividends, despite a prolonged period of very limited dividend growth from the mid-1990s to 2006. D's estimated forward dividend yield is 4.3% based upon a closing price of $48.25 and the author's projected annual dividend of $2.09. D has had a recent track record of near double digit annual dividend growth with the currently declared quarterly dividend of $0.4925 per share representing a 7.5% increase over the prior years quarterly dividend. The following graph shows the historical yield and spread to the 10-year Treasury bond.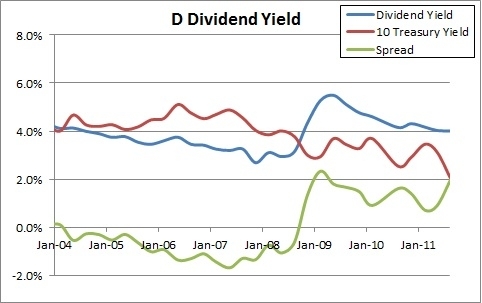 Created from data from Yahoo!Finance
The following graph shows the recent history of D with an expected dip in the stock price during the Great Recession and a corresponding bump in the dividend yield. While its 2010 payout ratio was just 39%, that figure has climbed in the past few quarters. The most recent quarter showed a payout ratio at approximately 85%.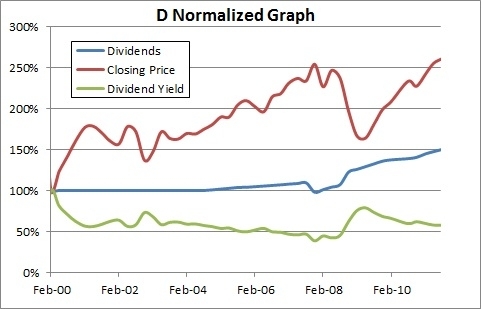 Created from data from Yahoo!Finance
The above chart shows that D stock has significantly outperformed its dividend increases, suggesting that its future growth opportunities are improving and investors are rewarding D. Applying the dividend discount model using an equity hurdle rate of 5.6% (.58 beta with a 2.1% 10-year Treasury bond yield and a 6% equity risk premium) suggests a fair price of approximately $58 per share or a 20% premium to the current price. However, as with any dividend discount model, the result is highly sensitive to growth rates.
However, D also carries a relatively high payout ratio that might limit future dividend growth while net income catches up. Furthermore, like any regulated entity, D is exposed to regulatory risk that could result in less favorable rate cases in the future that would adversely impact its economics. Finally, a cautious investor should also closely investigate its unregulated activities, which include trading and risk management around both power and natural gas. I will continue to do more research and analysis on D.
Disclosure: I have no positions in any stocks mentioned, and no plans to initiate any positions within the next 72 hours.
Disclaimer: This article is for informational and educational purposes only and shall not be construed to constitute investment advice. Nothing contained herein shall constitute a solicitation, recommendation or endorsement to buy or sell any security.