The economy is truly on the edge of peril. The Euro is in panic mode. Gold is close to going over $2,000-per ounce and the U.S. Treasury Bill's offer .01% (i.e., 1/100 of 1%) for a 90-day yield. One shipper, TAL International Group (NYSE:TAL), is prospering in these difficult times. The stock offers an 8% dividend yield. The business model is adequately diverse to withstand headwinds in any one shipping segment.
Not only are debt-burdened countries on the brink of currency disaster, but the credit default swaps (CDS) clearly paint a less than optimistic picture of the current global economic situation: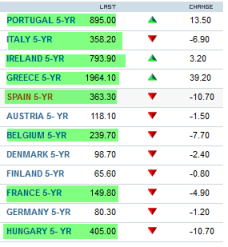 Credit is not being provided to those lacking, shall I say, an ability to repay. This brings us to the reason to short or sell the weak shipping stocks and hedge with a long position in the likely shipping winners.
Sell: DryShips, Inc. (NASDAQ:DRYS)
DryShips owns and operates drybulk carriers and drilling rigs on a global basis. The drybulk carriers haul drybulk commodities. Commodities include coal, iron ore, and grains.

The SEC 20-F, balance sheet is on page 2 and indicates a significant level of short-term debt, and long-term debt. A key issue is the charter coverage (.pdf) for 2012 and 2013. The economy is weakening and not strengthening. The number of dry bulk ships is expanding and the pricing remains weak.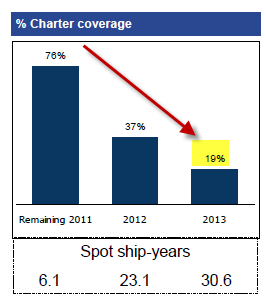 DRYS's balance sheet reflects an equity market cap of $1-billion, and a debt-burden of $2.6-billion. This is not an equity that offers value to equity investors.
Sell: Frontline (NYSE:FRO)
Who could sell Frontline, run by John Fredriksen and his twin daughters, at their 52-week low? I could. The business model of paying out nearly all of their earnings as dividends is terrific during boom cycles, but a bad decision during times of bust. A $2.6-billion debt level, at present time, and a market cap of $600-million are not what a conservative investor wants their money in during economic difficulties. Page 19 of the SEC 20-F has the debt levels: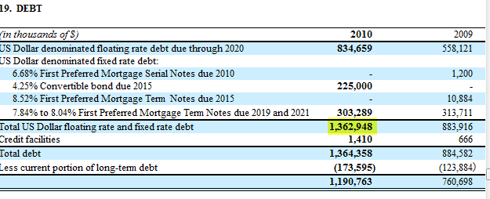 Although I don't commend Apple (NASDAQ:AAPL) for possessing $76-billion net cash on their balance sheet and not paying a dividend, it is a whole lot better than having a $2-billion in debt. FRO shareholders can appreciate the pain they have experienced:


Buy: TAL International Group, Inc.
TAL International Group was formed in 1963. They are one of the biggest lessor of 3-principal types of containers:
Dry Freight Containers: these containers carry the typical dry cargo.
Refrigerated Containers: these containers haul perishable items. The items are either fresh or need to be frozen upon receipt.
Special Containers: these containers are designed for large cargo items. Such cargo includes marble slabs, building products, and machinery merchandise.
The business model includes the purchase, leasing, re-leasing, and sale of the intermodal containers.

TAL Recent Dividend History:
TAL, as opposed to its peers, has had stellar recent dividend payment history, per the SEC 10Q, page 8:



TAL has increased their dividend for 7-consecutive quarters.
TAL 10-Year Dividend And Earnings Forecast:
TAL has produced an attractive growth rate since 1985 through the present date. Despite a minor dip in 2009, the growth rate continues to excel in 2011.
In this environment, I focus more upon the 5-year or less analyst projections. The reader can see the expected dividends 5-years out, $2.19, and the target price, $88.80. Even if these projections are on the high end, they significantly provide a positive landscape compared to DRYS and FRO.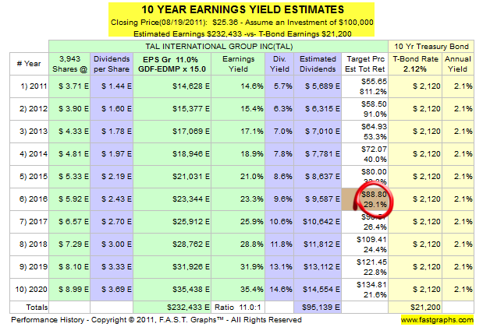 TAL Balance Sheet:
The June 30, 2011 SEC 10Q (page 4) below excerpt shows TAL's long-term debt compared to its revenue earning assets. 75% of all container purchases are on sale-leaseback or on-hire terms.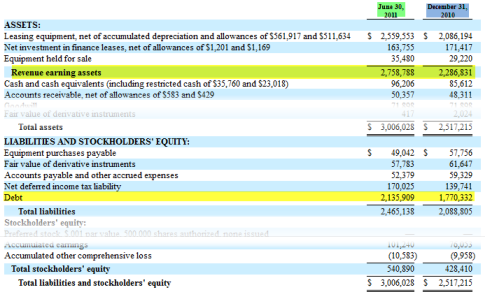 Hedging A Long TAL Position:
The TAL investor can consider taking a stop limit sell order at 7-10% depending upon your entry point, and risk tolerance.
One idea that should be available at a break even cost is the following collar option trade:
Buy TAL Jan 2012 20.000 put (TAL120121P00020000). This protects any losses below the $20.00-TAL share.
Sell TAL Jan 2012 30.000 call (TAL120121C00030000). This would cap your profits at $30.00-TAL share.
Additional Peer Analysis:
| | | | | | | |
| --- | --- | --- | --- | --- | --- | --- |
| Company Name | Symbol | Stock Price | Dividend Yield | Market Cap | Debt | Recommendation |
| Diana Shipping | (NYSE:DSX) | $8.07 | n/a | $654 million | n/a | Solid balance sheet. Wait for dividend to resume. |
| Eagle Bulk | (NASDAQ:EGLE) | $1.85 | n/a | $115 million | $1 billion | Don't think twice: sell. |
| Genco Shipping | (NYSE:GNK) | $5.57 | n/a | $195 million | $1.5 billion | Sell. Debt level is unreasonable. |
| Navios Maritime | (NYSE:NMM) | $14.50 | $12.10 | $810 million | $300 million | Buy near $13, with GTC 10% stop limit sell order. |
| Safe Bulkers | (NYSE:SB) | $6.71 | 8.5% | $475 million | $410 million | Hold with GTC 10% stop limit sell order. |
Disclosure: I have no positions in any stocks mentioned, but may initiate a long position in TAL over the next 72 hours.